Another quarter, another beat for Qualcomm (NASDAQ:QCOM). After the market closed on Wednesday, the company reported Q4 results that beat analyst expectations, both on the top and bottom lines.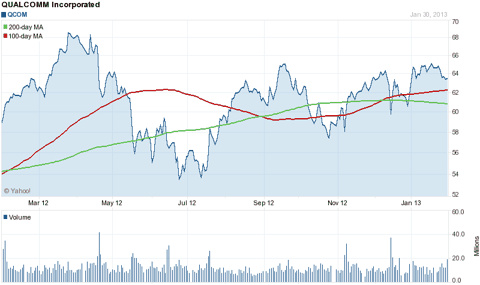 Click to enlarge
Qualcomm's results last week stand in sharp contrast to disappointing result for Apple -- its major customer -- and its close competitors Intel (NASDAQ:INTC) and Texas Instruments (NYSE:TXN).
How is Qualcomm doing it? By focusing on the customer.
| | | |
| --- | --- | --- |
| Company | Recent Price | Forward P/E |
| Intel (INTC) | $21.57 | 10.14 |
| Advanced Micro Devices (NYSE:AMD) | 2.70 | -- |
| Nvidia (NASDAQ:NVDA) | 12.07 | 12.54 |
| Texas Instruments | 33.08 | 15.37 |
| Qualcomm | 65.16 | 13.61 |
| Broadcom (BRCM) | 34.37 | 11.65 |
Source; Yahoo.finance.com
Texas Instruments versus Qualcomm Financial Performance Statistics in 2011
| | | |
| --- | --- | --- |
|   | Texas Instruments | Qualcomm |
| Dividend | 2.50 | 1.50 |
| Operating Margins | 22.55% | 30.12 |
| Qtrly Earnings Growth (yoy): | 30.40% | 20.40% |
| Qtrly Revenue Growth (yoy): | -2.20 | 18.30 |
Source: yahoo.finance.com
As CEO Paul Jacobs put it in a CNBC interview: "One thing I learned early in my career is that I don't make products for myself. I make them for my customers. We invest heavily in R&D, we get our capabilities ready, and we match the demand when it arises."
Qualcomm's customer orientation helps the company address rapid changes in the market landscape, driven by imitation, competition from alternative products, and market saturation. A gadget that is in high demand today may be history one year later, as another gadget replaces it, either because of a lower price or better functionality.
Research in Motion (RIMM), for instance, was replaced by the iPhone - as the latter had many advantages over the former, above all, being user friendly.
A customer focused strategy further helps Qualcomm overcome another problem high-technology companies face -- the obsession of engineers with perfection, ending up making perfect machines in terms of engineering specs but useless to customers happen to customers.
A long time ago, for instance, Digital Equipment, which was acquired by Compaq Computer-now part of Hewlett Packard (NYSE:HPQ)-made good computing machines. But that's not what customers wanted. The rest is history.
The Bottom Line: Qualcomm has demonstrated an exceptional ability to begin its R&D activities with the customer, a strategy that has rewarded its stockholders handsomely. That's why I will stay with the stock.
Disclosure: I am long QCOM, AAPL. I wrote this article myself, and it expresses my own opinions. I am not receiving compensation for it (other than from Seeking Alpha). I have no business relationship with any company whose stock is mentioned in this article.