The last time I wrote about SPDR Gold Trust (NYSEARCA:GLD) in early January, I suggested that GLD should see the 154-155 region. The question I have been asked quite incessantly of late is if my perspective has changed with the last rally in the metals.
Well, first, I want to comment one more time about a persons' focus when they trade the metals. Even though many of the seeming "correlations" have broken down of late, people are still trying to glean the next movement of GLD based upon those old paradigms. For example, they still watch the dollar movement for what GLD will do. But, did you notice that while the dollar moved down, GLD moved both up and down in almost equal amounts? What say you to this "correlation" investors?
Well, then they will simply answer with the time-old argument that it is being "manipulated." Well, as I have asked them many times before - "even assuming you are right, how does that help you make money?" Well, the answer is that "it does not." Rather, I have not seen a single person who has claimed that the market is "manipulated" successfully identify the direction of the metals consistently.
All I have seen is that it has been used as an excuse by those who feel that the metals should be going in the opposite direction in which it has been going. Would we be hearing this argument if gold was at 2000+? Well, no, because that is what it is "supposed" to be doing. So, in truth, there is no-where else in the financial markets where I have seen such an egotistical position being taken by so-called analysts who are so sure that an asset must be moving in a specific direction that they claim that it is not doing so only because it is being "manipulated." Again, my advice to them is "grow up."
So, while they will undoubtedly post comments to this article with one link after another attempting to bolster their "manipulation" position, has it helped them make a penny on the market? Since we all know the answer to that question is a "no," why do these people insist on putting so much time and effort into this issue, as compared to the time they really should be investing in learning how to identify the direction of the metals as it really moves, rather than how it "should" move based upon their limited perspective?
As for my perspective on where the GLD is headed, I have not changed my perspective. I still believe we will see the 154/155 region in GLD one way or another. While the last week has opened my eyes to the potential it may even run higher to the 167-169 region before turning down to the 154/155 region, it still has me viewing that the 154/155 region will be hit one way or another.
Again, while there is still the potential that the GLD may even see the low 140 region as well, there is still a lot of action that must be seen before we can feel more strongly about that potential.
So, for now, my position expressed in the early January article on Seeking Alpha has not changed. I am still looking for the 154/155 region to be hit in the GLD, with the potential that the low 140 region can still be hit, but with much more information still required before we can be more certain of that likelihood. However, if GLD can begin to rally on very strong volume through the 170 level, then that is likely the signal at this time which will mean that GLD is heading well over 200 in the intermediate term.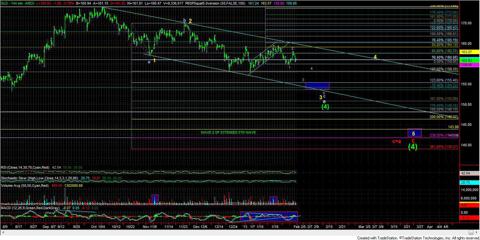 Disclosure: I am long GLD. I wrote this article myself, and it expresses my own opinions. I am not receiving compensation for it (other than from Seeking Alpha). I have no business relationship with any company whose stock is mentioned in this article.
Additional disclosure: In addition to long term long positions I maintain in GLD, I also have short term and intermediate term short positions in GLD.