Not long ago I began a new portfolio for the young, aggressive investor, that fit a particular profile. This initial article outlined that investor profile, and the "Young and Restless" portfolio was launched.
Reviewing The Investor Profile
Our young investor is between the ages of 21 and 25 and fresh out of whatever educational institution they attended. It could have been college, trade schools, or even their first job to cut their teeth on.
Now they are ensconced in a well paying job, career, or entrepreneurial enterprise with a very bright future ahead of them. Probably lasting for the next 35-45 years.
Their income level is strong and they have just begun socking away the maximum amount of money allowed into all the tax deferred savings plans available, and are well on their way towards saving another 10-20% outside of those plans.
These investors are off to a great start.
Recently, they inherited a bunch of money from a long lost Uncle and have money to invest with. Normally, I would say let's start the dividend investment strategy now so you can create wealth for the long haul.
Not for this portfolio!
The "Young and Restless" portfolio consists of Apple (NASDAQ:AAPL) , Amazon (NASDAQ:AMZN) , Google (NASDAQ:GOOG), Facebook (NASDAQ:FB), Netflix (NASDAQ:NFLX), and Yahoo (NASDAQ:YHOO), and Achillion (NASDAQ:ACHN).
In just under 2 months, this portfolio is literally crushing all market indexes, even though Apple has dropped dramatically.
Young And Restless Portfolio
Stock
Orig.Price
Price Now
%+/-
AMZN
230
273
15%
AAPL
520
460
-12%
GOOG
640
756
19%
FB
23
31
31%
NFLX
82
167
101%
YHOO
19
20
5%
ACHN
8
9
11%
The allocation used is a simple equal weighting for each stock, and could be a more actively traded portfolio than a dividend income portfolio, such as "Team Alpha".
Thus far, this portfolio has gained 28.33%. That equates to a 12 month return of approximately 168%. While I do not expect the current increases to continue on a parabolic rise for the next 10 months, I do expect to see continued gains in each stock, and very strong returns.
Highlights Of The Key Stocks
Amazon: The company has returned to profitability even though margins are small and actual earnings are still slight. The growth of this company has been in revenues, and as it continues to grow, the amount of revenues will continue to climb. Since this company is still a growth company, it is ALL about revenues right now, and it continues to confound the skeptics.
This article details the phenomenal growth of Amazon and it's continuing dominance. Not too long ago, Business Insider had this to say pertaining to their own chart;
"The results were remarkable. Amazon's revenue growth from 2005 to 2011 closely tracks the exponential trend line. In fact, it actually jumped above it last year. If the growth holds, Amazon will generate in excess of $80 billion by 2013."
Amazon's earnings report can be reviewed right here which illuminates the following:
"Net sales increased 22% to $21.27 billion in the fourth quarter, compared with $17.43 billion in fourth quarter 2011. Excluding the $178 million unfavorable impact from year-over-year changes in foreign exchange rates throughout the quarter, net sales grew 23% compared with fourth quarter 2011.
Operating income increased 56% to $405 million in the fourth quarter, compared with $260 million in fourth quarter 2011. The favorable impact from year-over-year changes in foreign exchange rates throughout the quarter on operating income was $2 million."
I believe the share price of Amazon will continue to rise as the company continues to grow revenues further, and now even earnings could grow.
Apple: While margins and earnings got squeezed last quarter, the company still had record sales. The press release about Apple's earnings can be read right here. The share price has taken a hit reflecting the negative market sentiment of late, but the fundamentals tell a completely different story.
This article sticks to the fundamentals, which are incredible to say the least.
An enterprise value of roughly $450 billion makes Apple the 2nd largest company on the planet, now trailing only Exxon Mobil for that distinction.
An approximate $140 billion in cash without any debt. (Think about that for a minute)
A 35% operating margin as of last quarter (industry or sector average is about 29%).
YOY revenue growth of 18% and flat YOY earnings growth.
A current dividend yield of about 2.5% based on today's share price, with only a 6% payout ratio.
Nearly 70% of all outstanding shares are held by institutions.
An ESS Rating of "Bullish" to "Very Bullish"
A 2013 forward P/E of only 9.40, making this one of the most undervalued growth stocks ever recorded (the industry or sector average is about 12.50).
The potential growth in cash reserves ALONE should give all skeptics a reason to re-think their positions: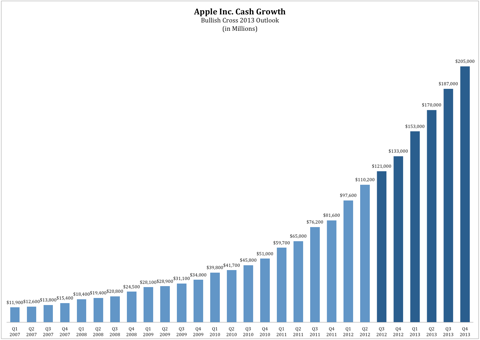 $200 billion in cash gives Apple plenty of room to maneuver in my view. I believe the share price will regain what it has lost, and by virtue of the fact that these fundamentals are simply too strong to dismiss, could reach 52 week highs once again.
Google: This article detailed the enormous performance the company has had in virtually every business segment it plays in, and their fundamentals are nearly as amazing as Apple's.
While revenues fell a bit, earnings beat the street estimates, and as reported here: "Excluding items but including Motorola Home, the company earned $10.59 per share, up from $9.50 a share in the year-earlier period.
Revenue including Motorola Home increased 50 percent to $12.16 billion from $8.13 billion a year ago."
Another cash cow, generating enormous profits and revenues, seems destined to continue recording higher share prices as we move ahead, especially when we consider what was noted in the previous article:
"The beauty of this is that since Google is a money machine by virtue of its search engine alone, the company has been able to spread its tentacles into other businesses."
Google Chrome browser.
Google Chrome tablet.
Google smartphones.
Google+ social media.
Facebook: This company has come a long way since the IPO mess. The share price is now reflecting a reasonable valuations, and has risen from the $19 range to over $30.00/share. As noted in their earnings report:
"Revenue for the fourth quarter totaled $1.585 billion, an increase of 40%, compared with $1.13 billion in the fourth quarter of 2011. (Non-GAAP net income increased from $.15/share to $.17/share as noted below as well)
Revenue from advertising was $1.33 billion, representing 84% of total revenue and a 41% increase from the same quarter last year. Excluding the impact of year-over-year changes in foreign exchange rates, advertising revenue would have increased by 43%.
Payments and other fees revenue for the fourth quarter was $256 million. As planned, in the fourth quarter of 2012 the company recognized revenue from four months of Payments transactions for accounting reasons detailed in our Form 10-Q filed on October 24, 2012. Adjusting for the $66 million of revenue in the extra month of December, Payments and other fees revenue would have been essentially flat year-over-year.
Net income GAAP net income for the fourth quarter was $64 million, compared to net income of $302 million for the fourth quarter of 2011. GAAP EPS for the fourth quarter was $0.03, compared to $0.14 for the same quarter in the prior year. Excluding share-based compensation and related payroll tax expenses, and income tax adjustments, non-GAAP net income for the fourth quarter was $426 million, or $0.17 per share, compared to $360 million and $0.15 per share for the same quarter in the prior year." (Emphasis added by author)
As far as I am concerned, Facebook is on the cusp of becoming a "center stage" performer and the recent rise in the share price is just the beginning. Even though there were some downgrades (based on price target), given their current and future potential growth, Facebook could double in less than 2 years.
Netflix: Netflix has astounded everyone by doubling its share price in under 2 months with both earnings and guidance surprises;
"Excluding items, the company posted an unexpected profit of 13 cents a share, though that was down from 73 cents a share in the year-earlier period.
Netflix's Internet video service added 2.1 million U.S. subscribers, for a total of 27.2 million, during the final three months of the year to produce the surprise profit. It also ended the quarter with an additional 1.8 million subscribers outside the U.S.
Revenue increased 8 percent to $945 million from $876 million."
The street expected a LOSS, and furthermore, Netflix surprised with upbeat forward guidance which focused on the new series, "House of Cards" produced exclusively for Netflix, starring Kevin Spacey. this takes Netflix into a new direction of content. If this is successful, the income derived from original programming could open other doors for even greater revenues and profits.
This is no fluke to me. I can see further gains in the months ahead.
Achillion: Achillion is entering various phase II trials of their Hepatitis C drugs as I outlined in this article.
"What is notable is that Achillion has 4 drugs in the mix; ACH-2684, 2928, 3102 and 1625. Each of which are showing strong promise at various phase I and II trials, and can either work independently or in combination in an oral fashion, not injections."
Achillion does not report earnings until late February or early March, but they do have an extremely clean balance sheet as it stands right now.
An enterprise value of only $560 million.
$81 million in cash.
Only $750k in debt (virtually debt free).
73% of all outstanding shares are held by institutions (of which 40% are held by insiders).
12 million shares of the 61 million share float, is short (short squeeze anyone?).
Yahoo: While Yahoo still has a long road to hoe, as noted in this article from it's earnings report, full year revenues have grown for the first time since 2008.
"Search revenues grew because of an 11% increase in paid clicks during the fourth quarter, which occurred despite news that Yahoo!'s search traffic declined during the year. This means that Yahoo! is likely improving the advertising quality on its search engine as it is able to translate lower traffic into higher clicks. If it is able to maintain this trend, and also grow its search user base, revenues from the search division are likely to be a growth driver going forward."
I will stick to my opinion that Yahoo could be the "sleeper" of the portfolio, but time will certainly tell.
The Bottom Line
This aggressive portfolio is not for everyone. I also realize that this is a much riskier portfolio than Team Alpha. That being said, the growth potential has been abundantly clear thus far, and could make a youthful aggressive investor, very wealthy.
Disclaimer: This article is neither a suggestion nor advice to buy or sell any of the stocks mentioned. It is for educational as well as informational purposes only. Please do your own research prior to making any investment decisions and also take the time to understand your own financial goals, risk tolerance, and circumstance.
Disclosure: I am long AAPL. I wrote this article myself, and it expresses my own opinions. I am not receiving compensation for it (other than from Seeking Alpha). I have no business relationship with any company whose stock is mentioned in this article.