For the last four years, almost imperceptibly and without a great deal of fanfare, the food and beverage industry, and her comely stepsister, the restaurant and bar business, have seen their stocks rise steadily and almost without interruption.
Indeed, since the bear market bottom back in March 2009, food and beverage stocks have risen 93%, according to the Dow Jones U.S. Food and Beverage Index (shown below) - and restaurants and bars are up a whopping 160%, according to the Dow's Restaurant and Bar Index.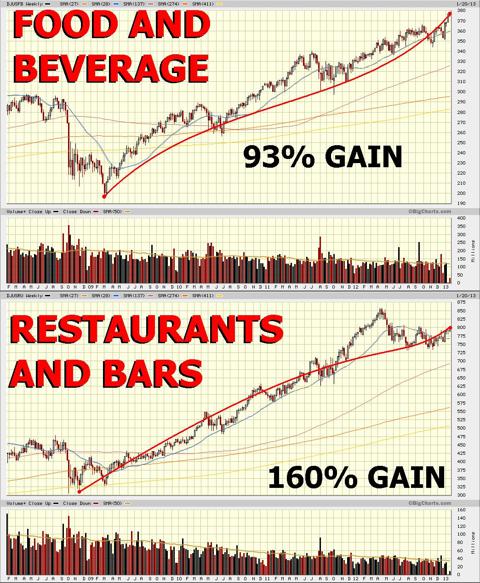 With that as a backdrop, we turn our attention to examine some of the big players - and some not so big - who straddle the line between these two industries - who operate genuine restaurant franchises and also sell their product via supermarket.
Branding Synergies
We'll start with a couple of well known and yummy ice cream brands, once entities unto themselves and now subsumed under the mantle of corporate megaliths Unilever and General Mills Inc., (NYSE:GIS) - respectively, Ben & Jerry's Homemade Inc. and Haagen-Dazs.
It's no secret that the initial success of these two brands helped them move from one sales realm to the other. In the case of Ben & Jerry's, their original success from a single ice cream parlor in Burlington, Vermont quickly translated into sales to local grocers and restaurants, then on to regional supermarkets and eventually to the big, wide world beyond.
Ben and Jerry's global sales today stand close to $250 million, thirteen years after the two sold the company to Unilever in 2000 for $326 million. As of this writing, the company operates 750 franchise locations in 26 countries around the globe.
Haagen Dazs, by contrast, began with three simple flavors and a desire to be the premium ice cream brand on the market. To that end, they sold their product exclusively through specialty shops in Manhattan, and eventually, via word of mouth marketing only, they extended their reach up and down the U.S. East Coast. Only some fifteen years after the company's founding in 1960 did they have a full distributive reach across the continental U.S.
It was 1976, relatively late in the company's history, when Haagen Dazs Shops first came into being. That notwithstanding, the company currently operates over 900 locations in over 50 countries worldwide.
Providing over $750 million in revenues annually for General Mills, Haagen-Dazs is among the best businesses in the parent company's stable. In Canada and the U.S. General Mills licenses Nestle to produce their product.
A New Business Model
The synergy that comes from operating a store-front presence as well as stocking the shelves of the nation's leading grocery chains is obvious. The amount of energy required to brand the company is thereby reduced, and if it's done in the proper manner, should also produce exponential results in the sales department. The restaurant encourages product recognition in stores, and store-bought products drive foot traffic back to the restaurants. Both Ben & Jerry's and Haagen Dazs are proof the strategy works.
Today, more and more food service concepts are attempting to implement the above described model from the outset. One example is Soupman Inc.,(OTCQB:SOUP), the start-up brainchild of Tim Gannon, the company's CEO and former lead man in the Outback Steakhouse franchise.
Gannon and his team knew from the get-go that to make the concept work they had to drive Soupman's fledgling brand in both markets, retail food sales and restaurants simultaneously, and to harness as much star power as possible whenever it was available.
And publicity they have. Soupman is an outgrowth of Soup Kitchen International, Al Yeganeh's famous Manhattan takeout location that was made into a Seinfeld episode back in 1995. The infamous 'Soup Nazi' episode may not have tickled Yeganeh's fancy, but Seinfeld fans sure lapped it up - and Gannon has since put Jason Alexander (Seinfeld's 'George Costanza') as well as sports superstars Shaquille O'Neal and Reggie Jackson on Soupman's payroll, pushing the virtues of the Soupman Inc. brand in everything from school lunch programs to sodium-reduced health awareness campaigns.
A Risky Stew?
As a micro-cap, the company presents obvious dangers to investors. Funding the growth of both the retail and restaurant franchise operations will not be easy, and it's already taking a toll on the company's stock price. Since Soupman went public nearly two years ago the shares have been declining in orderly fashion - a mirror image of the broader sector - from roughly $2.50 down to their current $0.40 level.
It's early days, granted, and there are real sales numbers - last year the company sold over $1 million of their packaged food product, and the end of the year saw them ramp up significantly the number of supermarkets selling the brand (now better than 3000). There are now thirteen restaurant locations across the U.S. and even one international spot, in Tokyo's central train station. But investors have yet to see a payoff.
Solid Successes
Another name to chew over in the class includes Nathan's Famous Inc. (NASDAQ:NATH), a relatively small firm with a market cap of $176 million that operates 300 outlets selling the company's signature line of hot dogs both across the U.S. and internationally. NATH stock is up 86% in the last twelve months. Last quarter's revenues grew by almost 12% to $21,360,000 from $19,118,000.
The chart below shows that Nathan's shares over the last ten years have been a huge success, up 900%, with a great deal of that rise occurring in just the last year.
Why? Some have speculated that recent enthusiasm on the part of insiders to accumulate shares via a buyback program is essentially an effort to take the company private. Others say Nathan's is a shoo-in takeover target for ambitious acquirers like Buffalo Wild Wings or even Yum Brands.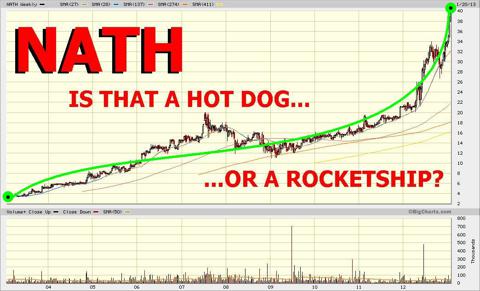 If the stock action is worth anything, then Nathan's is playing the game right and could be destined to reach the heights of a Ben &Jerry's or Haagen Dazs. And that would be a feat. With a century's worth of history behind them one might almost say they've earned it.
Which brings me back momentarily to Soupman Inc., the small fry outfit trying to do the same thing 'overnight', relatively speaking.
In the last thirty days, the company's product rollout showed signs of building real momentum. Two deals, one adding 200 supermarkets in the east and Midwest, and the other a blockbuster signing with Nash-Finch, the nation's second largest publicly traded food wholesaler, will add thousands of new stores to the company's distribution network.
If success in this unique business niche can be built one cone - or hot dog - at a time, then it can certainly be done bowl by bowl as well.
Keep an eye on Soupman during this quarter before making your order and if the numbers keep pointing north, then don't just nibble. Fill her up.
Disclosure: I have no positions in any stocks mentioned, and no plans to initiate any positions within the next 72 hours. I wrote this article myself, and it expresses my own opinions. I am not receiving compensation for it. I have no business relationship with any company whose stock is mentioned in this article.