On Wednesday, social media giant Facebook (NASDAQ:FB) reported its fourth quarter and fiscal 2012 earnings. Facebook handily beat analyst estimates for the quarter, which had come up a bit in recent months to begin with. Shares declined on the news after the company detailed plans to increase capital expenditures in 2013. After such a strong rally, the decline was not a total surprise in my opinion. Today, I'll cover the fourth quarter results, and then give a few scenarios for Facebook in 2013. If Facebook can hit its marks, I would not be surprised to see this stock back above its IPO price, and don't think $40 is out of the question. Facebook may now be the new large cap growth tech stock to own. The first part of my article will cover Facebook's Q4 results.
Part 1 - 4th Quarter Results:
Facebook reported a great fourth quarter result. The company produced revenues of $1.585 billion and non-GAAP earnings per share of $0.17. Those numbers handily beat estimates, which are shown in the table below. I've also provided the numbers for Q4 estimates prior to Facebook's Q3 results. I did this to show how much estimates came up before the Q4 report, and they still beat quite handily. A quick note, some of the numbers may appear off on the full year numbers if you add in the Q4 results. This is most likely due to rounding, as well as the fact that there are more analysts that provide full year results than just quarterly results.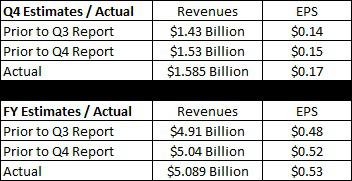 Overall, for the year, Facebook's revenues were up more than 37%. Facebook's Q4 revenues were up more than 40% over the prior year period. Facebook's year over year margin numbers, both non-GAAP and GAAP took a hit as the company has faced increased costs. The year over year GAAP margins took a hit as Facebook recorded large share based compensation expenses for the IPO.
You can see in the table below how Facebook's GAAP margins have fared since last year's Q4. Obviously, the year over year numbers are down. But as you notice, these margins have increased a bit from Q2 to Q4. The Q2 numbers were impacted heavily by those compensation expenses. It's a positive sign that all three primary margins for Facebook increased on a GAAP basis in Q4. Additionally, the company swung from a GAAP loss to a profit from Q3 to Q4.
Facebook also announced the following operational results for the fourth quarter of 2012:
Monthly active users (MAUs) were 1.06 billion as of December 31, 2012, an increase of 25% year-over-year.
Daily active users (DAUs) were 618 million on average for December 2012, an increase of 28% year-over-year.
Mobile MAUs were 680 million as of December 31, 2012, an increase of 57% year-over-year.
Mobile DAUs exceeded web DAUs for the first time in the fourth quarter of 2012.
Mobile revenue represented approximately 23% of advertising revenue for the fourth quarter of 2012, up from approximately 14% of advertising revenue in the third quarter of 2012.
While it appears that some might have been disappointed by the mobile number at 23% (with a whisper number around 25%), there was still plenty of growth from Q3. Some analysts also seem slightly disappointed by Facebook's mobile revenue number, but considering Facebook crushed estimates, shouldn't that mean PC revenues were strong? It appears that even though Facebook reported a great quarter, most of that was "baked in" to the stock, given the roughly 60% rally from mid-November. Still, they beat nicely.
Part 2 - Facebook going forward:
In part two of this article, I'm going to discuss where Facebook could go from here, and how it might be the next great large cap growth technology stock.
Facebook's new plan:
Facebook has introduced some new features over the past couple of months that both analysts and investors are looking to. The first one was Facebook Gifts, almost as a complement to the site's birthday reminders. At the time, I was looking at Facebook to potential rival Amazon (NASDAQ:AMZN). Amazon is expected to do more than $75 billion in revenues in 2013, so why couldn't Facebook take a small piece of that pie? I'm not calling for Facebook to steal away billions of revenues from Amazon anytime soon, but what if Facebook could steal say $100 million of revenues from Amazon. Prior to Facebook's Q4 report, analysts were expecting an increase of $1.56 billion in revenues during 2013. An increase of $100 million would really help the growth rate.
Facebook announced an expansion to the retail type plan on Thursday when we heard about gift card selling. The company has partnered with four retailers to start: Target (NYSE:TGT), Louis Vitton, Jamba Juice (NASDAQ:JMBA), and Olive Garden are the initial partners, and a single card could hold balances for multiple retailers. Initial reports suggest that this new service from Facebook could rival Ebay's (NASDAQ:EBAY) Paypal. Four retailers might seem like a small start, but I would assume that the number will grow exponentially over the next few months. Now you can buy presents and gift cards for friends on Facebook. Who knows what you will be able to buy next.
The other item that Facebook introduced recently was Graph Search Beta, a structured search tool that enables users for the first time to find people, places, photos and other content that has been shared on Facebook. Eventually, I think Facebook becomes a bigger player in the overall search business, and that's bad news for Google (NASDAQ:GOOG) in my opinion. Facebook already has a partnership with Microsoft's (NASDAQ:MSFT) Bing, and I think that they will expand on that partnership going forward. I've mentioned in past articles that Facebook has always been rumored as a potential buyer of Bing, which is losing Microsoft a fair amount of money. At this point, I don't see Facebook buying Bing in the short-term. I'm not sure they have the cash, nor the desire, to make such a large acquisition right now. Down the road, it might be possible if Microsoft decides to exit the search space.
Facebook, the new tech growth stock?
Investors are always looking for growth stocks. When it comes to large cap technology stocks, the growth names come and go. Back in the day, there was Microsoft, Intel (NASDAQ:INTC), Cisco (NASDAQ:CSCO), and Apple (NASDAQ:AAPL) to name a few. The first three on that list are now regarded as value names, as they pay sizable dividends and buy back plenty of stock. When it comes to large cap technology growth stocks, there aren't too many at this point, with Apple and Google being the most prominent at this point. The following table shows expected revenue and earnings growth for Facebook, Apple, and Google, for their current fiscal year and their next.

*Adjusted for extra week in previous fiscal year.
Facebook is growing faster than the other two. Google appears to have more revenue growth in the current year, but that includes one more quarter where you have the addition of growth from the Motorola Mobility results. If you were to exclude the growth from the Motorola segment, Google's revenue growth is more likely in the high teens to low 20s, below that of Facebook anyway.
So when it comes to large cap technology names that are growth stocks, Facebook may be the next one everyone wants. Let's discuss Apple first. Apple currently is paying a 2.33% annual dividend and is buying back some stock. The company has a huge cash pile, and is expected to start returning more of that cash to shareholders. Apple's growth is slowing down, and over the next couple of years, more investors will be looking at it as a value stock, and not a growth stock.
As for Google, the growth rate shot up thanks to the Motorola Mobility acquisition, but that growth rate will drop quickly going forward. If Google wants to remain a growth name, it will need to continually make larger acquisitions. Otherwise, it would not be surprising if Google starts paying a dividend, buying back stock, or both. Google may eventually head onto the track Apple is on currently.
So that gets me to Facebook. If Apple and Google will lose their place as large cap technology growth stocks, monies attributed to those names might need to be redistributed. That could allow Facebook to become the next big growth stock in technology. Facebook currently has a market cap of just $67 billion, and only did $5 billion in revenues last year. Apple and Google have revenues and market caps well above that. Facebook has plenty of growth ahead of it, and we've started to see them expand into more and more product lines. A couple of years ago, people were saying that Facebook couldn't make money. Just six months ago, they were arguing that Facebook couldn't generate meaningful mobile revenues. In Q4, Facebook did more than $300 million. Facebook has continued higher on the promise of mobile, and I think the potential is even greater than any of us realize.
If Facebook were to achieve Google's market cap, assuming the current number of outstanding shares, you would be looking at a stock price of nearly $115. If Facebook were to achieve the market cap Apple currently fetches, you'd be looking at $197. Now I understand that Facebook would probably be dilutive to Facebook, but that's still plenty of growth ahead. Don't forget, that $197 figure is Apple's current market price. Imagine the Facebook price match for Apple's $705 plus high. Facebook has a long way to go.
Part 3 - What happens in 2013?
In this part of the article, I'm going to examine a couple scenarios for Facebook in 2013. After I start with a base case, which is based on current expectations, I'll do both a bull and bear case for the stock.
Going into Facebook's Q4 earnings report, the average 2013 analyst revenue estimate was $6.60 billion. That number stood at $6.28 billion going into the Q3 report, so analysts have become a bit more bullish. Since the Q3 report, the average earnings estimate has come up from $0.62 to $0.66.
Going into the 4th quarter report, the average analyst price target on Facebook was $33.93. If you take the earnings estimate and apply it to the price target, you get a multiple of 51.4 times 2013 earnings. Facebook closed just under $31 on Thursday, which would represent about 58.5 times trailing 12 month earnings (non-GAAP). So the 51.4 multiple going forward seems fair, given that growth will be coming down a bit from 2012 levels.
The base case / current expectations:
I think that Facebook analysts will raise their estimates a bit on the heels of the Q4 beat. We saw that occur nicely after the great Q3 earnings report. That being said, Facebook did say on the call that expenses would be a bit higher in 2013. The impact of those expenses on earnings is hard to quantify at this point, because we don't know the breakdown of those expenses. Remember, analysts use non-GAAP estimates, so the non-GAAP earnings may not be affected by those expenses, or they could be affected greatly. We'll just have to see.
In the base case, I think Facebook has 2013 earnings per share in a range of $0.65 to $0.70, which I think is a fair range currently. However, given two beats in a row, I think analysts and investors will want more by the end of 2013. That being said, I think an earnings multiple of 42 to 46 would be justified. For this case, that gives a target range of $27.30 to $32.20, with a midpoint of $29.75. That would represent about a 4% decline from Thursday's close.
The bear case:
In the bear case, Facebook does show some growth, but not as much as expected, and costs do weigh down the earnings a little. Facebook still produces earnings per share in a range of $0.60 to $0.65, but that's a little disappointing at this point. In this case, you definitely have to lower the valuation range, and I think a range of 36 to 40 works there. That being said, you get a range of $21.60 to $26.00, with a midpoint of $23.80. That's a drop of about 23% from current levels, which probably would be justified given the disappointment.
The bull case:
In the bull case, Facebook has a great 2013 off the back of a great second half of 2012. Costs don't materialize as much as expected, and potentially some of them aren't included in the non-GAAP numbers. In this case, Facebook generates non-GAAP earnings per share in a range of $0.75 to $0.80. Thanks to the higher growth and beating of expectations, Facebook gets a 50 to 55 multiple in this scenario, which is in-line to above that 51.4 number generated above. In this scenario, the target range is $37.50 to $44, with a midpoint of $40.75. That would imply about 31.5% growth from here, and would get Facebook back above the $38 IPO price. If Facebook has a good to great year, I think that $38 level is doable. This is especially true if Facebook becomes the next large cap tech growth stock, as I mentioned above.
Final Thoughts:
Facebook reported a great Q4 on the backs of a solid Q3. However, shares were flat to slightly lower on the day, after initially falling. This is mostly because shares had rallied from $19 to more than $31 going into the news. I don't think the fall in Facebook shares was due to the results, I think it was more due to the rally beforehand. I myself purchased some shares Thursday morning, but I sold Thursday afternoon. Don't take this as a knock against Facebook. As more of short term trader, I was happy with a quick $2 plus gain. I also don't like holding positions of any kind overnight when we have the monthly jobs report Friday morning. Should Facebook trade back down towards the $28-$29 level in the near term, I will look to potentially enter the stock again.
Going forward, I think Facebook has a lot of room to grow. The company has announced new initiatives like Gifts and Graph Search recently, and Thursday we got the news about gift cards. Facebook is looking for ways to generate revenues, and I think they will find them. Additionally, I think Facebook will become the next favored large cap technology growth stock, as Apple becomes a more value stock and Google's growth slows down. If Facebook were to get to the market cap of those giants over the next 5 to 10 years, investors would be looking at impressive long term returns.
Disclosure: I have no positions in any stocks mentioned, but may initiate a long position in FB, AAPL over the next 72 hours. I wrote this article myself, and it expresses my own opinions. I am not receiving compensation for it (other than from Seeking Alpha). I have no business relationship with any company whose stock is mentioned in this article.
Additional disclosure: Investors are always reminded that before making any investment, you should do your own proper due diligence on any name directly or indirectly mentioned in this article. Investors should also consider seeking advice from a broker or financial adviser before making any investment decisions. Any material in this article should be considered general information, and not relied on as a formal investment recommendation.