In my S&P 500 update after yesterday's close, I asked: Will it [the 1500 level] serve as support? Stay tuned." Alas, today the index played an extended game of crisscross with the 1500 level. But in the final hour of trading, the algorithms clicked into sell mode and the index closed with a modest loss of 0.26%. But that was enough to put a sub-1500 number, 1498.11 in market history for January 31, 2013. On a brighter note, the 500 gained 5.04% for the month. Will the first day of February take us back into the 1500s? Stay tuned!
Here is 5-minute chart today's 1500 drama.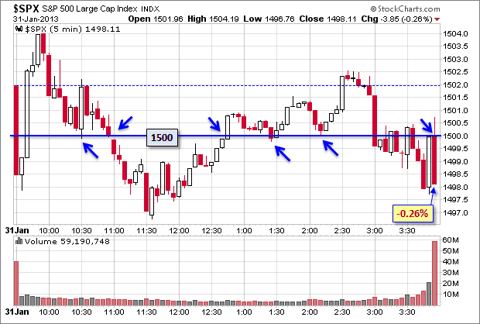 Click to enlarge
(Click to enlarge)
Here is 30-minute look at the last seven sessions with the 1500 level highlighted.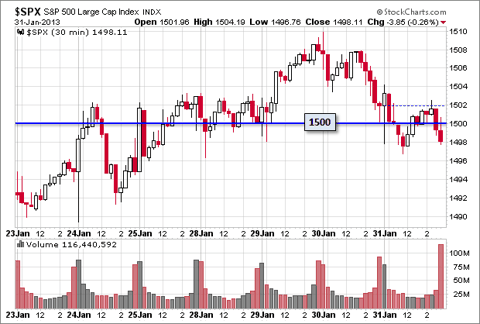 Click to enlarge
(Click to enlarge)
The S&P 500 is now up 5.04% for 2013 and 0.65% below the interim closing high of January 10, 2013.
From a longer-term perspective, the index is 121.4% above the March 2009 closing low and 4.3% below the nominal all-time high of October 2007.
For a better sense of how these declines figure into a larger historical context, here's a long-term view of secular bull and bear markets in the S&P Composite since 1871.