Judging by how often I'm asked to join a rewards program when booking any sort of trip, it's clear that their popularity is on the rise in the travel industry. But just how effective are they?
Hotel Rewards websites, such as Marriott Rewards or IHG's Priority Club, can attract hundreds of thousands of visitors each month. The largest hotel supplier reward site, Marriott Rewards, engages 19% of the total traffic to the overall Marriott.com website. For hotel chains, growing their rewards sites is critical to improving online channel effectiveness. Travelers who use rewards sites are on average 40% more loyal than non-users.
Most major programs have grown their online traffic in the past year, from November 2007 through November 2008. On average, each site grew by 21% over the past 13 months. The only site that did not manage a traffic increase was Choice Privileges, which declined 4% in users compared to the prior year.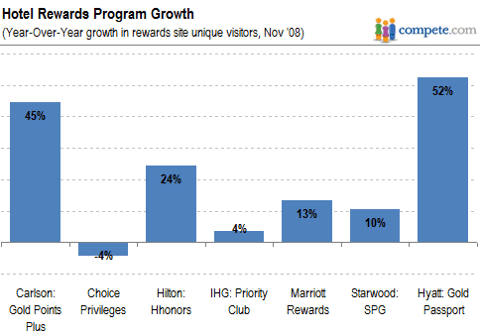 Share of Wallet – the percent of hotel bookings that a given hotel brand captures among its customers or prospects – is a key gauge for measuring loyalty and rewards site performance. Marriott.com captured 68% of the bookings among members who visited Marriott Rewards in November 2008, the highest Share of Wallet among all competitors. On average, rewards sites were able to capture 50% of the bookings of their members.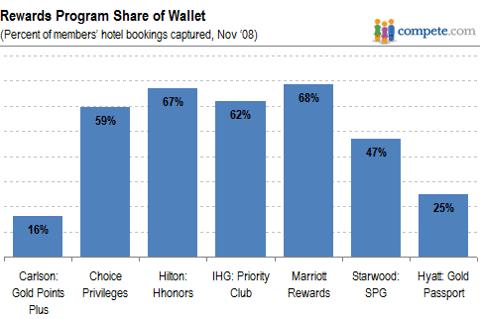 With difficult market conditions surrounding the travel industry, increasing loyalty among online prospects is integral to hotel supplier's 2009 success. With consumers more likely to cross-shop and price check than ever before, the incentives and benefits of a rewards platform will often be the deciding factor in the online travel purchase process. Rewards program managers must ensure that their online portals are best in class in order to drive the necessary usage and loyalty.