From the rates point of view only, now may be the time to shop for a new mortgage or refinance your existing mortgage.
Freddie Mac (FRE) today released its Weekly Primary Mortgage Market Survey, which showed that the average rate of 30-year fixed-rate mortgage has dropped to a new low at 4.96% from 5.01% a week ago, the lowest point since Freddie Mac started rate tracking in 1971 . Mortgage rates have been falling since November after the Federal Reserve announced it plans to buy mortgage backed securities (click on chart to enlarge).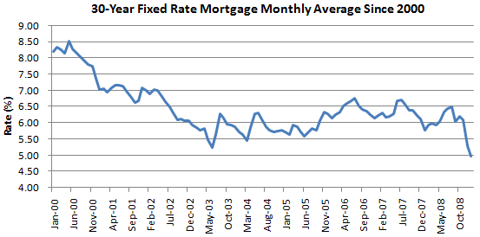 However, despite the record low of mortgage rates, the housing market still doesn't show any sign of bottoming, let alone improving, as house prices kept falling. On the other hand, lower mortgage rates did attract many homeowners to refinance their loans. According to The Mortgage Bankers Association, mortgage loan applications increased 15.8% for the week ending January 9, 2008 from a week early, while refinance jumped 25.6%.
While many took advantage of the 5% rate to save money on monthly mortgage payments, not everyone benefits from the low rates, especially those whose home value has dropped below what they owe on the mortgage. And let's not forget that 3.6 million people lost their jobs since the recession began in December 2007.
A record low mortgage rate, but do you care?