Share-based compensation is certainly nothing new in the high-tech industry for the engineers and R&D staff that create incredibly complex chips and software that drive billions of dollars in revenues and profits a year. The technology is proprietary and companies want to keep their best people away from the competition, so they pay them incredibly well, and many times companies use their stock as currency.
In late 2004, the Financial Accounting Standards Board (FASB) issued FAS 123, which required companies to expense stock options on the income statement. Warren Buffett was a big proponent of this cause for many years before FASB issued FAS 123. The NYS Society of CPAs has a nice primer on the subject that I would urge you to read; it notes that adjusting EPS for the dilutive effect of the issuance of stock options sometimes changed EPS by 5-10 percent.
We should all agree that stock options are an expense due to their dilutive effects. Yet many companies still guide investors toward adjusted or non-GAAP measures of financial performance that excludes share-based compensation as well as other items they would rather not see detract from financial performance. Sell-side analysts have bought into the adjusted (non-GAAP) earnings presentation and in many cases now issue earnings estimates based on a company's non-GAAP earnings presentation. One of the worst abusers of this practice is Qualcomm (NASDAQ:QCOM). Let's take a look at Qualcomm's GAAP versus non-GAAP operating income and EPS for the past few years, along with the company's guidance for FY2013 (ends Sept. 30).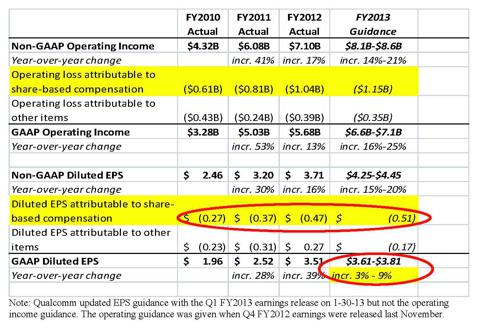 Click to enlarge
(Click to enlarge)
Obviously GAAP EPS and Non-GAAP grew at really nice clips the past few years. For FY2013, the company has guided investors toward a nice increase in non-GAAP EPS (15%-20%), yet as you can see GAAP EPS is projected to grow by a much smaller percentage, 3%-9%. Why is that? Well, the vast majority of the difference is due to Qualcomm's characterization of share-based compensation. Qualcomm wants investors to ignore this expense. Here they are characterizing the expense for share-based compensation as an operating loss that they exclude from adjusted earnings. Again, compensation paid in the form of stock is an expense with dilutive effects for shareholders. The only reason to exclude them from earnings would be make earnings look better than they really are. Investors should be wary of this and stick to GAAP results when evaluating the financial performance of companies.
Qualcomm also chooses to regularly exclude expenses related to acquisitions and the QSI business segment. The QSI segment relates to "strategic investments" in new technologies that Qualcomm attempts to launch from the incubator stage. It can also hold wireless spectrum that Qualcomm purchases from time to time. QSI has held such flops as FLOtv and the Mirasol display technology. These are examples of technologies Qualcomm has brought to market in the hopes of creating new businesses within the company that have failed. Why shouldn't the expenses associated with these failures be considered when evaluating the earnings potential of the company? I believe they should. Acquisition related expenses totaled $270M in FY2012 and are expected to be $300M in FY2013. Again, these are not one-time expenses or charges - they occur every year. If they were one-time expenses, there is a strong argument to be made that they should be excluded from earnings for a better year-over-year comparison. However, because they occur annually in this case, I do not believe it is reasonable to exclude them.
In total, Qualcomm would like investors to ignore a projected $0.68 per share of expenses in FY2013 (see chart above). That equates to approximately $1.2B in diluted EPS "losses" related to these expenses (based on diluted weighted average shares as of 12-31-2012). Why exactly does Qualcomm want to exclude these expenses? Because they would like to make the earnings picture look brighter than it actually is. If the company is continually occurring costs for acquisitions and QSI, then those expenses should be included in the evaluation of the ongoing profitability of the company.
In all fairness, Qualcomm does attempt to mitigate the effect of share-based compensation by buying back stock. Here is a look at changes in common stock issuance over the past few years.

Click to enlarge
(Click to enlarge)
With cash and cash equivalents of $28B as of Dec. 31, 2012, Qualcomm can certainly afford to, at a minimum, buyback enough common stock to completely negate the dilutive effect of stock-based compensation as well as the losses associated with QSI and acquisition related costs.
So when evaluating Qualcomm's earnings on a level playing field, the growth appears to have slowed sharply in FY2013. The company is currently forecasting GAAP EPS to grow 3%-9% in FY2013, far lower than the projected 15%-20% growth in non-GAAP EPS over the same period. I would urge anyone considering an investment in Qualcomm to use GAAP measures of profitability and not the non-GAAP measures that the company guides you toward. GAAP measures will give you a truer measure of Qualcomm's profitability.
Disclosure: I have no positions in any stocks mentioned, and no plans to initiate any positions within the next 72 hours. I wrote this article myself, and it expresses my own opinions. I am not receiving compensation for it (other than from Seeking Alpha). I have no business relationship with any company whose stock is mentioned in this article.