CVR Refining (NYSE:CVRR) offers income investors a 16.2% annual yield. This is based on today's price of $29 per unit. The first-year distribution is expected to be $4.7215 per unit. CVR Energy (NYSE:CVI) owned 100% of the partnership. CVR Energy retains 84.4% of CVR Refining. Carl Icahn owns 82% of CVR Energy. As the refinery business blooms, CVR Refining offers an attractive cash distribution.
Click to enlarge images.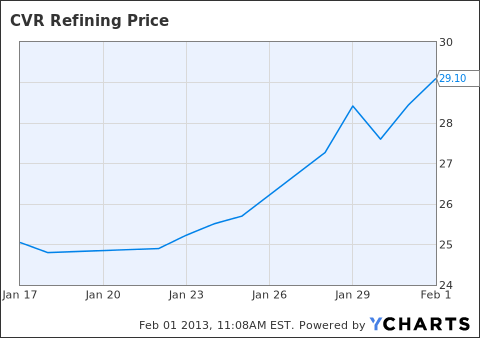 Cash Distributions
The company plans to make its first quarterly cash distribution to unit holders from available cash generated in its March 2013 quarter. Available cash will roughly equal adjusted EBITDA less payments for interest, facilities maintenance, capital expenses, and operating cash reserves. The company does not plan on issuing debt or reserving cash to maintain a fixed level of quarterly cash distributions that, as a result, may vary from quarter to quarter based on operating performance, earnings, and cash reserve requirements.
Based on current projections for 2013, the company expects to pay out $4.7215 per common unit in the full year. Of expected cash distributions in 2013 and 2014, the company estimates that unit holders will only pay tax on 50% of the cash received, with the balance offset as a return of capital. Unlike many limited partnership structures, CVR Refining does not have subordinated units or incentive distribution rights (IDR) that typically reduce cash distributions to common unit holders.
Background
CVR Refining is an independent downstream energy limited partnership with crude oil gathering, storage, refining, and related logistics assets in Group 3 of the underserved PADD II mid-continent region of the U.S. The company was formed in September 2012 with assets from CVR Energy subsidiaries. It filed its IPO prospectus on Jan. 8, 2013, and began trading on Jan. 17.
CVR Refining Assets
Assets received as part of this formative transaction include: 1) the Coffeyville refinery in southeast Kansas (roughly 100 miles from Cushing, Okla., a major crude oil trading and storage hub), 2) the Wynnewood refinery in Oklahoma (about 130 miles from Cushing), 3) crude oil gathering systems (350 miles of trunk and feeder pipelines, 125 crude oil transports, and storage facilities with capacity of 50,000 barrels per day), 4) a proprietary pipeline system with capacity to transport 145,000 bpd of crude oil and common carrier pipelines, 5) crude storage tanks (capacity of 1.2 million barrels at Coffeyville and 0.5 million barrels at Wynnewood), and 6) 4.5 million barrels of refined storage capacity.
The illustration below shows the company's gathering and supply network.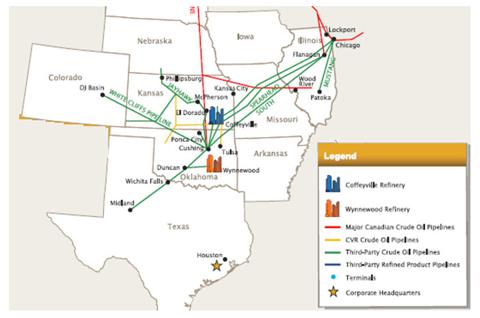 IPO
The company sold 20,000,000 common units, with a 15% over allotment option, at a price of $25.00 per common unit. IPO proceeds of approximately $500 million will be used to 1) repurchase $255 million of outstanding senior secured notes, 2) fund $160 million of maintenance and environmental capital expenditures through 2014, 3) fund $54 million of Wynnewood refinery turnaround expenses, and 4) make cash distributions to CVR Refining Holdings (if the overallotment option is exercised).
CVR Energy will own 84.4% of the company's common units (assuming full exercise of the over allotment option). CVR Energy is majority controlled by investor Carl Icahn's Icahn Enterprises, which may also purchase an additional 2.7% stake in CVR Refining. Public ownership will approximate 11%.
Business
The company's primary business involves the gathering of crude oil, refining it and distributing refined products to customers. The company owns two of only seven refineries in the PADD II region, which gives it a supply-side advantage in a market where demand is healthy. Its Coffeyville refinery has a capacity of 115,000 bpd and its Wynnewood refinery can process 70,000 bpd. Between these two refineries, the company can process various light, heavy, sweet, and sour grades of crude oil. Combined, its refineries have a weighted average complexity of 11.5 that enables the economic processing of lower quality crude into high value transportation fuels.
The company currently gathers crude from Kansas, Nebraska, Oklahoma, Missouri, and Texas. The crude it sources (West Texas Intermediate, or WTI) typically trades at a considerable discount to Brent crude as a result of the company's close proximity to the crude oil hub in Cushing, increasing mid-continent domestic and Canadian production, economical overland transportation infrastructure, and geopolitical stability in the U.S. and Canada. For example, for the nine months ended Sept. 30, 2012, WTI traded at an average discount of $17.12 to Brent. This price advantage significantly reduces feedstock costs and improves margins.
CVR Refining's logistics assets significantly support its core gathering, refining and distribution business and give the company a distinct competitive and cost advantage. The company's refined products customers include retailers, refiners and marketers, transportation companies, and various farm cooperatives in neighboring states. In addition, the company sells jet fuel to the U.S. Department of Defense and certain refinery byproducts to affiliates such as CVR Partners.
Competitive Strengths, Strategy
The company's competitive strengths include proximity to the crude oil hub at Cushing, logistical assets that provide operational cost advantages, strategic location in the PADD II region with attractive supply/demand dynamics, complexity and operating flexibility of its refineries, strategic partnership with CVR Partners, and a highly experienced management team.
The company's CEO, John J Lipinski, and COO, Stanley Riemann, each have almost 40 years of relevant industry experience and are supported by a team of top industry veterans that manage operations, logistics, asset development, finance, and sales and marketing. The company aims to profitably run its operations with a conservative financial profile and deliver attractive returns to unit holders. In addition, the company plans to invest in operations and logistics, upgrades and accretive acquisition opportunities. Management intends to keep debt at manageable levels and maintain adequate liquidity so it can ride through periods of volatile commodity. It plans to finance its growth through a combination of debt and equity.
Pro Forma Financials
On a pro forma basis, the company had net sales of $8.05 billion in fiscal year 2012, up 9% from $7.4 billion in fiscal 2011. Revenue gains were driven by higher crude oil throughput and refinery production in 2012 despite a drop in asset utilization to 93.1% from 95.5% in 2011. Revenues were also higher due to a moderate increase in the average price per gallon of gasoline and distillates.
Operating income jumped 23% to $928.7 million from $755.7 million in 2011. However, 2012 saw losses of $155.2 million from derivatives trading relative to a net gain of $36.4 million in fiscal 2011, and this reduced 2012 net income to $732.2 million from $749 million in 2011.
However, derivative losses were mostly unrealized and did not substantially impact cash flow. Therefore, cash available for distribution was up 32% to $844.2 million in 2012 ($5.72 per unit) from $638.8 million in 2011 ($4.33 per unit).

Over the first nine months of fiscal 2012, cash and cash equivalents remained unchanged at $340 million, working capital declined 15% to $625.7 million and total assets dropped 4.8% to $2.5 billion. Total debt was marginally down to $552.5 million. As a result, stockholders' equity dipped 9% to $1.4 billion.

Higher sales and operating profits resulted in significantly higher cash from operating activities in the first nine months of 2012 relative to 2011. Cash from operations was up 88% to almost $800 million from $425 million in the same period of 2011. The company more than doubled its cash used for investing and financing activities but still managed to generate $76.8 million in cash, up from a net use of $2.3 million in the comparable period of 2011.

Projections for 2013
Looking into 2013, the company expects net sales of $7.8 billion, operating income of $845.4 million, net income of $807.1 million and an estimated $696.9 million of cash available for distribution ($4.7215 per common unit). These projections are based on total crude oil throughput of 186,572 bpd and refinery production of 184,020 bpd with average refining margin of $21.70 per barrel.
Projections for 2013 appear to be conservative and slightly lower than actual throughput and sales for 2012. Therefore, there is a reasonable chance that actual results might beat projections.
Summary
As such, CVR Refining's limited partnership structure (with no subordinated units and no incentive distribution rights) should reward common unit holders at par with parent CVR Energy. The company also appears to have significant strategic and location-based advantages from its proximity to the crude oil hub at Cushing, its presence in the PADD II region, WTI discount to Brent crude, and healthy regional demand for its refined products. Income investors should also benefit from sizable quarterly cash distributions and potential capital appreciation of units under a conservative, long-term-oriented capital structure.

Disclosure: I am long CVI, CVRR. I also own protective puts. I wrote this article myself, and it expresses my own opinions. I am not receiving compensation for it (other than from Seeking Alpha). I have no business relationship with any company whose stock is mentioned in this article.