Nice turnaround yesterday which isn't surprising since the bears have been in control the last few days. The Dow briefly dipped below 8,000 at one point.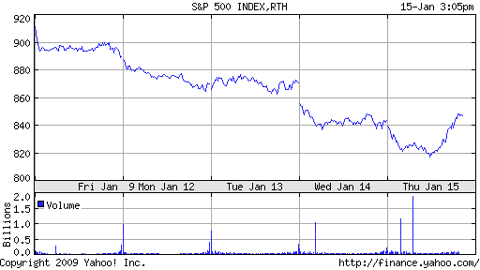 My Buy List is getting a nice boost from Amphenol's (APH) earnings report (Call Transcript). The shares are currently up 12%.
This was an interesting earnings report for APH. The company's bottom line has been growing pretty nicely over the past few years. In October, when the company reported Q3 earnings, it said to expect Q4 EPS of 58 cents to 60 cents. That wasn't good news. Personally, I had pegged EPS at 62 cents a share.
Well, things soon got a lot worse. APH said a few weeks ago to ignore what it said earlier, and EPS will come in between 50 cents and 52 cents. Then yesterday we learn that Amphenol earned 56 cents a share. I'm not a big fan of analyst forecasts but here the company didn't even know what to expect.
The company also said that Q1 will be weak, and it expects EPS of 39 cents and 41 cents. The bottom line is that things are tough for Amphenol just like everyone else. The company is a solid outfit and even in rough patches, it can still deliver pleasant surprises.
Quarter.....................EPS
Mar-05.....................$0.26
Jun-05......................$0.29
Sep-05.....................$0.28
Dec-05.....................$0.31
Mar-06.....................$0.32
Jun-06......................$0.35
Sep-06.....................$0.37
Dec-06.....................$0.43
Mar-07.....................$0.43
Jun-07......................$0.46
Sep-07.....................$0.50
Dec-07.....................$0.55
Mar-08.....................$0.54
Jun-08......................$0.61
Sep-08.....................$0.63
Dec-08.....................$0.56