Don't let StoneMor's (NASDAQ:STON) scary chart bury your chances to make a killing on this unusual Cemetery Owner and Operator. For those willing to look beyond the obvious there is a sweet spot to be found in the July put options. You can avoid the ugly technical entry point in its current charts and be paid a 6.67% (14.3% annualized rate) on your cash for the July $22.50 cash covered puts sale.
If the stock defies its chart and stays above 22.50 as the July 20 expiration arrives, you have earned a very attractive rate on your money and should be very happy with that return.
If on the hand the stock follows its current downward channel it should be reaching the lower side of that about mid July at around $21 per share. You will then find yourself with your premium adjusted entry price at effective break even upon delivery of the put stock for $22.50 and offset that with your $1.50 put premium you received back here today on January 30th. At a net cost of $21.00 per share, the reliable dividend of $2.36 per share allows you to comfortably hold the stock for income at an effective yield of 11.2%. The technical charts by this time should have become your friend and be preparing for a reversal to the upside in the start of another up trend cycle typical of the past sixteen months. The flash crash bottoms as well as the rest of its chart patterns back into mid 2010 suggest further strong support just above $20.00 which offers a comfortable downside resting point for a longer term hold for yield.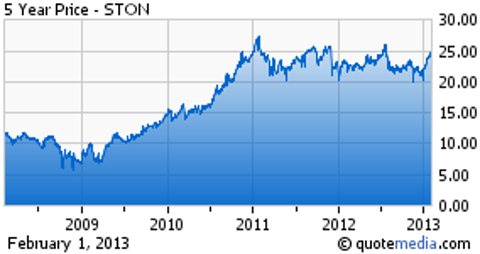 StoneMor has been paying a steadily increasing quarterly dividend since May 2005 and just raised its payout again with its latest October 2012 dividend. Conventional Payout ratio for StoneMor's industry is not a reliable or very meaningful way to judge the reliability of their future ability to pay dividends. Due to the quirks of Cemetery property accounting, revenue can not be booked as income until the plot is actually occupied (the owner has died and been planted). So there is a lot of cash flow that does not get booked as income or even as cash flow per se since it is shown with an offsetting contingent liability to the plot owner until they die.
Nonetheless, the cash does provide investment earnings of its own and a source of funds for distributions. Also, StoneMor has long followed an aggressive program of non-dilutive acquisitions of other existing cemetery properties and contracts to manage such properties for others. The success of these sources to fund their ever increasing dividend for the past 30 quarters demonstrates that their strategy does work and can be relied upon.
StoneMor has been paying an annually rising dividend 8 years, rising from quarterly payments of $0.463 in February 2005 to its latest $0.590 in October 2012.
The Company is an owner and operator of cemeteries and funeral homes in the United States, with 276 cemeteries and 86 funeral homes in 26 states and Puerto Rico. StoneMor is the only publicly traded deathcare company structured as a partnership. They closed on their sixteenth property acquisition of 2012 in December and continue to grow these acquired properties as well as identify and acquire additional properties.
The late in the year acquisitions assure shareholders that these new property contributions to the cash available for distribution can be expected to continue the long pattern of paying increasing dividends in 2013 and beyond.
I fully expect that over time the investment community will come to understand this unusual business type and its unique accounting methods and therefore price it far more appropriately to the upside.
However, even if it should continue its historic chart patterns since its topping in January of 2011, the cyclic trading channels should allow the savvy investor to easily more than make up for the slowly declining long term trend by the sale of covered calls to add to the already 11.2% obtained with the strategies outlined in this article.
So if you are looking for a comfortable double digit income producer, this ugly duckling may fill your bill, aided by the selective use of the covered puts and calls discussed here.
Disclosure: I have no positions in any stocks mentioned, and no plans to initiate any positions within the next 72 hours. I wrote this article myself, and it expresses my own opinions. I am not receiving compensation for it (other than from Seeking Alpha). I have no business relationship with any company whose stock is mentioned in this article.