In what some had referred to as a "Super Bowl of economic reports" prior to the real thing scheduled for Sunday, a host of conflicting data about the U.S. economy has been revealed in recent days.
As a result, financial markets in general have been whipped to and fro, particular the monetary metals of gold and silver that, as always, move higher or lower based on whether it appears the central bank will print more or less money.
Holders of popular exchange traded funds such as the SPDR Gold Shares ETF (NYSEARCA:GLD) and the iShares Silver Trust (NYSEARCA:SLV) have had a roller coaster ride this week. This can be seen clearly in the graphic below from Kitco in which New York trading has resulted in the gold price surging and falling before surging again over the last three days.
But did anything really change this week for precious metals?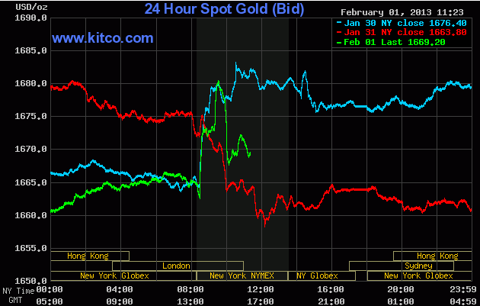 Wednesday's first look at fourth quarter GDP growth revealed a surprising, though quite modest, contraction in the U.S. economy that no one predicted. The gold price jumped almost $20 an ounce that day and the silver price surged nearly $1 an ounce as markets were reminded of the impact lower government spending (in this case, defense spending) might have on growth.
Should the short-term "debt and deficit holiday" being experienced in the U.S. in the wake of the fiscal cliff deal lead to no deal on averting the spending cuts set to go into effect on March 1st, that means economic growth will take another hit and, by extension, so will the job market.
This would quickly make any thoughts about the central bank curtailing its money printing effort at mid-year - something that was being discussed very seriously about a month ago - a pure fantasy.
The dismal GDP report followed Tuesday's report from the Conference Board that consumer confidence had plunged anew. This was attributed to the shock that millions of Americans experienced when looking at their first paycheck of the new year and realizing their payroll tax holiday had just ended.
Again, this is a reminder of how difficult it will be in removing government stimulus amid a still-weak economic recovery.
After reaching a five-year low the week prior, it was reported yesterday that jobless claims jumped back up to a more typical level of 370,000, but, the more important job market news came earlier today.
The Labor Department reported that nonfarm payrolls rose by 157,000 in January (barely enough to keep pace with population growth) but, in a development that is key for central bank policy making, the jobless rate rose from 7.8 percent to 7.9 percent.
This sent gold and silver prices sharply higher.
A big gain in the ISM manufacturing index followed the monthly labor report and this took some of the shine off of the gains that gold and silver had made previously, but the metals recouped a portion of these losses and are set to end the week with solid gains.
So, where does that leave precious metals markets?
Since the Fed has explicitly tied monetary policy to the jobless rate which is, in turn, highly dependent upon growth in the economy as a whole, one could argue that, this week, something really did change for precious metals markets.
Investors have realized that talk early last month about the Fed halting its money printing program at mid-year is really not a very likely outcome since the U.S. economic recovery remains quite fragile, still highly dependent upon government support, some of which could be pulled as soon as a month from now if sequestration cuts are carried out.
Then, later in March, there could be a battle about the government continuing to fund itself and, before you know it, U.S. policy makers will be grappling with the debt ceiling again.
Contrary to the many calls heard in recent weeks about a self-sustaining economic recovery that might have the Fed raising interest rates sooner rather than later, this week's economic reports have reminded us that Fed policy is probably on auto-pilot for the rest of the year, at which time their balance sheet will have ballooned to over $4 trillion and the U.S. credit rating will probably have been downgraded.
That's not to say that precious metals prices are about to take off, but the notion that the long-term bull market has already reached a peak because it's clear sailing from here on out seems a lot less credible today than it did a week ago.
Disclosure: I am long GLD, SLV. I wrote this article myself, and it expresses my own opinions. I am not receiving compensation for it (other than from Seeking Alpha). I have no business relationship with any company whose stock is mentioned in this article.
Additional disclosure: I also own gold and silver coins and bars.