Consider these two charts of European Consumer Confidence (top chart) and Business Climate (bottom chart):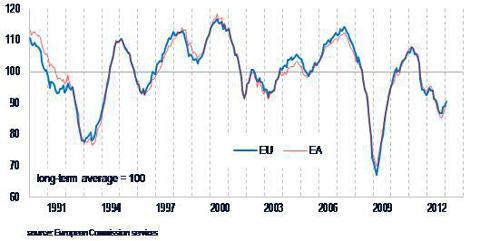 These are bearish reports. Also note that most county's respective PMIs are below 50: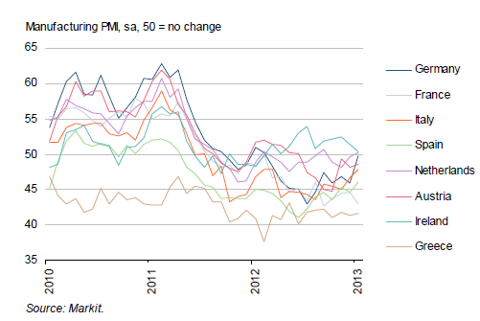 The Financial Times is reporting that EU residents and business leaders are looking at the top chart and saying the "worst is behind us." From the article:
The European Commission's "economic sentiment indicator" rose from 87.8 in December to 89.2 as managers predicted that the service and construction sectors would pick up across the 17 countries in the currency bloc. The strongest improvement in sentiment was registered in Germany, the Netherlands and Spain.

'The third successive, and appreciable, rise in eurozone economic sentiment to be at a seven-month high in January adds to the evidence that eurozone economic activity bottomed out around last October and growth prospects are brightening,' said Howard Archer, economist at IHS Global Insight.
However, a look at the charts accompanying the report show that various sectors are still printing negative readings (see links above).