With the S&P turning in its best January since 1997, you'd think there wouldn't be any undervalued high dividend stocks left, but, as in our recent articles, we've uncovered another one, a "non-Agency" REIT, with strong earnings and dividend growth.
We've added PennyMac Mortgage Investment Trust, (NYSE:PMT), to the Financials sector table of our High Dividend Stocks By Sector Tables, due to its 8%-plus dividend yield.
PMT is set to report its 4th quarter and full year 2012 earnings next week, on February 7th, 2013.
Profile: PMT invests in residential mortgage-related opportunities which may include mortgage loans, mortgage servicing rights and mortgage-backed securities. PMT invests in both newly originated prime-quality mortgage loans in addition to mortgage loans which may be distressed and acquired at discounts to their unpaid principal balances. (Source: PMT website)
Unlike agency mortgage REITs, PMT has additional risk, in that it invests mostly in mortgage assets which don't have the implicit backing of U.S. government agencies. (Less than 3% of PMT's assets were in FNMA 30-year fixed mortgage backed securities as of 9/30/12).
However, unlike most of the agency REITs, which are usually highly leveraged, PMT doesn't carry any debt, and is growing its earnings at an impressive rate: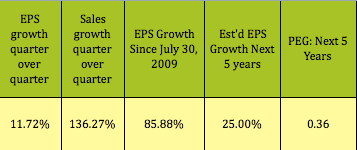 Even though PMT had a big run in 2012, (up over 52%), it still looks undervalued on a 2013 PEG basis, and is sitting below the median of its historic P/E range:

Click to enlarge
Distressed Mortgage Recent History: PMT's realized gains on distressed mortgages result from collections on the loan balances at levels higher than their recorded fair values. Valuation gains on this portfolio have benefited from "continued stabilization in home prices, the continued progression of loans along their timeline towards resolution, and growth in the investment portfolio." (Source: PMT Q3 2012 Earnings release). If you've ever worked in an Accounts Receivable department, you can probably appreciate the fact that PMT's individual quarterly realized gains on collections do fluctuate, but the overall trend for total gains is upward: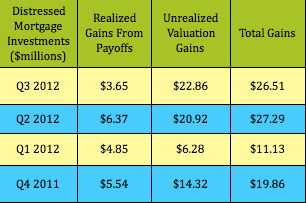 Dividends: After its IPO in July 2009, PMT began paying dividends in August 2012, and has grown its quarterly dividend from $.35 to the present $.57, a 63% dividend growth rate:

Options: PMT does have options available, but its Covered Call premiums aren't currently that attractive, as the out-of-the-money $30.00 strike premiums are quite low.
This July Cash Secured Put trade offers a shorter term alternative to buying PMT outright, and offers a much lower break-even, in addition to a higher, quicker payout vs. PMT's next 2 estimated dividends. However, you won't participate in any upside price gains or dividend income.
You can find more details on this and over 30 other put-selling trades in our free Cash Secured Puts Table:

Click to enlarge
Financials: PMT outscores its industry's averages for Management Efficiency, Operating Margin, and Debt Load: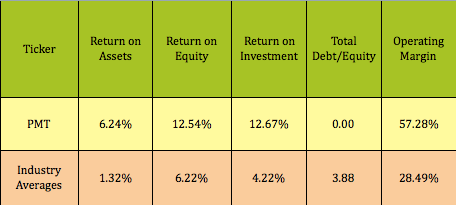 Disclosure: The author owned no PMT shares at the time of this writing.
Disclaimer: This article was written for informational purposes only and isn't intended as investment advice.
Disclosure: I have no positions in any stocks mentioned, but may initiate a long position in PMT over the next 72 hours. I wrote this article myself, and it expresses my own opinions. I am not receiving compensation for it (other than from Seeking Alpha). I have no business relationship with any company whose stock is mentioned in this article.