Introduction
With 2012 quarterly earnings results posted, a lot of expectations for the automotive industry have been met. Global demand and high oil prices have provided different results for car makers across the United States. While most of the automobile makers are facing trouble on European shores, the effects have not been uniformly distributed. The cyclical nature of the industry dictates a lot of investor confidence and price movement on the stock market. The car companies under analysis today are Ford (NYSE:F), General Motors (NYSE:GM), Toyota (NYSE:TM) and Honda (NYSE:HMC).
Financial and Stock Analysis
The stock performance of the four automotive companies is illustrated on the graph below, with Toyota and GM taking the lead in price improvement. Toyota specifically benefited from the boost in output as it aimed to reclaim the top producer spot. GM's revamp of its car offerings has helped it capitalize on the positive demand from consumers for the year. Furthermore, while Ford has managed to make a profit in 2012's last quarter, the company's plundering results in Europe have led it to have lower gains than its rivals. In comparison to the S&P 500 and Dow Jones Industrial Average, both Toyota and GM have outperformed the market averages.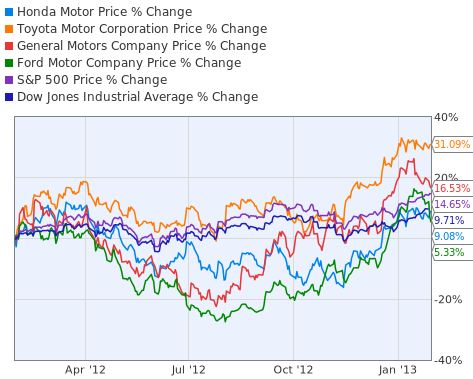 | | | | | |
| --- | --- | --- | --- | --- |
| | Ford | General Motors | Toyota | Honda |
| Market Cap | $50.1 bil | $44.6 bil | $151.4 bil | $68.5 bil |
| Trailing P/E | 2.93 | 10.50 | 18.31 | 18.77 |
| P/B Ratio | 2.8 | 1.4 | 1.3 | 1.4 |
| Earnings Growth | 0.0 | 0.0 | 0.0 | 15.8 |
| Dividend Yield | 3.09 | - | 1.50 | 1.60 |
| Debt/Equity | 3.8 | 0.3 | 0.5 | 0.5 |
| Return on Equity | 142.5 | 13.5 | 7.2 | 7.7 |
| Current Price | $12.95 | $27.93 | $95.58 | $38.10 |
| Estimated Fair Value Range | $37-$42 | $50-$70 | $156-$243 | $25-$56 |
| Stock Valuation | Undervalued | Undervalued | Undervalued | Fairly Valued |
| Upside Potential (Premium) to Reach a Fair Stock Value | 187% | 78% | 64% | -- |
Data from Morningstar and Finviz on February 1, 2013
The discounted earnings plus equity model, developed by EFS Investment Partners and applied to the four competitors, suggests that currently all stocks (except Honda) are well undervalued. In addition, EFS' fair stock price valuation indicates that currently Ford is trading at the most attractive discount.
Of the listed stocks, Toyota is the most expensive for investors, but offers a reasonable dividend yield. The automotive stocks are no longer having the same net income as they did before the global financial crisis and the results can be witnessed in their dwindling EPS and dividends. Toyota, however, is showing signs of resurgence as it increased its payout ratio last year. The company reclaimed its title as the largest car manufacturer this month after surpassing General Motors yet again in production; furthermore, a P/E of 18.31 suggests that investors should look forward to an increase in earnings in the future. Out of all its competitors, Toyota has the worst ROE on display and the company's ability to turn revenue into profits should be questioned accordingly.
Toyota, GM and Ford have listed their earnings growth at 0 due to the unfavorable results and sales over the past three years. GM in particular seems to be finally moving back on track after needing government assistance to stay afloat; its debt/equity of 0.3 shows the resurgence of the American motoring giant. Perhaps, its close call with bankruptcy was a blessing in disguise as the company aspires to become more efficient and able in the management of its funds, as shown by its ROE rating. Priced at about $28, the company technically has potential to scale up the stock market with its price. However, due to the cyclical nature of the industry, it would be wise to invest before the revelation of any new car model. With the introduction of the new Corvette, an investment of $600 million in its Fairfax plant and hiring of 1,000 workers, General Motors is on a roll.
Speaking of new car models, customers were given a sneak peak of the new Ford F150 at the Detroit Auto Show, which is said to be derived from the Ford Atlas. From the initial analysis, the concept looks very promising. Ford's earnings over the past three years, however, don't look as good: the company posted a net profit for Q4 2012 of $1.6 billion. The trend seems to be continuing for the foreseeable future at least. But what is of even greater concern is the $2 billion operating loss made in Europe; Ford will definitely need to make changes, and fast. The company has a phenomenal ROE when compared with the industry average of only 14.9, which is due to the company's strong performance in Northern America. A very common mistake investors make while taking a look at Ford is the alarmingly high debt/equity ratio for the company. While the ratio is indeed correct, it also takes into account Ford Credit, which falls under Ford Motor as a company. The more loans Ford Credit gives out, the higher its debt is.
Honda is primed to disclose its quarterly earnings on January 31, 2013. The company aims to have 6 million annual sales by 2016. For the year 2012, Honda made an impressive 24% improvement in its sales in U.S. The company has reasonable levels of dividend yield and ROE, while it can boast earnings growth, which has so far eluded its primary rivals. Furthermore, unless the company introduces radical changes to its product line, margins and movement on stock market should remain stable. Due to low European demand, however, Honda is cutting 800 jobs at its Swindon plant in the UK.
Make or Break for Investors
Toyota has shown formidable progress over the course of 2012. Heading into 2013, it is expected to maintain its top spot as the world's largest car producer. However, its stock value is a direct reflection of the cars it offers. While Toyota's products are undoubtedly in high demand, the stock is a very expensive option for investors. As an alternative, GM proves to be a better option with its price availability and its strong investment plans. By the end of 2013, 70% of the company's portfolio will be completely refreshed in the U.S.; looking abroad, 60 new or upgraded models will hit the Chinese markets by 2015. Keeping in mind how massive the American and Chinese markets are, these sequential boosts will be represented very positively on the stock market. Furthermore, I expect Ford to continue its recovery and improve its margins across the U.S. However, its dismal performance in Europe needs to be stopped as soon as possible because the company is bleeding money.
Morningstar gave the following ratings for these four automobile companies: GM - 4/4 buy. Ford - 4/5 buy, 1/5 outperform. Toyota - 1/1 hold. Honda - 1/1 hold.
Bottom Line
In 2009, few would have imagined that GM would be competing yet again with its rivals so soon. The company has turned a corner and the introduction of new vehicles to American and Chinese markets is the key to the company's improving performance. GM is an aspiring stock for medium- to long-term portfolio investors.
Disclosure: I have no positions in any stocks mentioned, and no plans to initiate any positions within the next 72 hours. I wrote this article myself, and it expresses my own opinions. I am not receiving compensation for it (other than from Seeking Alpha). I have no business relationship with any company whose stock is mentioned in this article.