By now, most anyone with an investment interest in Liquidity Services, Inc. (NASDAQ:LQDT) is aware of today's earnings announcement. The question on our minds from such an intense stock sell-off is whether this presents an opportunity to buy or accumulate more shares, or whether this is an indication to move on to consider another company. Let us begin to piece together the picture of Liquidity's business by digesting today's numbers.
Gross Merchandise Volume
Today, Liquidity reported a 30% year-over-year increase in GMV. That sounds pretty good, however, over the past four quarters, the compounded quarterly growth rate has continued to decline. Today's report highlights the first sequential decline in nominal GMV since September 2011. Explanations for slower growth in management's opinion are a result of higher costs to integrate recent acquisitions. We have been hearing this over the past couple of quarters and it is now a reoccurring theme.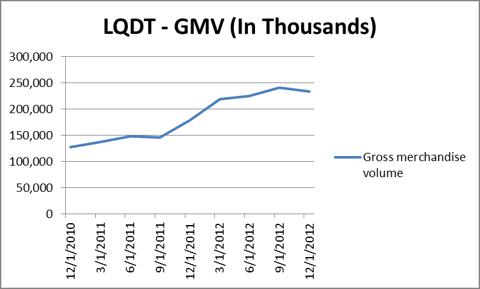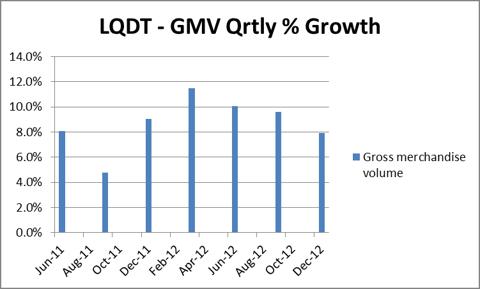 Registered buyers continue to display solid growth, while auction participants and completed transactions both have remained relatively flat. It is important for both participation and transactions to increase as these forms of activity and engagement are what drive revenue growth. We see an uptick in registered buyers post June 2012, but there is not a significant correlation in participation and transactions.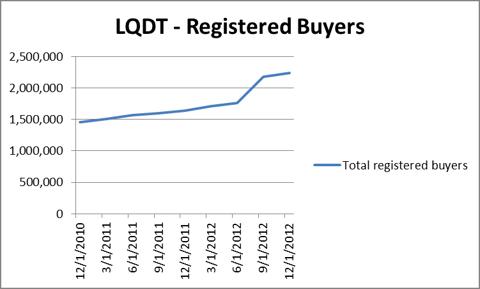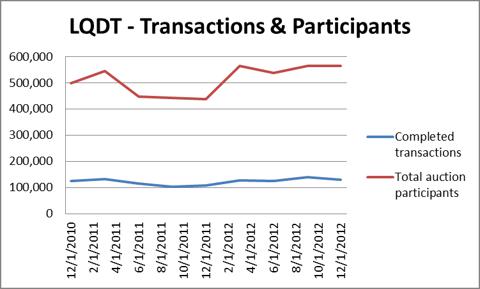 The GMV mix paints an interesting picture as well. As most of you know Liquidity provides three separate revenue models; profit-sharing, purchase, and consignment. Clearly, consignment as a percentage of GMV has proven to be Liquidity's leading generator of late, while both profit-sharing and purchase revenue models have been on the decline.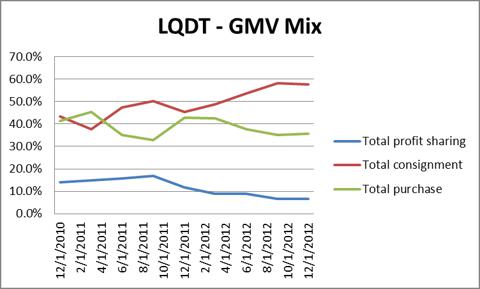 Financial Picture
Simply put, revenues have flat-lined. Revenue growth, while increasing 15% year-over-year, has not yet eclipsed its peak set in March 2012. As evidenced by both the mix of GMV and revenue, profit-sharing and purchase as a percentage of GMV and revenue are weighing on growth. Clearly, these two revenue models generate the most advantageous relationship between GMV and revenue.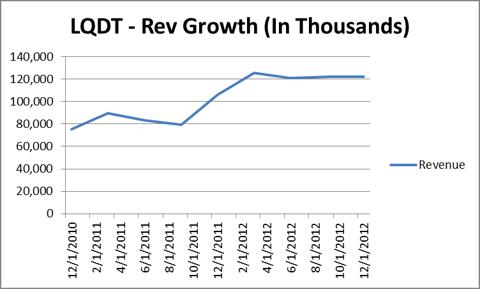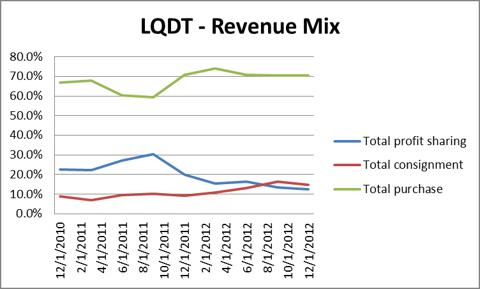 Liquidity's operating performance has been volatile. While gross margins continue to remain fairly stable, both operating and profit margins have fluctuated since December 2010. The recent downturn echoes the integration challenges which management is currently facing.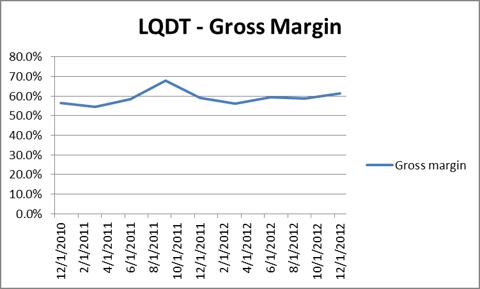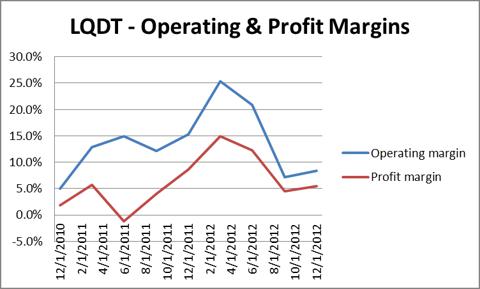 These impacts have not lent themselves solely to the income statement. Free cash flow has similarly proved erratic with the most significant downtrend occurring of late. Free cash flow has been negative two out the previous three quarters.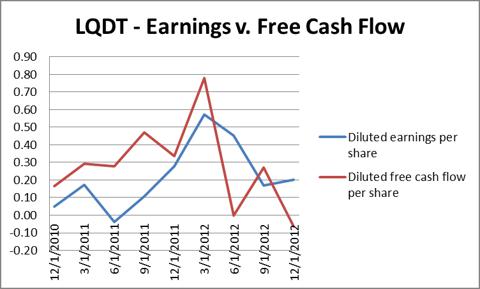 Conclusion
All is not completely bleak for Liquidity. Despite current growing pains, the company has a 22% compound annual growth rate for diluted EPS since 2004. Revised estimates place 2013 diluted EPS at a low of $1.90, a current 23% increase from 2012, maintaining solid growth trends.
The company has paid its long-term and short-term debt off more quickly than anticipated. The recent stock price sell-off has placed Liquidity at a price not seen since 2011. Financial indicators including P/E ratio, P/B ratio, Enterprise Value/Sales, etc. are now much more attractive; in the event the company is able to deliver better results throughout the remainder of the year, today's price may offer an excellent opportunity.
Like any investment, all investors need to consider trends that are important for a company's growth and sustainability. I added to my position in Liquidity today after considering the value of the business against the company's prospective long-term future.
All information included in this article is derived from the Securities and Exchange Commission.
Disclosure: I am long LQDT. I wrote this article myself, and it expresses my own opinions. I am not receiving compensation for it (other than from Seeking Alpha). I have no business relationship with any company whose stock is mentioned in this article.