Suggested Investment Strategy
We have a buy rating for Dunkin Brands (NASDAQ:DNKN). The company has declared a quarterly dividend payout of $0.19 per share for this quarter to be paid on February 20th 2012. This dividend yield of 2.08% is 27% higher than DNKN's previous dividend yield, in line with Globenum's average dividend yield of 2.15% and also in line with competitor's average dividend yield of 2.1%. Moreover, DNKN's free cash flow of $47.6 million for this quarter is quite enough for paying this $20 million dividend and financing next quarter CAPEX of $3.6 million.
The company seems to be following a very effective expense control strategy as its expenses in Q32011 were 22% lower than its expenses in Q32011. We feel that this will improve the company's liquidity in the future and money would be available for financing more productive activities. Moreover, the company's reported comp store sales are a clear indicator of its sound operational efficiency as it has out shaped competitors in this regard. Also, DNKN is not only trying to focus on diversifying its base in the US but is also trying to diversify itself internationally. Company's recent franchise agreement with Vietnam Food and Beverage Co (a company with proven success track record in Vietnam's food industry) to develop its base in Vietnam is a good move to target emerging economies.
Company Description
Headquartered in Canton Massachusetts, Dunkin Brands Group, Inc deals in owning, operating and franchising quick service restaurants under Dunkin Donuts and Baskin-Robbins brands all over the world. DNKN restaurants offer coffee, donuts, bagels, baked goods and other related products. Its franchised business model comprises 9,760 Dunkin Donuts restaurants and 6,433 Baskin-Robbins restaurants. The company also leases restaurant properties.
Operational Performance
For Q32012, DNKN reported revenue of $171.7 million which is 5% higher than its revenue in the same quarter of the prior year and 0.4% lower than its revenue in Q22012. Gross profit of $117 million for Q32012 is 6% lower than its gross profit in Q32011. Compared to Q32011, DNKN reported a 22% reduction in operational expenses, a 50% increase in gross income. Similarly, the company reported a 21% reduction in debt servicing expenses and a 3 fold increase in net income.
DNKN seems quite sound from a liquidity perspective. Its current ratio of 1.17 is in line with the competitor average of 1.2 and Globenum average of 1.22. For Q42012, DNKN reported revenue of $161.7 and profit of $34.3 million or 32 cents per share. This is up ten cents per share if compared to the previous quarter. Comp store sales of DNKN were up by 3.2% for Dunkin Donuts and 1.5% for Baskin-Robbins in the US. Internationally, comp store sales didn't show any increase.
Valuation
We value DNKN on historical P/E of 28.17x and forward EPS estimate of $1.51 yielding a target price of $42.5 Although this target price is higher than the UBS estimate of $41, we feel that our target price is quite justified given a 27% increase in its dividend declaration for this quarter and significant improvements in comp store sales. We see fair value in stock of DNKN as investing in this stock can yield a capital gain of 17% (higher than competitor as well as Globenum average of 11%) and a total gain of 18% (higher than competitor as well as Globenum average of 13%).
| | |
| --- | --- |
| Current Price | $36.5 |
| Target Price | $42.5 |
| Estimated Capital Gain | 16.5% |
| Forward Dividend Yield | 1.6% |
| Estimated Total Gain | 18.1% |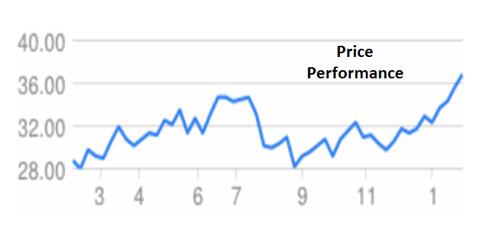 Source: Google Finance
Risks and Catalysts
Risks to DNKN in achieving our price target include an overall fall in emerging economies. DNKN's efforts to enter those markets might not be greeted with success. Some major catalysts for upside to our target include the company's success in Southern California. Moreover, significant increase in its comp store sales is really encouraging for investors. Further increase on similar lines can move our price target up.
Guide
While going through this research work, readers will often come across "Globenum Average." We have developed average estimates for different financial parameters like P/E, EV/EBITDA, PEG, P/S, Capital Gain, Total Gain, Dividend Yield, Current ratio, Net Margin, Operating Margin, Debt ratio etc. We manage these averages for the stocks of a wide range of companies belonging to different sectors. We have a fairly well managed database for this. These average values are mostly used as benchmarks during the research analytics and reporting.
Disclosure: I have no positions in any stocks mentioned, and no plans to initiate any positions within the next 72 hours. I wrote this article myself, and it expresses my own opinions. I am not receiving compensation for it (other than from Seeking Alpha). I have no business relationship with any company whose stock is mentioned in this article.