Ford (NYSE:F) recently reported fantastic fourth-quarter results that capped off one of the company's strongest years in its long history. Revenue increased 5% year over year to $36.5 billion, easily exceeding consensus estimates. Pre-tax operating profit more than doubled to $1.2 billion, which was also better than anticipated. We see no reason to change our above-market fair value estimate, and we remain very bullish on the company.
Click to enlarge images.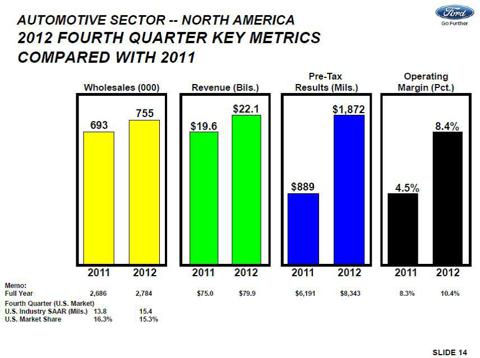 Source: Ford Earnings Presentation.
Not surprisingly, North America (shown above) continued to be the standout segment, with revenue increasing nearly 13% year over year and the firm's operating margin advancing 390 basis points higher. There is some concern about the company losing U.S. market share (down 1 percentage point), but as we've stated previously, the impact of Japanese supply coming back online was inevitable. Further, we're fine with the company maintaining a strong pricing profile, as we prefer profits to market share.
Although the Street seems somewhat concerned that the firm forecasted flat operating margins of 10% for 2013, we think future infrastructure investments will be critical for improving its long-term cost structure. We also sense a degree of management conservatism in the outlook, so there may be some upside to the margin guidance, particularly if U.S. auto sales are stronger than anticipated. There is no guarantee that industry-wide pricing will remain stable, and some weakness in sales during 2013 could prompt an OEM to boost incentives and damage industry margins. Nonetheless, we're feeling optimistic about the U.S. auto market.
On top of potential margin upside, we could see an acceleration in pick-up truck sales if the housing market recovery endures. Though many drivers can stretch out the lives of vehicles, pick-up trucks used in construction and other activities eventually wear out and must be replaced. Housing market strength could increase builders' confidence, making investments in new trucks an easy decision.
Results in Europe were absolutely terrible (see image below), as the market faced declining sales and irrational pricing. Ford's market share fell 30 basis points to 7.6%, and the firm's outlook for 2013 points to an even larger loss of at least $2 billion. On one hand, the terrible conditions in Europe mirror what happened in the U.S. just a few years ago, and we think this could help rationalize industry cost structure. On the other hand, Europe's government-labor relations are much different than those in the U.S., so we could see government pressure prevent the industry from right-sizing operations. Any upside in the region could provide a positive upside surprise for the automakers.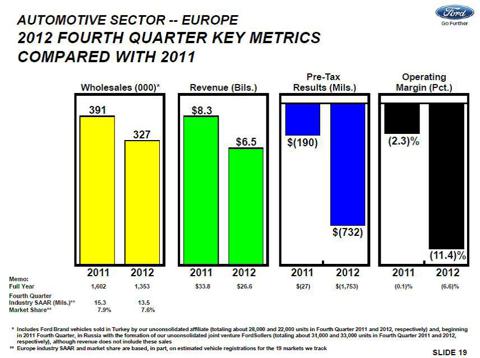 Source: Ford Earnings Presentation.
Asia-Pacific Africa (APA), a segment that will likely become even more important to Ford than Europe, experienced a nice rebound in the fourth quarter, with sales jumping 47% year over year to $2.8 billion. As with South America, APA is expected to run at breakeven, but we're excited to see the company add new cars to the Chinese market, and possibly bring Lincoln models to a Chinese buyer thirsty for luxury vehicles. Breaking even for 2013 would also be an improvement over the segment's $77 million loss in 2012.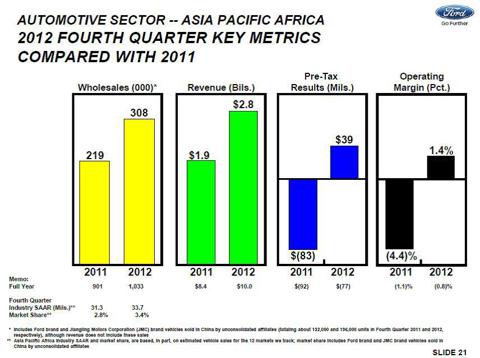 Source: Ford Earnings Presentation.
Overall, we were incredibly pleased with Ford's fourth-quarter and 2012 results. Operating cash jumped to $1 billion during the fourth quarter, and the firm has been rewarding investors with its recently doubled quarterly dividend payment. Considering the terrible results suffered in Europe, Ford did a great job remaining profitable on a company-wide level.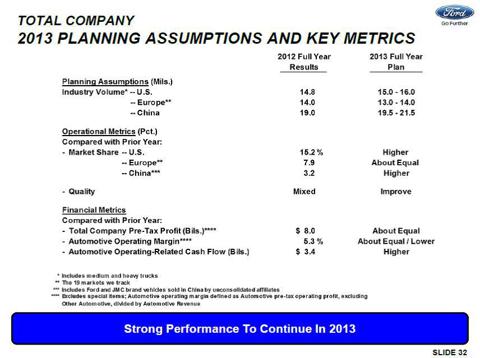 Source: Ford Earnings Presentation.
Looking ahead, Ford's planning assumptions for 2013 are mixed. North America and Asia could be wonderful, but Europe looks to be terrible, and South America does not look too bright. Nevertheless, we're looking for additional strength from Ford Credit and potential upside to Ford's North American planning assumptions to potentially mitigate any disaster out of the Eurozone. We still like Ford at its current valuation, and we will continue to hold shares in the portfolio of our Best Ideas Newsletter.
Disclosure: I have no positions in any stocks mentioned, and no plans to initiate any positions within the next 72 hours. F is included in the portfolio of our Best Ideas Newsletter. I wrote this article myself, and it expresses my own opinions. I am not receiving compensation for it (other than from Seeking Alpha). I have no business relationship with any company whose stock is mentioned in this article.