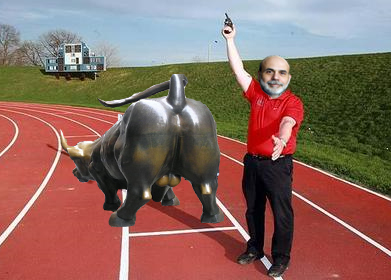 Most of the excitement Friday revolved around economic data. The Employment Report (157K jobs added vs. 185K expected and prior revised to 196K from 168K) and the Unemployment Rate rose (7.9% vs. 7.7% expected and prior 7.8%). Within the data, bulls focused on the large higher revisions from December, November and March 2012. Those months revealed a large add to new jobs. However, November and December would normally be holiday-oriented temp hires. Neglected by bulls was that another 170K jobs were lost during the month. But let's not spoil the party with real data.
There was indisputably good data, including: PMI Mfg Index (55.8 vs. 55.5 expected and prior 54.00); ISM Mfg Index (53.1 vs. 50.7 expected and prior 50.7); U of Mich. Consumer Sentiment (73.8 vs. 71.5 expected and prior 71.3); and Construction Spending (.9% vs. .8% expected and prior -.3%). The only fly in the ointment was the disconnect between U of Mich. rising Consumer Sentiment and the Conference Board's plunging Consumer Confidence from Monday. Which to believe? I tend to go with the Conference Board, since the U of Mich. data is too heavily weighted by stock prices.
It probably matters little about data frankly, since there's only one real actor in the market, and that's the Fed's QE program, dishing out $85 billion a month to bulls. You should note, including the ECB member countries, 38 countries are now engaged in QE.
The choice for traders Friday was to buy the market. Are there any negatives as stocks soared Friday? There's the debt ceiling (sort of cancelled), and then the "sequester" (well, bulls have "time" to play). Bad news this week like GDP, Jobless Claims, beating much weaker earnings, Conference Board's Consumer Confidence, Apple (NASDAQ:AAPL) and rising interest rates are just brushed off.
If interest rates cause mortgage rates to rise, that may slow housing, or could cause a sudden rush to buy from off the sidelines.
The dollar (NYSEARCA:UUP) was weaker, while gold (NYSEARCA:GLD) was only modestly higher. Commodities (NYSEARCA:DBC) were higher on the weaker dollar and higher energy prices (NYSEARCA:USO) and (NYSEARCA:UGA), while base metals (NYSEARCA:DBB) also rose. Bonds (NYSEARCA:TLT) were weaker in price, higher in yield.
Stocks rallied sharply and broadly, with most sectors participating relatively evenly. The headlines scream "Dow Closes Above 14,000 for the First Time Since October 2007". Missing from that line is the bear market that followed.
Volume, despite all the bullish hoopla, was still light as we revert to perhaps the old normal volume from 2006. Breadth per the WSJ was quite positive.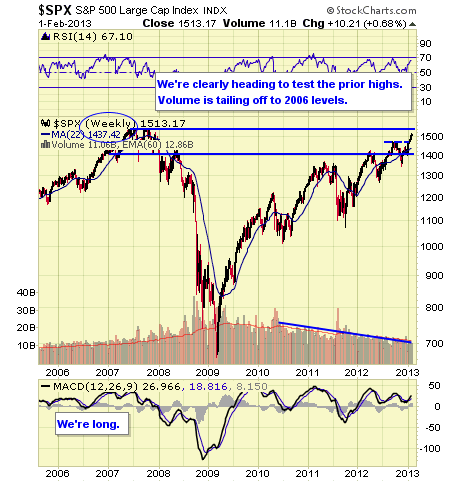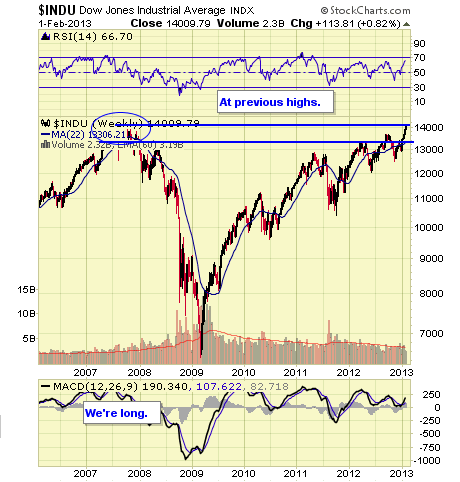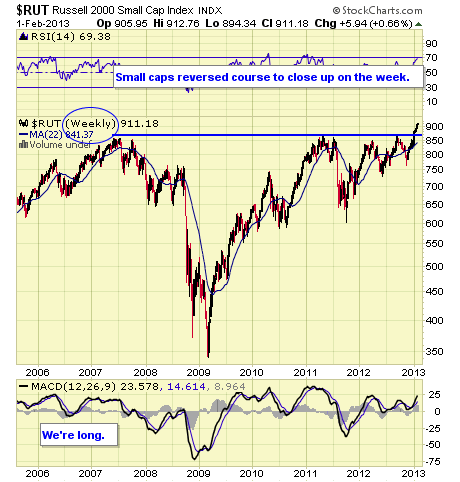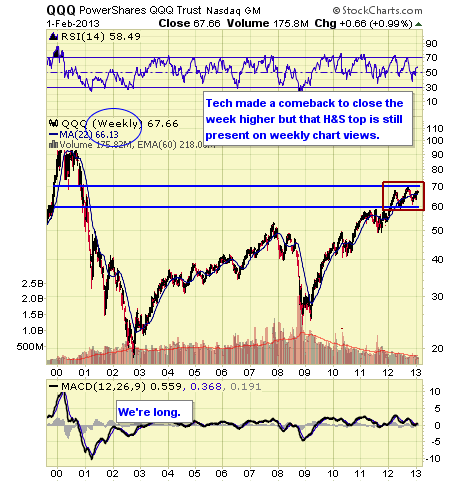 Continue to U.S. Sector, Stocks & Bond ETFs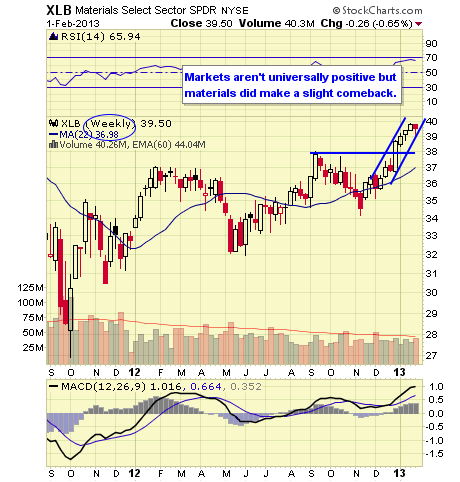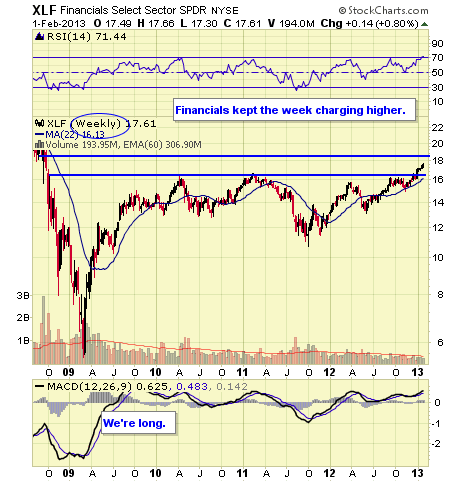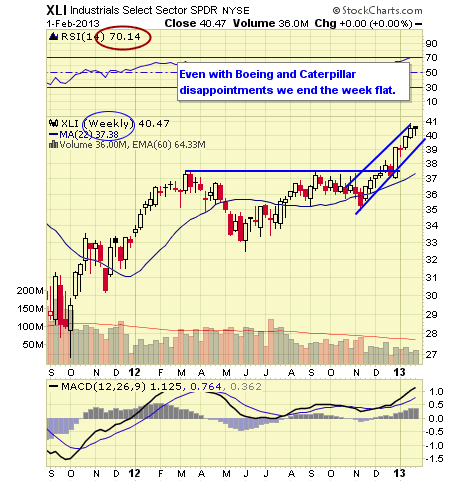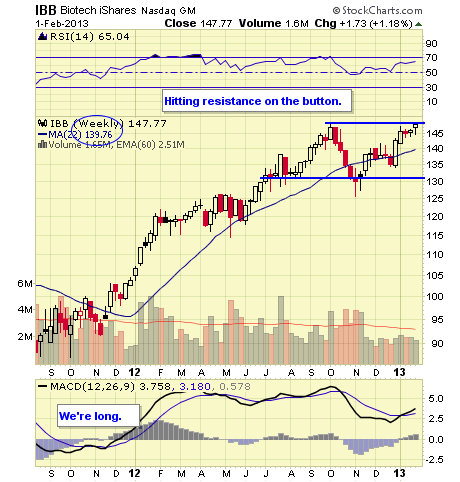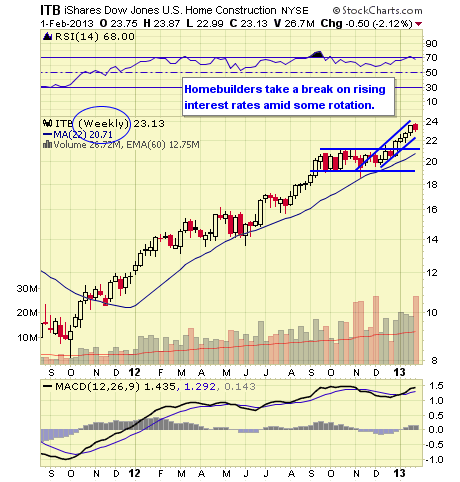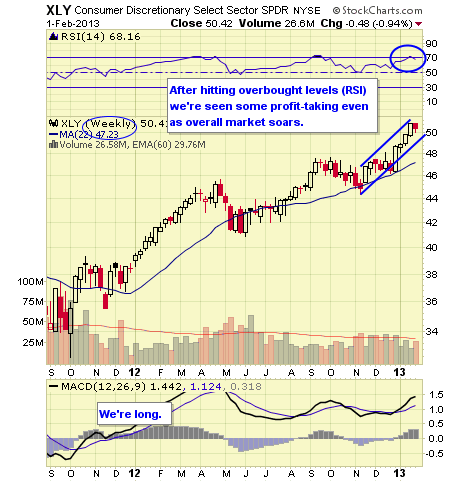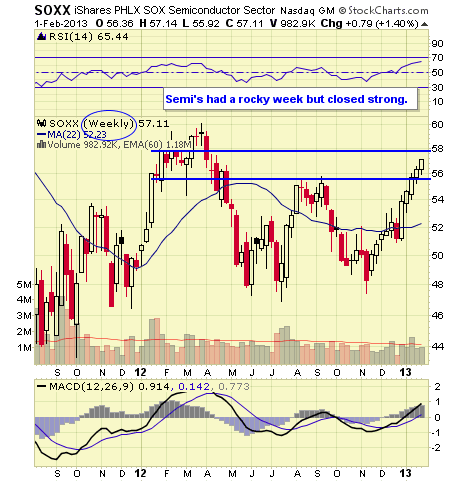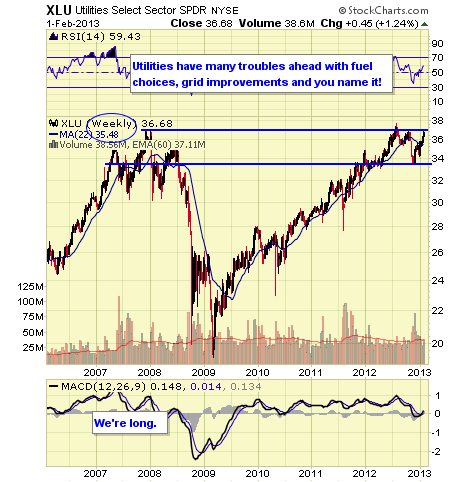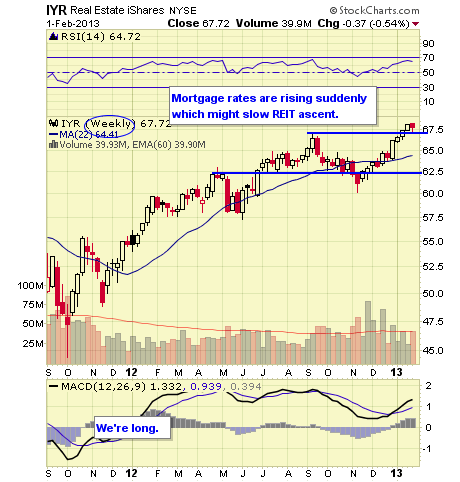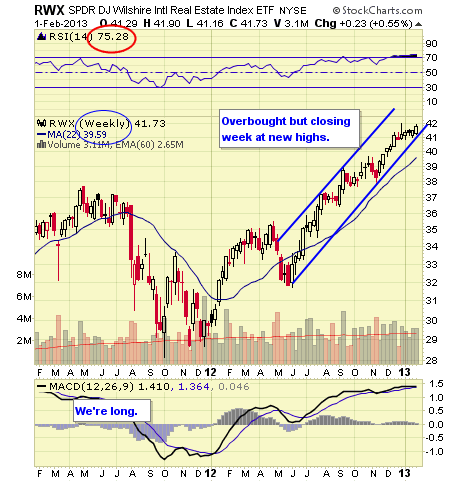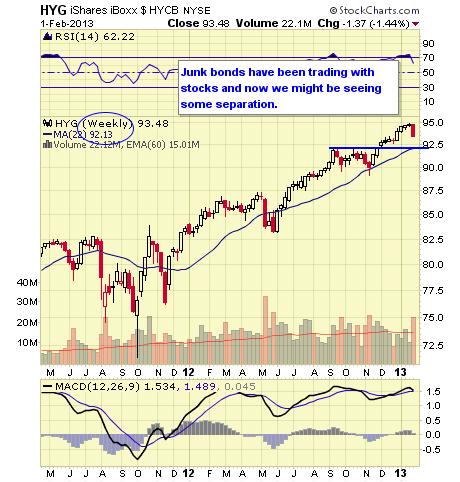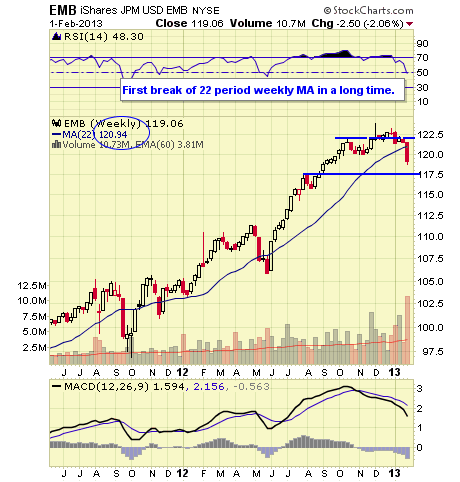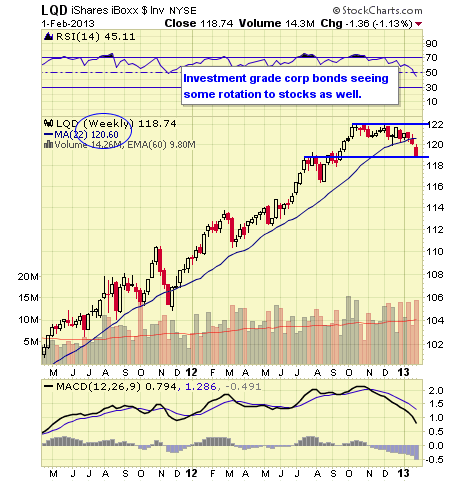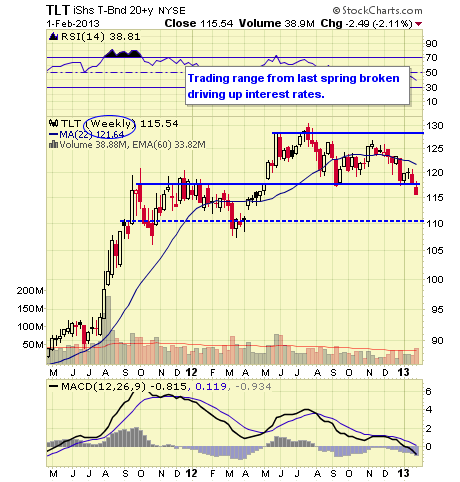 Continue to Currency & Commodity Market ETFs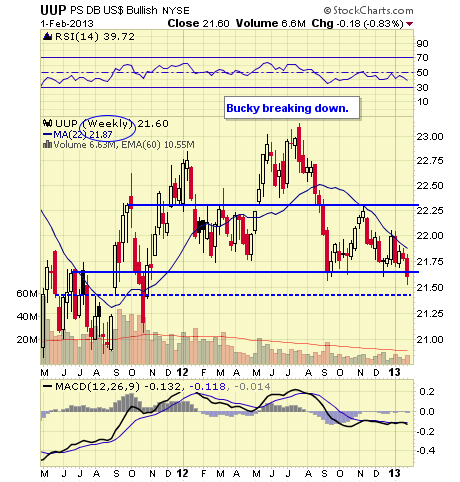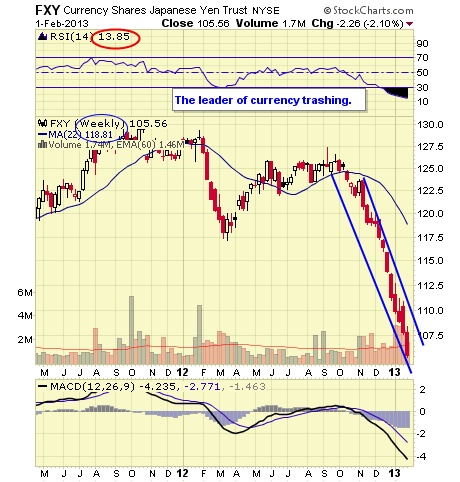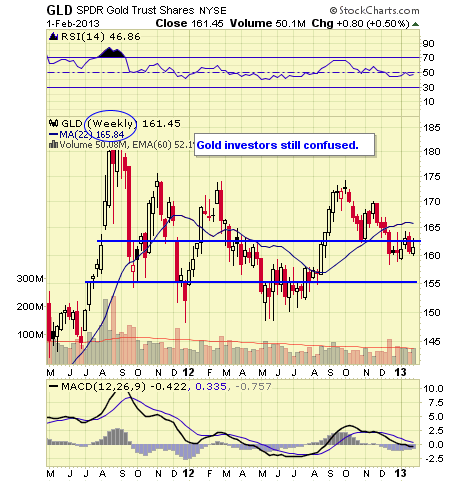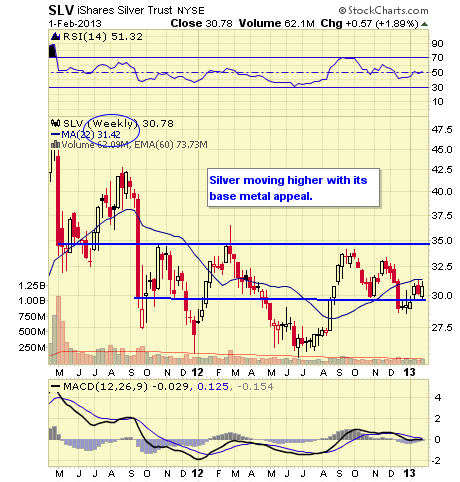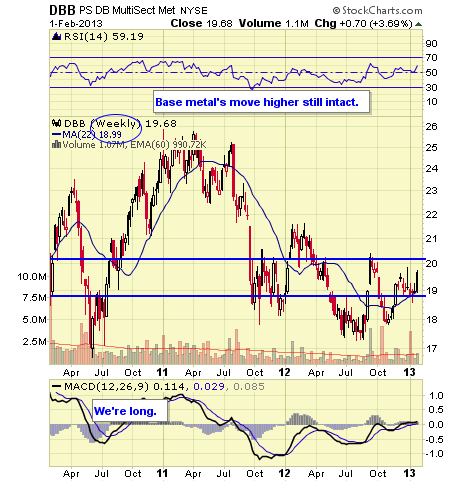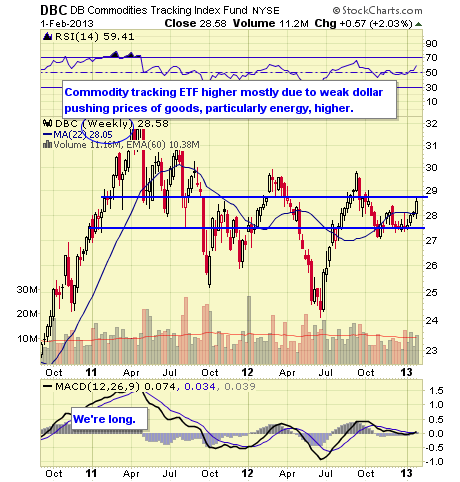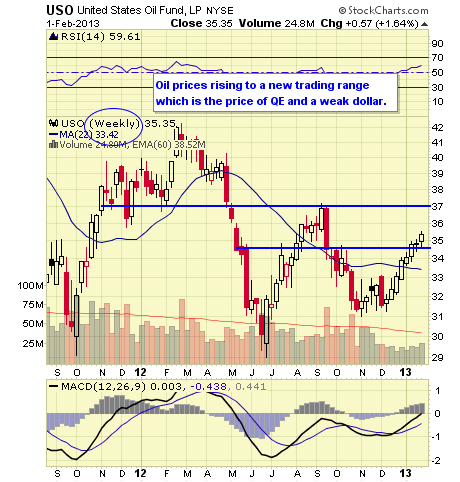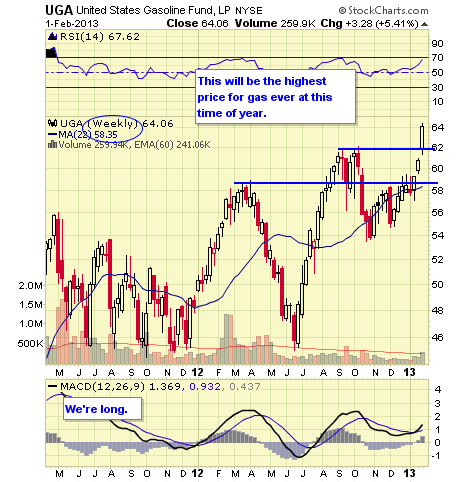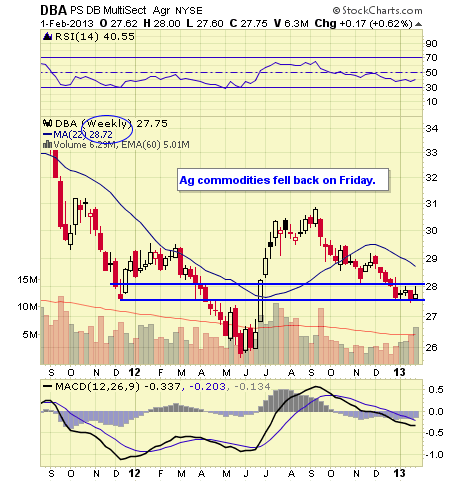 Continue to Overseas Sectors & ETFs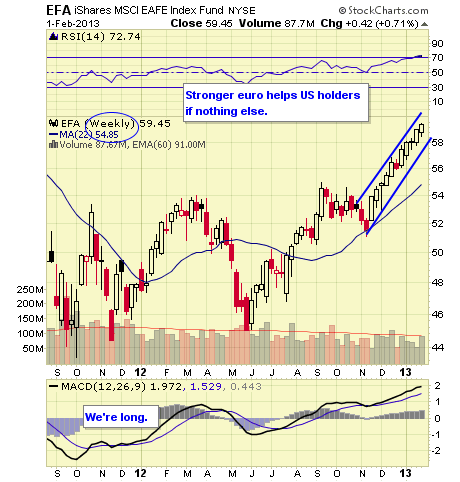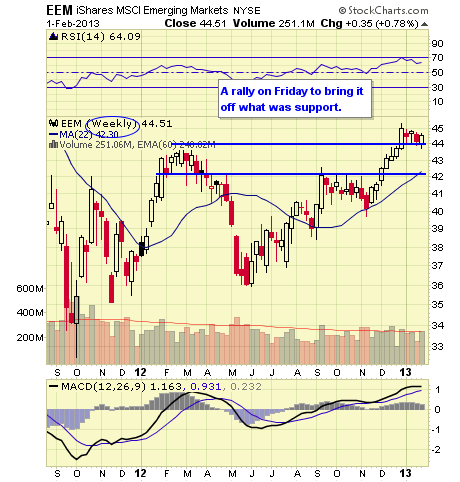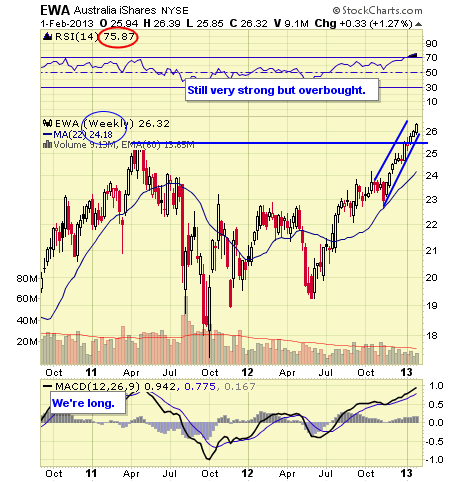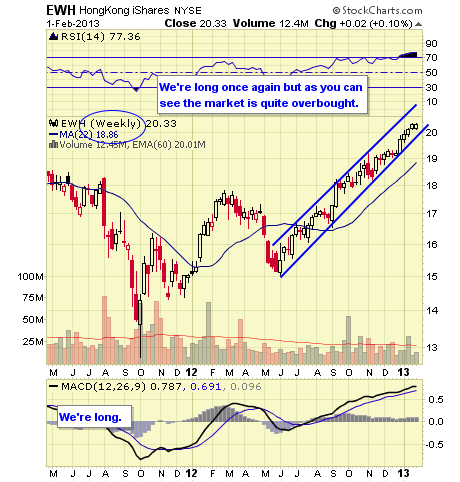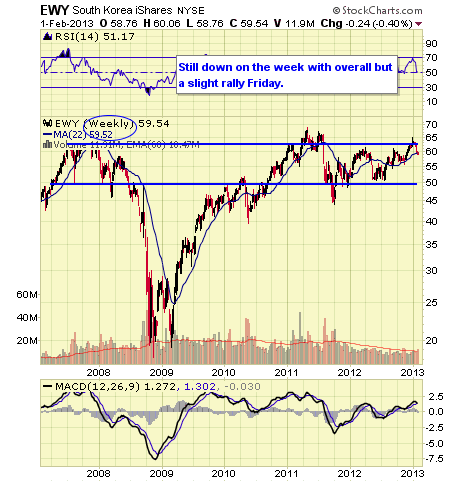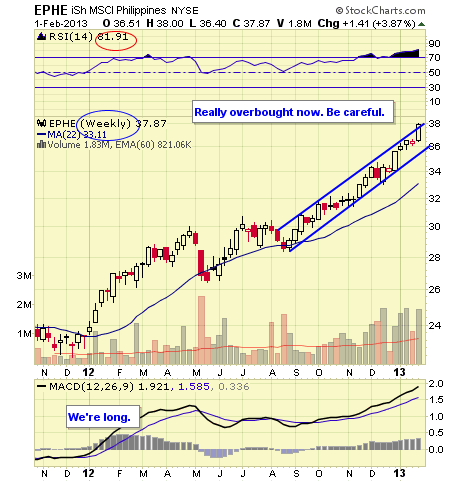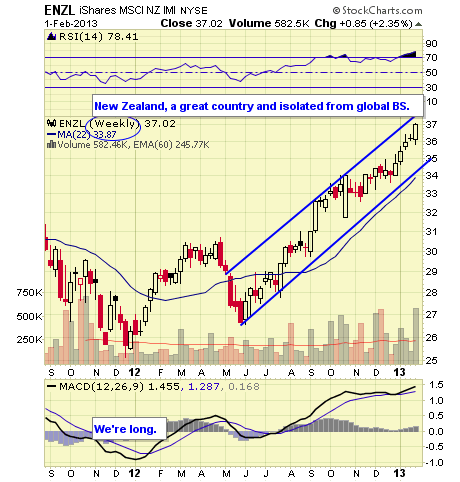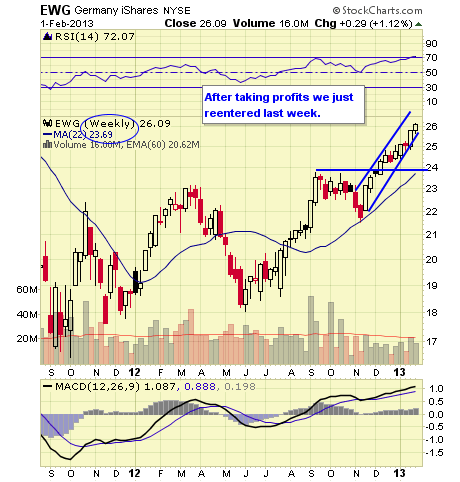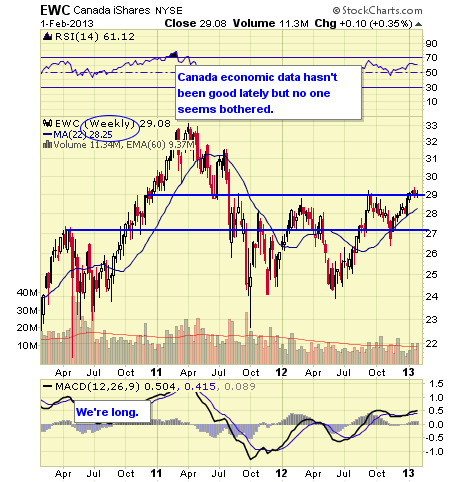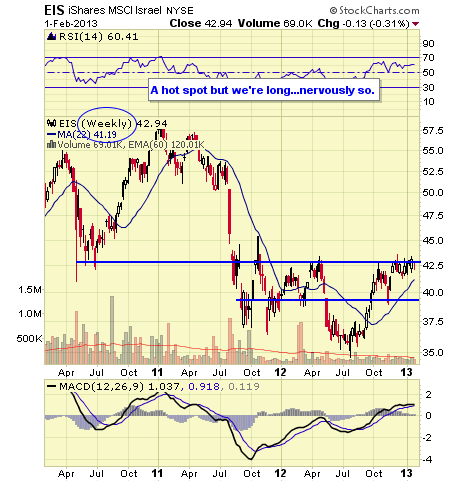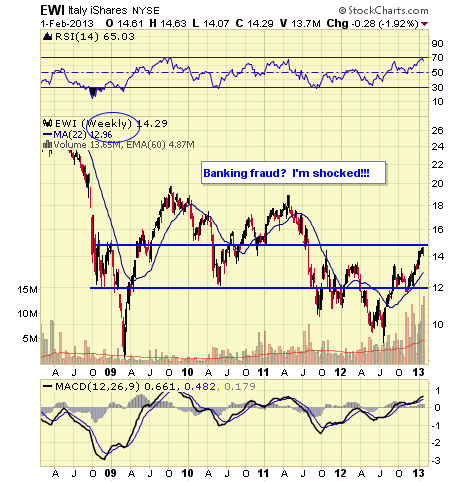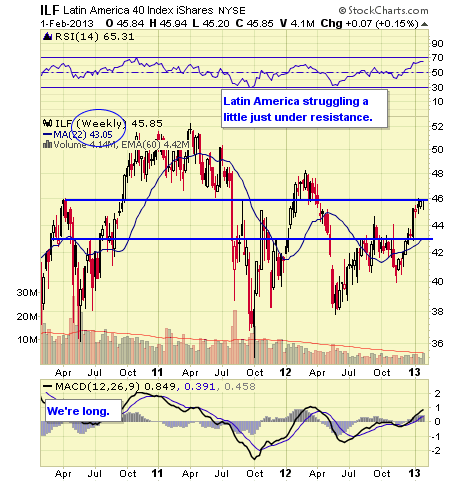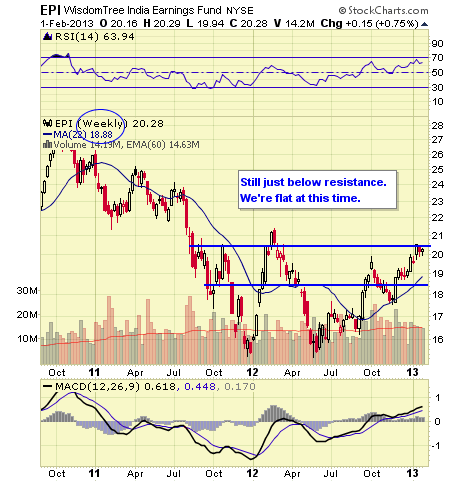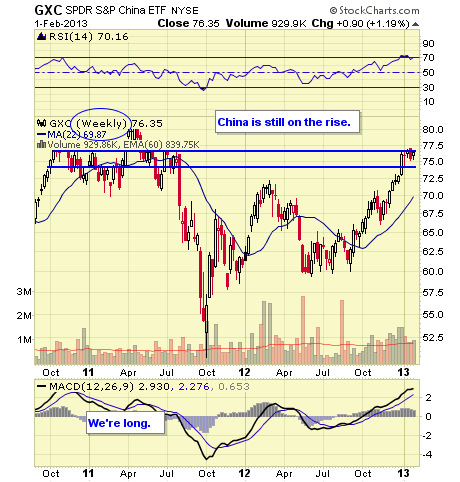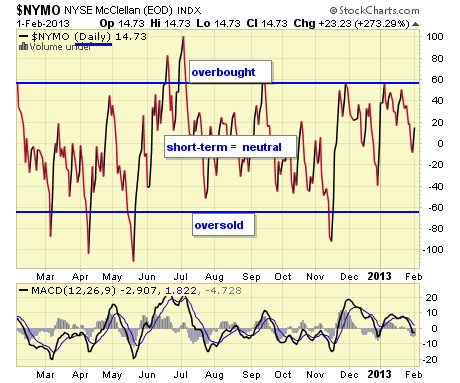 The NYMO is a market breadth indicator that is based on the difference between the number of advancing and declining issues on the NYSE. When readings are +60/-60, markets are extended short term.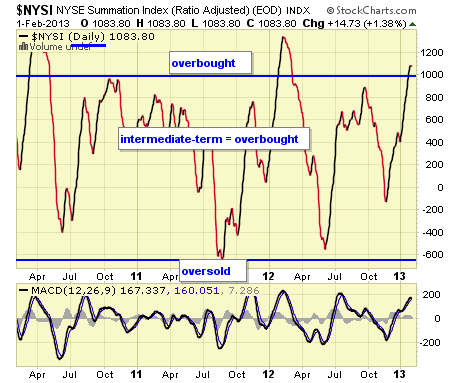 The McClellan Summation Index is a long-term version of the McClellan Oscillator. It is a market breadth indicator, and interpretation is similar to that of the McClellan Oscillator, except that it is more suited to major trends. I believe readings of +1000/-1000 reveal markets as much extended.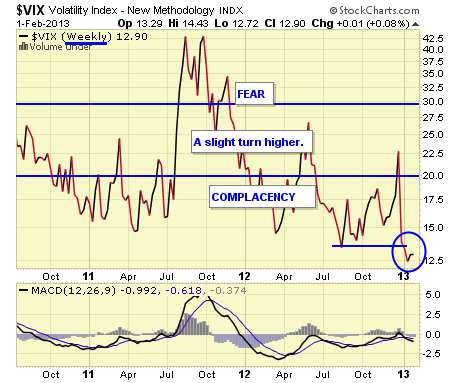 The VIX is a widely used measure of market risk, and is often referred to as the "investor fear gauge." Our own interpretation is highlighted in the chart above. The VIX measures the level of put option activity over a 30-day period. Greater buying of put options (protection) causes the index to rise.
Concluding Remarks
This was a great week for bulls and low volatility, considering all the data and earnings thrown at markets.
More earnings next week, but where's the next catalyst to come from?
Disclaimer: The ETF Digest maintains an active ETF trading portfolio and a wide selection of ETFs away from portfolios in an independent listing. Current "trading" positions in active portfolios, if any, are embedded within charts: Lazy & Hedged Lazy Portfolios maintain the follow positions: VT, MGV, BND, BSV, VGT, VWO, VNO, IAU, DJCI, DJP, VMBS, VIG, ILF, EWA, IEV, EWC, EWJ, EWG, & EWU.
The charts and comments are only the author's view of market activity and aren't recommendations to buy or sell any security. Market sectors and related ETFs are selected based on his opinion as to their importance in providing the viewer a comprehensive summary of market conditions for the featured period. Chart annotations aren't predictive of any future market action rather, they only demonstrate the author's opinion as to a range of possibilities going forward.
Disclosure: I have no positions in any stocks mentioned, and no plans to initiate any positions within the next 72 hours. I wrote this article myself, and it expresses my own opinions. I am not receiving compensation for it. I have no business relationship with any company whose stock is mentioned in this article.