Back on November 27, I wrote my thoughts on Atlantic Power (NYSE:AT). Atlantic Power operates various power generation assets, selling electrical energy to utilities and other large commercial customers under long-term purchase agreements. Atlantic Power's goal is to generate stable cash flows to sustain and/or increase their dividend. Atlantic Power had been recovering nicely from its sharp decline after its Q3 earnings report. However, it has recently suffered a reversal, with the share price declining over 11% over the past several trading days. Atlantic Power offers a monthly dividend Cdn$0.09583 ($0.01 U.S.) per share. At current prices, the stock yields 10%.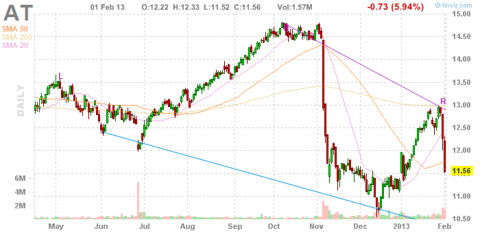 The share price reversal seemed to be triggered by the announcement of the an agreement to sell three Florida facilities.
"Atlantic Power agreed to sell its interest in the Auburndale Power Partners Limited Partners ("Auburndale"), Lake Cogen, Ltd. ("Lake"), and Pasco Cogen, Ltd. ("Pasco") for a purchase price, including working capital adjustments, of approximately $136 million. Atlantic Power expects to receive net cash proceeds of approximately $111 million in the aggregate, after repayment of project-level debt at Auburndale and settlement of all outstanding natural gas swap agreements at Lake and Auburndale. The Company intends to use the net proceeds from the Sale to fully repay the Company's senior credit facility, which is expected to have an outstanding balance of approximately $67 million at close, and for general corporate purposes. The agreement contains representations, warranties and indemnification obligations that are customary in the industry. The sale is expected to close in the first quarter of 2013."
Atlantic Power intends to use the $111 million in net cash to pay off debt and for general corporate purposes. Atlantic Power had previously stated in its Q3 conference call that it expected substantial decreases in cash flow from its Lake and Auburndale projects in Florida after their PPAs expire on July 31 and December 31 of 2013, respectively. The Company anticipated that any potential new PPAs at its Lake and Auburndale projects would have been impacted by the recessionary energy market in Florida.
The sale of these assets should not have come as a surprise. In the conference call, Atlantic Power CEO Barry E. Welch strongly hinted that this was a possibility:
"We're also considering a possible sale of one or both of the assets as the prospect of low cash flows in the near term while electricity demand continues to recover. With the possibility of better economics over the longer-term, it looks more like our merchant plant investment, and it's not a good fit with our business model which is focused on contracted assets with stable cash flows. We're working to determine the best course of action and we'll continue to pursue parallel paths of recontracting and sale. As the picture becomes more clear, we'll update the market accordingly."
The CEO also clarified some of the reasoning for the sale in sale announcement:
"Our business model is focused on achieving stable, predictable cash flows from contracted power generation. Given our projections that the Florida energy market will not recover in the near-term to allow us to secure economic power purchase agreements ('PPAs'), we concluded, after considering all available options, that the sale of Lake and Auburndale maximizes shareholder value," said Barry Welch, President and CEO of Atlantic Power. "The average remaining PPA life of our portfolio, when taking into account the sale of the three Florida facilities and the proposed sales of the Delta-Person generating station and Gregory facility, will increase 19% from 9.7 years to 11.4 years."
The Auburndale and Lake projects were two of the three largest individual sources of 2011 EBITDA for Atlantic Power, representing 11% and 10% respectfully. The Company's Pasco project, a similar sized gas facility also in Florida, signed a tolling agreement in 2008, prior to the recession, which provides approximately $4 million per year in cash distributions to Atlantic. Atlantic Power was anticipating that potential new PPAs at its Lake and Auburndale projects would not individually achieve a better result in the near-term than that of its tolling agreement with Pasco due to recessionary impacts in the Florida market. The Pasco project was part of the "other" category and represented 3% or less of project EBITDA.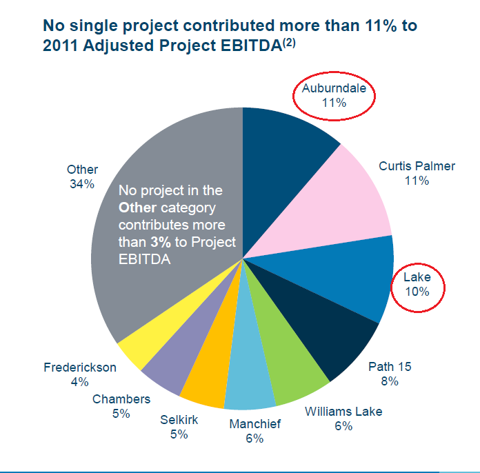 Atlantic Power has been planning for this loss in EBITDA for awhile now and they do have several projects kicking in 2013 and later that will replace it.
On Jan 2, Atlantic Power announced the closing of the Ridgeline and Canadian Hills acquisition. The expectation is that the Company will receive cash distributions from Canadian Hills in the range of $16 to $19 million for each full year of operation through 2020, and that distributions are expected to increase thereafter.
The Piedmont biomass project is expected to add $8 million to $10 million of cash flow in 2013.
Atlantic Power anticipates cash flow increases of $14 million to $18 million from their 50% interest in the Orlando project starting in 2014, after the expiry of its gas supply contract.
I think the market is overreacting to this asset sale. Atlantic Power will have new sources of cash flow kicking in 2013 that will cover the loss of the Florida assets. There was very little chance of maintaining anywhere near the levels cash flows generated by these projects in a new PPA.
I took advantage of this two-day 11% price drop, and on Friday, purchased some shares in Atlantic Power. I had been regretting not purchasing shares after my article in November. I do have some concerns about the dividend payout ratio, though I think Atlantic Power will manage to keep it under 100% in 2013. You rarely see many 10% monthly dividend stocks on sale, and that makes, in my opinion, Atlantic Power a buy at under $12 a share.
Disclosure: I am long AT. I wrote this article myself, and it expresses my own opinions. I am not receiving compensation for it (other than from Seeking Alpha). I have no business relationship with any company whose stock is mentioned in this article.