Exxon Mobil (NYSE:XOM) took a beating in from late 2008 to mid 2010. But it is now three years after the global tanking of energy prices and according to an article in the Wall Street Journal, foreign investors are piling into Canada's Alberta and Edmonton areas as Alberta announces its plan to double its oil production. If that was not enough, there is a shale oil boom happening in the United States.
Canada Is A Game Changer
Edmonton and Alberta combined are sitting on what is estimated to be over $16 Trillion dollars (Cdn.) of oil. Obviously the principal problem up until now was getting the oil out of the sand. With the advent of technology this has now become economically feasible. According to an article in the Edmonton Journal:
"Over the next two years, the board predicts Alberta will create 132,900 net new jobs or about 40,000 more people than the entire population of Red Deer cutting the province s unemployment rate to 4.5 per cent by 2013. That s just one per cent above the pre-recession lows of 2007."
The Petroleum Human Resources Council of Canada says nearly 40,000 new workers will be needed in the energy sector by 2020 just to replace those who retire, plus 90,000 additional oil-patch workers will still be needed. With China, South Korea, Japan and Thailand all spending Billions of dollars in new investments is it no wonder that Exxon is spending $10.9 billion (Cdn) on the Kearl Oilsands Project. By comparison, Husky Energy (HUSKF.PK) is spending $2.5 billion on its Sunrise Phase One Sit Project.
What About Demand?
At the end of 2004, at about 74 million barrels per day (mbpd), conventional oil supply hit its peak; however, as can be seen from the chart below, demand has simply continued to increase, rapidly outpacing conventional oil supply. This has, as a result, increased prices. When you consider that the current demand is 90 mbpd, you can understand the resulting oil boom in unconventional sources such as the oilsands and shale oil. Despite increased costs associated with obtaining these unconventional sources of oil, demand has now pushed prices to the point that acquiring these oils is now cost productive.
As a result, as the old conventional oil, with production costs under $20 a barrel in places like Saudi Arabia, begins to deplete its reserves as we are already seeing, the new unconventional oil that has a production cost of over $80 per barrel will replace it. Don't think for a moment that the oil companies will absorb this cost, they will just pass it on to the consumer and as a result the world price for oil will have no choice but to continue to rise higher.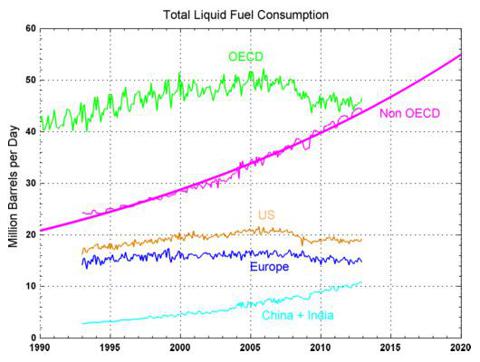 Analysts Are Missing The Big Picture
"The average efficiency of our existing fleet of 240 million cars and light trucks is in the neighborhood of 22.5 mpg. China will add 125 million cars to its fleet over the next five years," said Ambrose Evans-Pritchard in The Telegraph
From Barclays Capital, "Asian oil demand is growing at a faster pace than markets are currently pricing in" warning that there is "significant upside demand risk." This demand shift from West to East has escaped the notice of many analysts.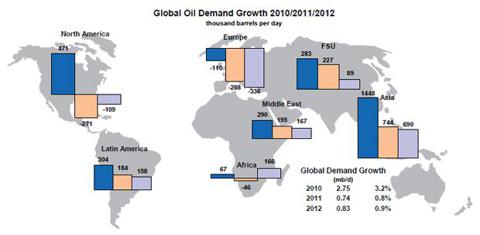 The numbers are relentless and remorseless and it would be a serious error to assume that new supply from expensive and slow-scaling unconventional sources can meet the 1 million bpd of new demand this year, and the next, and the next with no end in sight. You have to remember, that in 2011 the United States total "tight oil" production was just over half a million barrels per day. Remember further that it took the Oil companies almost 7 years, thousands of wells and billions of dollars to achieve that level of production.
Furthermore, with continued protests by environmentalists, an unfriendly president and drilling moratoriums there is no way, in the foreseeable future, for production to reach the levels necessary to satisfy the needs of Asia. Consider this; there is roughly only one billion people in the U.S. and Europe combined. There are now over four billion people in Asia and over one billion more in Latin America, the former Soviet Union and the Middle East all competing for the oil.
Bottom line: look for continued increases in energy prices and increased profits by the oil companies.
Exxon's Power Play
French, Japanese, and Chinese energy companies cannot seem to get their hands on a big enough slice of U.S. shale oil deposits. As a result, this leads me to believe that we are seeing a classic sign of a multi-year investment trend.
Consider that in just the past two weeks:
French oil major Total (NYSE:TOT) invested $2.3 billion in Chesapeake Energy's (NYSE:CHK) Utica Shale operation in eastern Ohio.
China Petroleum & Chemical (NYSE:SNP), spent $2.2 billion for a 30% stake in five Devon Energy (NYSE:DVN) shale projects.
And Japan's Marubeni, a commodities trader, agreed to pay $1.3 billion for a stake in Hunt Oil Co.'s Eagle Ford shale property in Texas.
Exxon really only has one of three plays here, in either case it means a bullish run. Exxon either has to expand its operations, buy out the competition or do what I believe they are doing, a combination of both.
We already know that Exxon is expanding operations in Canada but what most Investors don't know is that there are a number of vulnerable oil companies ripe for the picking. Look to profit from this by looking for prospective takeover targets in the energy sector and play both sides of the fence.
According to Subash Chandra, an analyst specializing in energy stocks for Jeffries Group, the stocks to watch are SM Energy (NYSE:SM) and Oasis Petroleum (NYSE:OAS).
Another oil sector analyst, William Featherston of UBS (UBS), agreed with Chandra's choices, and came up with several more: Anadarko Petroleum (NYSE:APC), Cabot Oil & Gas (NYSE:COG), and Southwestern Energy (NYSE:SWN).
HOW TO PLAY IT
Investors should look to play both sides of the fence by investing heavily in possible takeover targets and to go long with Exxon. Exxon is a solid company that pays a hefty dividend. Going long is a good play here where you can capitalize on the rising stock price and some good dividends. In the advent of a takeover, look for your shares in your takeover targets to be bought at a premium thanks to heavy bidding wars.
Disclosure: I have no positions in any stocks mentioned, and no plans to initiate any positions within the next 72 hours. I wrote this article myself, and it expresses my own opinions. I am not receiving compensation for it (other than from Seeking Alpha). I have no business relationship with any company whose stock is mentioned in this article.