Seeking Alpha Robert Allan Schwartz did an excellent job last week by writing this article that highlighted a component of making an investment that can often be relegated to an afterthought: the role of pension obligations in making an investment. It is difficult to come up with specific rules and bright-line tests in trying to make a determination whether a pension shortfall is great enough to deter investment, but I would generally compare three factors to determine whether I should let a pension shortfall be a deal-breaker in making an investment decision.
First, I would look at the extent of the shortfall. I would do this by comparing the total assets of the pension against the pension obligations, and then evaluate the return assumptions of the company. Is the company expecting the current pension assets to return 7% annually? 8% annually? 10% annually? A lot of S&P 500 companies built-in 10% annual returns into their models during the 1990s and through most of the 2000s, and it was not until the financial crisis hit in 2008-2009 that many companies began to adjust their assumptions downward to the 7-8% level. It is also useful to keep an eye on what rate of return companies are expecting from their pension assets that determine their contributions to the pension plan so you can determine whether the present management is attempting to address pension shortfalls and ensure adequate maintenance of retiree needs or whether the present management is more concerned about kicking the can down the road so that future executives will have to deal with even larger pension problems.
Then, I would compare that shortfall to both the amount of current cash flow per share and the earnings quality of the company. Is the pension shortfall miniscule compared to what the company is currently generating in profits? As you can see in the chart below, Johnson & Johnson (NYSE:JNJ) may not have pensions assets that match current obligations, but the company could rather painlessly make an additional $3 billion pension commitment if need be. That's why I don't consider a pension shortfall to be an automatic "don't buy" trigger.
And lastly, I would make my own earnings projections to determine whether it's possible for the company to grow its way out of the way pension problems. Inflation can help somewhat here, as the presence of 3-4% annual inflation can make it easy to swallow large shortfalls because the many of these commitments are fixed in nominal dollars that are easier to make up as the dollar becomes worth less.
While it would be a mind-numbing task to present you with pension data for every S&P 500 company, I did want to compile a useful list of pension data by noting the current (as of 2012) pension assets and pension obligations for every company that is a member of the Dow Jones Index. To ensure accuracy, I double-checked all pension data with the numbers offered by The Value Line investor service. In fact, Value Line currently provides financial information on every single Dow Jones member for free, and you can mine data for each of these companies individually by clicking here.
Without further ado, here is a list of the pension assets and obligations for every company in the Dow Jones: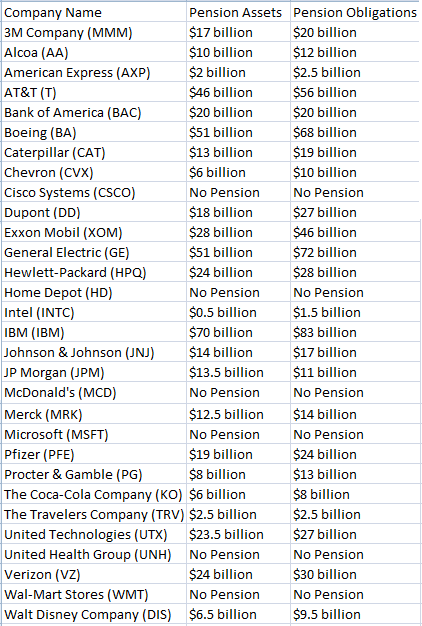 For me, I didn't see too many surprises in the data although I was surprised to see that the two big banks on the list, JP Morgan (NYSE:JPM) and Bank of America (NYSE:BAC), both have fully funded pensions. As expected, this is an area where large-cap tech companies like Microsoft (NASDAQ:MSFT) and Cisco Systems (NASDAQ:CSCO) have an advantage (from an investing standpoint) because they don't have any pension obligations at all (and Intel's (NASDAQ:INTC) pension program is so small that it is effectively negligible when performing an analysis of the company as an investment). As expected, many of the "Old Guard" companies like AT&T (NYSE:T), Verizon (NYSE:VZ), General Electric (NYSE:GE), IBM (NYSE:IBM), Exxon Mobil (NYSE:XOM), and Boeing (NYSE:BA) have substantial pension commitments that could prove troublesome if not properly tended to. Those are the six companies I would pay special attention to from this list because they could pose the greatest risk if underfunded. But as always, it is important to do your own due diligence and make sure that you are comfortable with your own investment. Investing is mostly a negative art-that is to say, we have over 10,000 companies to choose from, and most of us try to winnow that universe down to 10-50 companies that we're comfortable with. You should use the information listed above to make an investment that is consistent with your own goals, objectives, risk profile, and style of investing.
Disclosure: I am long BAC, GE, JNJ, MCD. I wrote this article myself, and it expresses my own opinions. I am not receiving compensation for it (other than from Seeking Alpha). I have no business relationship with any company whose stock is mentioned in this article.