With the average age of cars and trucks on the road at 10.8 years old, car makers are benefitting as people are finally making the move to part ways with these older vehicles. Good old American company, Ford (NYSE:F) is benefitting from these trade-ins. The company was able to navigate through the financial crisis in 2008 without being bailed out by the U.S. government. Ford is now seeing an increase in sales and looks well-positioned going forward.
Ford reported wholesale volume of 1.5 million units for Q4 2012. This volume was a 7% increase over Q4 2011. Total revenue increased 5% in the quarter to $36.5 billion. Earnings per share of $0.31 were 52% higher than in Q4 2011 and exceeded estimates by 24%.
Ford also just reported positive results for January 2013 with a U.S. sales increase of 22% over January 2012. The sales breakdown was a 34% increase for cars, 23% increase for utilities, and an 11% increase for trucks. The Ford Fusion saw a 65% increase in sales, while the Ford Escape's sales rose 16%.
Regionally, in North America, sales increased 13%; while South America saw an 11% increase in sales for Q4. Revenue increased 47% in the Asia Pacific, & Africa region. Europe was the sore spot for Q4 as revenue declined 22%. Ford needs to ensure that the correct product mix is in place in Europe to minimize the impact of future declines.
The company is still undervalued with a forward PE ratio of 7.75, a PEG ratio of 1.07, a price to sales ratio of 0.37, and a price to book ratio of 2.62. Ford still looks priced for an economic slowdown. However, signs are pointing more towards continued vehicle sales growth rather than a slowdown. People will not keep their aging vehicles forever. Many are aware that thousands of cars were damaged in Super Storm Sandy a few months ago and would not want to risk buying a car that was previously flooded or one that has other hidden damage.
Ford is currently paying a dividend of 3.1%. Although its dividend history has a gap from 2007 to 2011, the current outlook is brighter so the company is likely to continue to reward shareholders with a dividend. However, be aware as an investor that Ford is not considered a dividend growth company like a McDonald's (NYSE:MCD). Dividend growth companies like McDonald's increase their dividends every year over decades. Ford's sensitivity to economic conditions makes it unlikely that it will increase dividends year over year without interruption.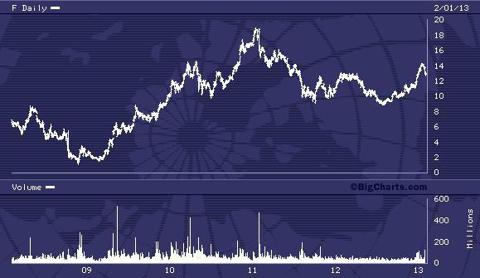 Ford is expected to grow earnings annually at 8.64%. This is approximately in line with the growth expectations of the overall market. However, with Ford's 3.1% dividend, investors should reasonably achieve a compound annual growth rate of nearly 12% if dividends are reinvested. These expectations have the dim outlook in Europe baked in. The company exceeded its earnings estimates every quarter last year. I wouldn't be surprised to see Ford continue exceeding its estimates this year.
Have you invested in Ford lately?
Disclosure: I am long MCD. I wrote this article myself, and it expresses my own opinions. I am not receiving compensation for it (other than from Seeking Alpha). I have no business relationship with any company whose stock is mentioned in this article.