On January 31st, Lender Processing Services (NYSE:LPS) announced the company has settled with the attorneys general of 46 states and the District of Columbia over accusations of fraudulent practices in its mortgage loan default servicing, also known as "robosigning." I have written in previous pieces that LPS was worth the bet that these issues would eventually get resolved in a favorable manner. Now, only Nevada remains as a state with which LPS must still negotiate an agreement. LPS also settled two additional civil suits in the past two months. Note that these settlements still allow individual victims to file claims against LPS. Still, a major overhang has finally lifted from the stock.
The reaction to the news was swift. LPS rose 7.3% for the day. I myself rushed in to buy call options and was surprised that overall option activity was very muted. There had also not been any unusual bullish or bearish activity going into this news unlike past episodes.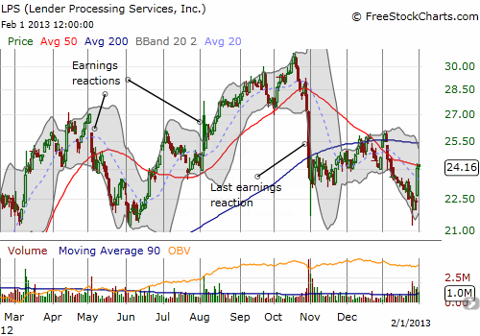 LPS should be starting a fresh rally although strong hurdles remain from the selling after October earnings
Source: FreeStockCharts.com
I am now waiting for the next earnings announcement before deciding whether to buy into shares again. The call options are a "no regret" position in case LPS rallies into and straight through earnings. After the last earnings report, I was waiting for follow-through selling to the low 20s or high teens for a fresh entry point into the stock. (I missed buying the plunge toward $21 on January 28th).
Assuming LPS management continues to execute, the settlement puts in place rules that give LPS a competitive advantage. Financial firms can do business with LPS with extremely high confidence that the company will not get them into trouble. The list of definitive rules around LPS operations is extensive and geared toward ensuring the fair treatment of mortgage holders:
Prohibits LPS (including DocX) from engaging in the practice of surrogate signing of documents.
Ensures that LPS has proper authority to sign documents on behalf of a servicer, if in fact it, is signing documents.
Requires LPS to accurately identify the authority that the signer has to execute the document and where that signer works.
Prohibits LPS from notarizing documents outside the presence of a notary and ensures that notarizations will comply with applicable laws.
Prohibits LPS from improperly interfering with the attorney-client relationship between attorneys and services.
Prohibits LPS from incentivizing or promoting attorney speed or volume to the detriment of accuracy.
Requires LPS to ensure that foreclosure and bankruptcy counsel or trustees can communicate directly with the servicer.
Requires LPS to have enhanced oversight and review of processes over third parties it manages, including those entities that perform property preservation services.
Prohibits LPS from imposing unreasonable mark-ups or other fees on third party providers' default or foreclosure-related services.
Requires LPS to establish and maintain a toll-free phone number for consumers concerning document execution and property preservation services (including winterization, inspection, preservation, and maintenance).
Requires LPS to modify mortgage documents that require remediation when LPS has legal authority to do so and when reasonably necessary to assist a consumer or when required by state or local laws.
In other words, the rules of engagement have become more clear in dealing with foreclosures. With this clarity should come more confidence in LPS's business model.
Be careful out there!
Disclosure: I am long LPS. I wrote this article myself, and it expresses my own opinions. I am not receiving compensation for it (other than from Seeking Alpha). I have no business relationship with any company whose stock is mentioned in this article.
Additional disclosure: Long through call options