Investor sentiment around the globe was negatively impacted during 2009's second full week of trading as a barrage of bleak economic and corporate news offered more confirmation of a deepening recession, bringing risk aversion to center stage.
The U.S. dollar and government bonds (excluding emerging markets and countries on the periphery of the Eurozone) gained, but global equities and commodities were on the defensive as nervous investors tried to gauge the likely damage of the economic malaise.
Global bourses concluded a whipsaw week with hefty losses, but stemmed some of the downside as a relief rally came to the rescue towards the end of the week. The MSCI World Index and the MSCI Emerging Markets Index declined by 6.2% and 5.8% respectively.
The U.S. indices all dropped over the week as shown by the major index movements: Dow Jones Industrial Index -3.7% (YTD -5.6%), S&P 500 Index -4.5% (YTD -5.9%), Nasdaq Composite Index -2.7% (YTD -3.0%) and Russell 2000 Index -3.1% (YTD -6.6%). As a matter of interest, the year-to-date returns at the same point last year (i.e. after 11 trading days) were -6.0% for the Dow and -6.5% for the S&P 500.
Adding a spark of hope on Thursday, the U.S. Senate voted to release the second and final $350 billion tranche of the TARP funds, whereas the House Democrats unveiled a much-awaited $825 billion stimulus package aimed at halting the economic rot. Meanwhile, in a speech at the London School of Economics, Fed Chairman Ben Bernanke said Barack Obama's economic package could provide a "significant boost" to the U.S. economy.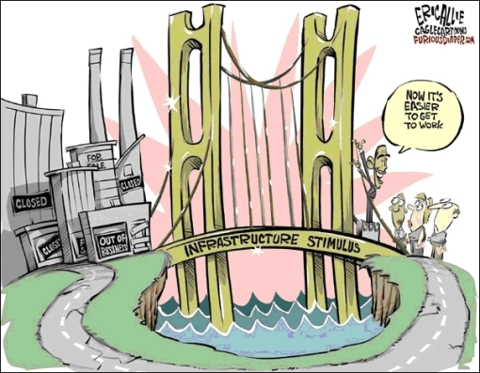 Source: Daryl Cagle
Now, let's get back to the stock market. The bar chart below shows the U.S. sector performance for the past week, and specifically how defensive sectors such as consumer staples, healthcare and utilities outperformed other sectors on a relative basis.
The financial sector plummeted by 16.3% as several U.S. banking shares fell to multi-year lows amid growing concerns that they will battle to cope with increasing credit losses as the global recession intensifies.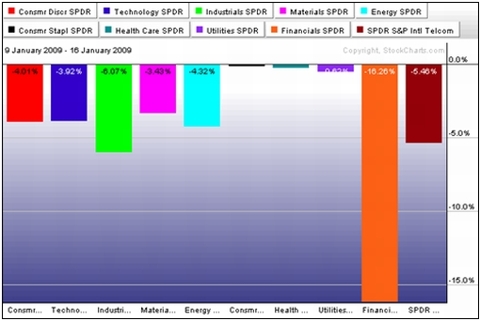 Source: StockCharts.com
The nascent earnings season saw a glut of fourth-quarter losses. These included larger-than-expected losses from Bank of America (NYSE:BAC) and Citigroup (NYSE:C), resulting in their respective share prices plunging by 44.7% and 48.2% over the week.
click to enlarge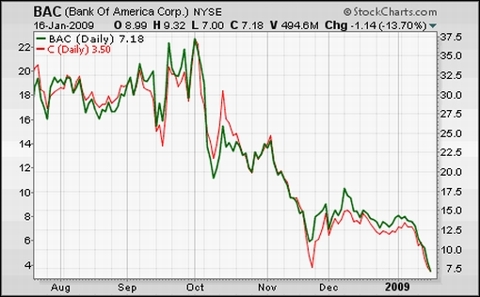 Citi announced plans to break up the bank into two businesses, following the decision to sell a controlling interest in the valuable Smith Barney brokerage to Morgan Stanley (NYSE:MS). On the other hand, Bank of America will receive an additional $20 billion of TARP funds to bed down its troublesome acquisition of Merrill Lynch (MER), as well as a guarantee on $118 billion of potential losses on distressed assets. Elsewhere, the Irish government nationalized Anglo Irish Bank (OTC:AGIBY), and HSBC (HBC) was rumored to be seeking fresh capital of $30 billion.
As far as the U.S. housing situation is concerned, I am keeping a close eye on the mortgage situation. According to Freddie Mac's Primary Mortgage Market Survey, the national average rates for a U.S. 30-year fixed mortgage last week declined to 4.96% from 5.33% two weeks ago and 6.46% in October last year. However, the rate is still 378 basis points higher than the three-month dollar LIBOR rate. This spread averaged 97 basis points during the 12 months preceding the crisis, indicating that lower rates are not being passed on to consumers.
Despite the interbank lending rates having declined from their peaks, banks have significantly curtailed the amount of money they are actually lending. The U.S. Depository Institutions Aggregate Excess Reserves continue their ascent at levels far in excess of the amount that banks need to keep on deposit to meet their reserve requirements (see chart below). This measure indicates that the balance sheets of banks remain under pressure, especially in view of the fact that the value of some assets is not known. A peak in the Excess Reserves graph should coincide with a turning point in the recovery of banks. (Also see my post "Credit Market Watch.")
click to enlarge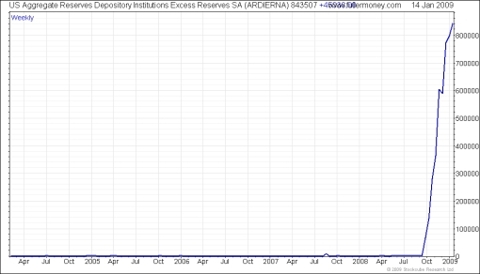 Source:Fullermoney
Next, a quick textual analysis of my week's reading. No surprises here with keywords such as "economy," "market," "bank," "China," "financial" and "prices" featuring prominently.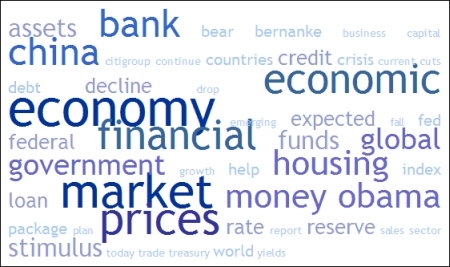 On the issue of corporate bonds, I received a number of questions after referring to the iBoxx Investment Grade Corporate Bond Fund (NYSEARCA:LQD) and High Yield Corporate Bond Fund (NYSEARCA:HYG) in last week's "Words from the Wise" review. In the short term, a further correction of both investment-grade and high-yield corporate bonds looks likely, but the sector is worth watching for opportunities arising at lower levels. Also, the high-yield instruments - under intense pressure because of an avalanche of defaults predicted by the ultra-wide spreads - could see spreads contracting markedly if the defaults are not as bad as priced in.
Go to Page 2 - Global Markets in Review: Stock Market Outlook>>