On January 29, 2012, New Oriental Education & Technology Group (NYSE:EDU) reported its results for the quarter ended November 30, 2012. While the company's top line still grew quite fast on a yearly basis, its operating loss widened and its bottom line turned from positive to negative year over year. Moreover, the company's revenue guidance for Q2 2013 was below analysts' estimates and seriously shook the market's confidence. To make matters worse, the increased costs for opening too many new training centers offset the gains from the income growth and the increased number of registered students.
Michael Yu, New Oriental's Chairman and Chief Executive Officer, commented, "…….While we slowed down our network expansion in the second quarter to focus on utilization, over the last four quarters we added a net of over 200 new learning centers, compared to just 80 over the four preceding quarters up to November 30, 2011, and this has put significant pressure on cost and expenses. These added pressures, combined with the seasonally low utilization, produced a net loss of US$15.8 million in the second quarter. The loss this quarter was also partly attributable to the expenses incurred in this quarter from the internal investigation and regulatory proceedings. Furthermore, our most profitable schools, in Beijing and Shanghai, continued to underperform, with revenues increasing by only 20% and net income falling over 50%. Our overseas test preparation business in Beijing, Shanghai and some other cities is facing growing competition as we reduce class sizes in accordance with market needs. Our overseas test preparation programs recorded a 7% year-over-year enrollment decrease and 22% year-over-year gross revenue growth."
Xiedong Ying, New Oriental's Chief Financial Officer, announced during the conference call that the company plans to close 15 to 25 unprofitable training centers in the future and lay off 1,000 to 1,500 employees, whose severance pay is $6,000 to $10,000 each. So, the fundamentals of New Oriental's business seem to be facing some considerable headwinds.
As the chart below shows, yesterday the stock rose to $17.19 within two hours of the opening quotation and then moved in a tight range until it closed at $17.05, or $0.35 (2.09%) higher than the prior closing price. However, daily volume declined by 25% compared with that during the prior day to about 2.4 million shares. The last four days of candlesticks is presenting a bearish Downside Tasuki Gap1. Besides, the downward gap on January 29, the downward breakout of the 20-day moving average line on January 25 and the Triple Tops2 during the latest 45 days, all convey a strong bearish signal to the market. Today's price rise is likely only the result of short covering activities in the market, which only played a limited role in driving up future prices.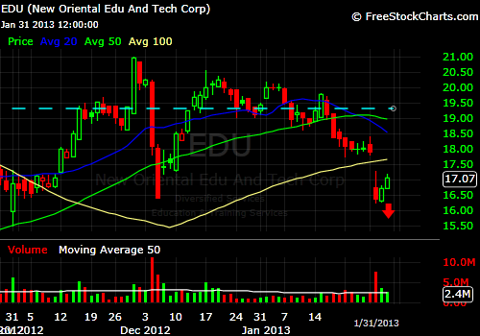 Click to enlarge
Notes:
1. Downside Tasuki Gap is a candlestick formation that is commonly used to signal the continuation of the current downtrend. Read more on Investopedia.
2. Triple Tops is a pattern used in technical analysis to predict the reversal of a prolonged uptrend. Read more on Investopedia.
On the basis of above analysis, if the market doesn't receive any good news from the company, the price in the short term may keep sliding until it reaches any of the next three low prices: $16.38, $14.31, or $13.28. From a sector viewpoint, EDU presents weak correlation with other stocks in the sector so that its future price is more likely to just reflect the challenges the company is facing right now than in the foreseeable future.
Here are our quick takes on a couple other stocks in the education industry:
Apollo Group Inc. (NASDAQ:APOL) is up $0.40 (2.02%) to $20.22 and keeps fluctuating in a wide price range. The stock may continue to walk in this range for a while.
DeVry Inc. (NYSE:DV) is up $0.77 (3.16%) to $25.17 and seems to be launching a new uptrend. If this momentum continues, the stock could rise further quickly.
Disclosure: I have no positions in any stocks mentioned, and no plans to initiate any positions within the next 72 hours. I wrote this article myself, and it expresses my own opinions. I am not receiving compensation for it (other than from Seeking Alpha). I have no business relationship with any company whose stock is mentioned in this article.
Additional disclosure: Maxsoar is a team of financial analysts specializing in emerging market stocks. This article was written by one of our analyst. Maxsoar did not receive compensation for this article (other than from Seeking Alpha), and we have no business relationship with any company whose stock is mentioned in this article. Use of MaxSoar Financial and Investments LLC's research is at your own risk. In no event should MaxSoar Financial and Investments LLC or any affiliated party be liable for any direct or indirect trading losses caused by any information in this report or on its website MaxSoar.com.