Chipmaker Qualcomm (NASDAQ:QCOM) posted a fantastic first quarter, continuing its momentum from fiscal year 2012 into 2013. Revenue surged 28% year-over-year to $6 billion, easily exceeding the consensus estimate. Non-GAAP earnings were also better than the consensus anticipated, growing 30% year-over-year to $1.26 per share (Image Source: QCOM Earnings Presentation).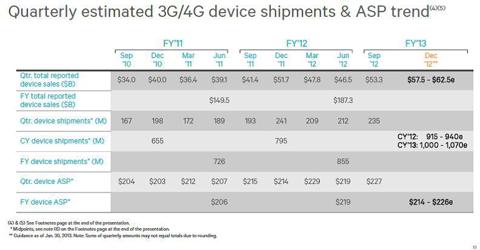 Click to enlarge
If there's any beneficiary of the smartphone revolution, it is most certainly Qualcomm. Aside from perhaps the phone carriers themselves, Qualcomm is the most OEM agnostic way to play massive smartphone growth. As the above chart shows, average selling prices continue to grow, and shipments look to exceed 1 billion units in Qualcomm's 2013 fiscal year (shown above). While there's no doubt Qualcomm benefited from spectacular iPhone 5 (NASDAQ:AAPL) growth this year, the company can make a lot of money regardless of which OEM does well.
More than anything, we remain impressed with Qualcomm's ability to generate free cash flow. Free cash flow during the first quarter jumped 24% year-over-year to $1.85 billion, or 31% of revenues! For every dollar of sales, $0.31 is added to its cash balance-an absolutely astonishing figure. The company now sits on a cash hoard of $28.4 billion with no debt, leaving the firm with a fantastic capital structure that will allow it to invest in next generation technology. The company is working to aggressively improve its low end offerings and its current slate of 4G LTE tech, which remains the industry standard (Image Source: QCOM Earnings Presentation).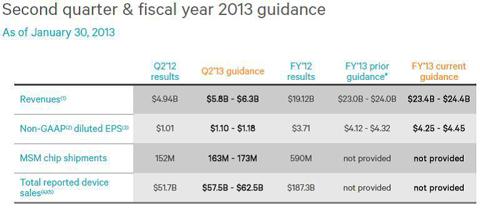 Click to enlarge
Going forward, the company is anticipating strong sales growth and raised both its fiscal year 2013 revenues and earnings guidance (shown above). Even though the current free cash flow yield (31% of sales) may be unsustainable, we believe the firm's business model lends itself to generating tremendous amounts of free cash flow.
It's hard not to like the secular tailwinds for Qualcomm, and we see business fundamentals remaining strong for the next few years. Even after shares have appreciated 14% during the past year, we think the firm has upside from its current valuation. Still, we'd only considering adding shares to the portfolio of our Best Ideas Newsletter at the right price (below the low end of our fair value range).
Disclosure: I have no positions in any stocks mentioned, and no plans to initiate any positions within the next 72 hours. I wrote this article myself, and it expresses my own opinions. I am not receiving compensation for it (other than from Seeking Alpha). I have no business relationship with any company whose stock is mentioned in this article.
Additional disclosure: AAPL is included in our Best Ideas portfolio.