Another "great" quarter for NetSuite (NYSE:N):
• Record Q4 Revenue of $85.0 million, a 33% Year-over-Year Increase
• Record 2012 Revenue of $308.8 million, 31% Growth over Prior Year
• 2012 Operating Cash Flow of $54.3 million, 50% Growth over Prior Year
That is until you dig deeper in the report:
On a GAAP basis, net loss for the fourth quarter of 2012 was $9.6 million, or $(0.13) per share, as compared to a net loss of $7.6 million, or $(0.11) per share, in the fourth quarter of 2011. GAAP net loss for the year ended December 31, 2012 was $35.2 million, or $(0.50) per share, as compared to a GAAP net loss of $32.0 million, or $(0.48) per share, in 2011.
In fact, NetSuite has really never made one cent on a GAAP basis from inception. OK so let's be a little more fair here, lets see what the company did on a Non-GAAP basis:
Non-GAAP net income for the fourth quarter of 2012 was $4.6 million, or $0.06 per share, as compared to non-GAAP net income of $3.4 million, or $0.05 per share, in the fourth quarter of 2011. Non-GAAP net income for the year ended December 31, 2012 was $19.1 million, or $0.26 per share, as compared to non-GAAP net income of $10.8 million, or $0.15 per share, in 2011.
So on a Non-GAAP basis the company made $19 million for all of 2012, or 26 cents per share. So one might say, the results are pretty good compared to last year, what's your problem with the stock, mate?
My problem is with sky high valuations and the fact that I have yet to meet any investor who has made money long-term buying extremely high multiples. The high multiples in question are the P/B ratio of 31, Price/Sales of 15, Non-GAAP profits of $19 million with a market cap of almost $5 billion.
Below I made several charts to show visually how expensive this stock is, and why you should not buy it even with OPM (other peoples money). I will compare it with one of the cheapest stocks in the universe, Apple (NASDAQ:AAPL) and another not so cheap stock, Google (NASDAQ:GOOG).
The first chart simply shows the numbers as they are on a plain vanilla basis. Please note since NetSuite has no profits, the orange bar under NetSuite is zero.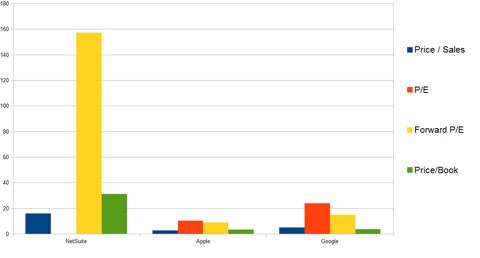 In the chart below I figured what the stock price of Google and Apple should be if they were valued comparable to NetSuite on a P/B and Price/Sales basis. I am not using earnings since NetSuite has no earnings, and if I use forward earnings, the chart would be off the scale.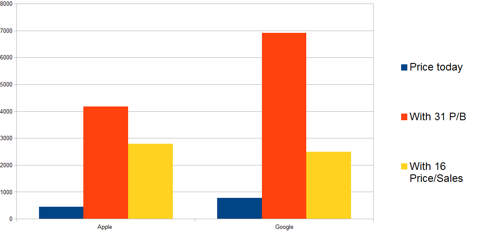 In other words, if Apple and Google had a comparable P/B valuation as NetSuite has, they would have to trade at $4.170 and $6.903 respectively. If they traded on a comparable Price/Sales basis, they would be valued at $2.781 and $2.494 per share respectively. This is how expensive this stock is.
Please note I don't have a problem with the company itself. The company is executing perfectly and doing a fine job and the balance sheet is just fine. My beef is with the valuation of the stock.
Like I pointed out in my recent post called Beware Of The Price/Sales Trap, the chances of making money long-term in stocks that are expensive in terms of both Price/Sales and P/E are slim to none. Yes, stocks in this category might not correct for years and maybe shareholders who were in from the beginning sometimes make money, but the long term possibilities are against such an outcome.
NetSuite announced its year-end results on Thursday after the close. So Friday the next day everybody was gung-ho to get into the stock. They got in alright, and the market sold the news without thinking about it twice. The stock opened up around 10% higher than the previous close, but it was all downhill from there and closed at -1.55%.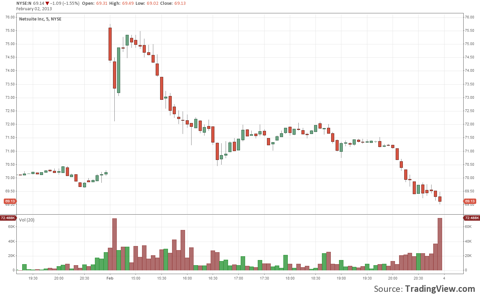 Please recall what I said in the article about Nokia (NYSE:NOK) -- which was one of the reasons I was bullish on the stock from early on -- called Nokia: Buying The Dips:
Big spikes in volume happen close to the top, where investors sell and the stock falls, or at bottoms, where investors pile in and a stock rises.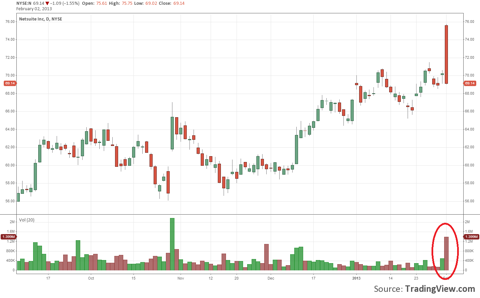 Judging from Friday's high negative trading volume, it is my opinion that the market sold the news with a vengeance, because on the one hand the news on a GAAP basis was not good, and on the other hand, the stock is so expensive, that it has discounted just about every possible positive outcome for many years ahead.
Bottom line
If you have been a long-term investor in this stock, my advice is to take the money and run, because the long term profit possibilities are against you.
If you are a strategic short seller, then you want to short when the trend is your friend. We do not have confirmed technical weakness as of yet, but if you see technical weakness on a weekly scale, I would sell short.
If you don't have this stock and you are thinking about buying it, think twice, because long-term a high P/E with a sky high Price/Sales ratio never made anyone money.
Disclosure: I have no positions in any stocks mentioned, and no plans to initiate any positions within the next 72 hours. I wrote this article myself, and it expresses my own opinions. I am not receiving compensation for it (other than from Seeking Alpha). I have no business relationship with any company whose stock is mentioned in this article.