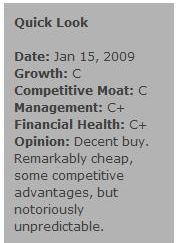 Mosaic (NYSE:MOS) is one of the biggest producers of fertilizer in the world. It is the largest producer of phosphate fertilizers worldwide (16% global market share), and is the second largest producer of potash fertilizers (15%), second only to fellow Magic Formula stock, Potash Corporation of Saskatchewan (NYSE:POT). The company is vertically integrated, controlling the supply chain from the mining of phosphates and potash, through processing, through production and sale of the fertilizer end product. Phosphates account for about half of Mosaic's sales, while potash accounts for about a quarter, with the other quarter coming mainly from offshore distribution and resale. The company was formed through a merger of IMC Global and Cargill's fertilizer business, and Cargill maintains majority ownership.
Basically, fertilizer is a commodity product, and is only distinguished by end-users by price. However, to really understand Mosaic's competitive position, we must understand the basic dynamics of the fertilizer industry. There are three types of fertilizers: nitrogen based, phosphate based, and potash based. Weekend gardeners might recognize these three numbers from the side of a fertilizer bag (nitrogen-phosphorous-potassium, or N-P-K). The different fertilizer producers generally skew towards one of the three types, and this greatly affects competitive position, as the underlying dynamics are quite different.
Nitrogen fertilizer producers, like Terra Industries (TRA), have virtually no moat because nitrogen fertilizers are created by combining the extracted hydrogen from natural gas with the nitrogen in the atmosphere. Since both input components are readily available, producing nitrogen fertilizers is a business with low barriers to entry, creating lots of competition and severe pricing wars.
Phosphate fertilizer producers like Mosaic rely on mined phosphate rock as a key input component. Phosphate rock is not really a scarce commodity. It is usually found in marine deposits and is not especially difficult or expensive to find or mine. Mosaic's competitive advantages in phosphates are accentuated by its vertical integration. Non-integrated competition is at the mercy of input costs for phosphate rock, and when these rise, the costs are passed on to customers. Mosaic benefits from these price increases without suffering from the rise in input costs. However, a large number of state-owned operations compete with Mosaic in the phosphates market, which can be difficult because profit is not always their main motivation for pricing. Historically this industry has been one of wild price swings, in both the pricing for fertilizer and in input costs such as sulfur and natural gas. This makes both revenue trends and gross margin wildly variable. Consider that Mosaic is currently running gross margins over 35%, but just two years ago, the figure was 12%!
Potash fertilizer is a much more attractive business. Potash deposits are rare and very difficult to mine, and require an initial capital outlay of over $2 billion dollars. This creates very high barriers to entry and a unique asset moat for those that already operate them. A consortium, of which, Mosaic is a member, owns over 70% of the world's supply. The nature of this segment limits competition, which in turn limits pricing volatility. Mosaic benefits from a competitive advantage here.
Growth potential is so-so. Worldwide population growth continues to outstrip the growth in arable land, forcing farmers to become more productive with current lands. Emerging economies lead to more food consumption, increasing fertilizer demand. However, many believe that the ethanol boom is partly to blame for higher crop prices. Ethanol demand faces a weak outlook, as oil prices drop and more momentum gains behind the anti-ethanol movement.
Its financial health is pretty good. The huge windfalls of the past two years have allowed Mosaic to pay off much of its debt. Net cash is a positive $1.4 billion, and the balance sheet is in solid enough shape to survive another downturn, if that in fact happens.
Magic Formula investors could do worse than Mosaic. The company has some durable competitive advantages, both structurally (in potash) and through scale and cost benefit (in phosphates). However, this is much too unpredictable of a business to qualify for a Top Buy consideration. Crop prices, competition, and input costs have all been historically volatile, leading to huge swings in profitability. Today's price may be dirt cheap if 2008 conditions continue, or fairly priced if 2007 conditions return. Who knows? It's best to find a more predictable play in the MFI screen.
Disclosure: Steve owns no position in any stocks discussed in this article.