There are two basic ways I like to evaluate stocks, which can be used separately or in combination with each other.
Method 1: Absolute Rules
The first is to develop a set of rules that are like hurdles for the stocks to jump over. An example of this would be the following:
Dividend yield greater than 4%
Price to earnings ratio less than 15
Earnings growth greater than 10%
The advantage to this type of system is that it allows you to place absolute controls on your portfolio. There is a clear yes/no answer for each of these rules. Only the stocks that meet all of these requirements will pass your test for buying.
Method 2: Relative Ranking Rules
The second method I use is to create a relative ranking system. Perhaps I am looking at 100 stocks trying to determine which 10 I will buy. Each stock is given a score between 1 and 100 on each of the following criteria (just as an example) as it compares to the other stocks in the universe.
High dividend yield
Low price to earnings ratio
High earnings growth
These individual scores are then added up for a composite score and the best 10 are chosen. For instance, the stock might have the highest yield (100 points), and the media PE ratio (50 points) and the median growth rate (50 points). Another stock might have the lowest yield (1 point), but the best PE ratio (100 points) and the highest earnings growth (100 points). Even though these two stocks are very different, they will receive very similar overall ranking scores.
I like this system because the market as a whole changes over time and this sort of ranking system is incredibly flexible and looks for the stocks with the highest composite score based on my criteria.
This article will focus on how using a simple ranking system can increase portfolio return when trading smallcaps. We will use a Joel Greenblatt inspired ranking system with 2 rules can juice up a small caps trading system even after accounting for transaction costs.
Greenblatt Ranking System and Smallcaps
Our two ranking rules will be the following:
Return on Capital - Earnings before Income Taxes divided by Tangible Capital
Earnings Yield - Earnings before Income Taxes divided by Enterprise Value
We weigh the importance of these two rules equally, or put another way, each of these rules will contribute towards 50% of the total ranking score.
Next, we choose the 10 highest ranked stocks out of the S&P 600 Smallcaps index (NYSEARCA:SLY). We re-evaluate our holdings every 4 weeks. Now because smallcaps typically have less volume and higher slippage, we will apply a friction cost of 0.5% to every buy and sell order, since our orders will no doubt force prices in an unfavorable direction. Below is a comparison of this trading system versus the S&P 600 index.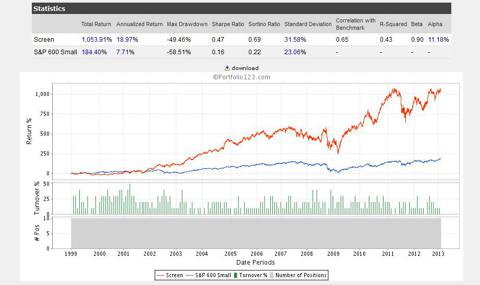 Despite the higher slippage cost of actively trading smallcaps, this simple system robustly beats its benchmark. Yet some would prefer to hedge this strategy to dampen some of the volatility. Portfolio123 allows for both hedging or long/short strategies, and we can take advantage of this. In the hedging section, I add a rule that applies a 50% hedge when S&P 500 earnings estimates are trending down and the removal of this hedge when earnings estimates are trending upwards. The application of a market-timing hedge has the following effect:

Greenblatt Smallcaps Buy List
If you are interested in trying this system out, these would be the current 10 stocks to hold over the next 4 weeks and some associated fundamental statistics.
| | | | | | | | | |
| --- | --- | --- | --- | --- | --- | --- | --- | --- |
| Ticker | Name | Greenblatt Rank | MktCap | Industry | Sector | PEInclXorTTM | ProjPECurFY | Yield |
| (NYSE:ESI) | ITT Educational Services Inc | 99.83 | 392.79 | Diversified Consumer Services | Consumer Discretionary | 2.92 | 4.45 | 0 |
| (USMO) | USA Mobility Inc | 99.67 | 251.03 | Wireless Telecommunication Services | Telecommunication Services | 5.96 | 7.88 | 4.33 |
| (NASDAQ:KLIC) | Kulicke and Soffa Industries Inc | 99.5 | 839.32 | Semiconductors & Semiconductor Equipment | Information Technology | 5.5 | 8.39 | 0 |
| (NASDAQ:CPLA) | Capella Education Co | 99.33 | 349.67 | Diversified Consumer Services | Consumer Discretionary | 9.39 | 9.71 | 0 |
| (QCOR) | Questcor Pharmaceuticals Inc. | 99.17 | 1489.33 | Pharmaceuticals | Health Care | 9.73 | 7.89 | 3.14 |
| (NASDAQ:AMSG) | AmSurg Corp | 99 | 988.7 | Health Care Providers & Services | Health Care | 16.6 | 15.56 | 0 |
| (NASDAQ:AFAM) | Almost Family Inc | 98.83 | 186.81 | Health Care Providers & Services | Health Care | 9.86 | 10.67 | 0 |
| (GTAT) | GT Advanced Technologies Inc | 98.67 | 374.65 | Semiconductors & Semiconductor Equipment | Information Technology | 3.46 | 11.4 | 0 |
| (NASDAQ:MGLN) | Magellan Health Services Inc | 98.5 | 1418.24 | Health Care Providers & Services | Health Care | 10 | 11.9 | 0 |
| (NASDAQ:JCOM) | j2 Global Inc | 98.33 | 1433.59 | Internet Software & Services | Information Technology | 12.33 | 12.23 | 2.83 |
Short Interest Goes Zoom...Sometimes
On this list there are some that have incredibly high short interest, which means if a significant event occurs, you could see a squeeze where prices move upwards rapidly. 2 Global (JCOM) would take 45 days to cover the short position at the current share turnover, GT Advanced Technologies (GTAT) would take 10 days and Questcor (QCOR) would take 15 days. As these stocks enter deep value territory with a high short ratio, there is good potential if the underlying fundamentals begin to move up and sentiment turns…that is a big IF though.
Granted, there might be other criticisms with individual stocks such as the fact that GTAT is in the solar industry, which is under attack right now or the challenge of running a for-profit education center such as ITT Educational Services (ESI). But if you are a value investor, you are used to have having a mixed portfolio of low-growth and beaten-up stocks waiting for a turnaround - and you use overly negative sentiment to your advantage.
I find using rankings systems to be a flexible way to quickly sort through large lists of stocks, and I find that these relative ranking systems work even better in conjunction with existing investment strategies.
Disclosure: I have no positions in any stocks mentioned, and no plans to initiate any positions within the next 72 hours. I wrote this article myself, and it expresses my own opinions. I am not receiving compensation for it (other than from Seeking Alpha). I have no business relationship with any company whose stock is mentioned in this article.