Are you ready for a significant move up to begin in the stock markets this week? Why a move now?

Here are five reasons for you to consider:

1. Because individual stocks continue to shake off negative news. Indeed some have even moved higher. Of particular note is that negative news seems to be producing little if any downward movement in individual issues.

Several examples this past week include:
Intel (NASDAQ:INTC), the Chip maker's net income dropped 90% from a year earlier.
Sealy Corporation (ZZ), the bedding maker said fourth quarter sales fell 26%.
Apple Corp. (NASDAQ:AAPL), whose leader Steve Jobs announces a leave of absence for health concerns.
The markets watched these events this week, nodded, and moved on.

2. Because disappointing news in the macro market is becoming nothing short of blasé.
Stock markets are now numb to the bad news beats. News of more large bank bailouts and massive write offs did move stocks somewhat lower, but any actions were no match for the lows seen in November when the uncertainty of the extent of those bailouts was much greater. With even more large bank blood on the street, the market apathetically moved higher in its run into the weekend.
(click to enlarge)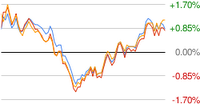 3. Because there is now a cease fire in Gaza. Stability in the region takes one more uncertainty off the market's table. Mid-East experts will be quick to show us why balance in that region has a calming effect in world markets.


4. Because a signal for sea-change in economists' sentiment may be indicated in the conference board's report due out this week.
You'll remember that their November reading, (reported in December), already showed 4 of 10 leading indicators moving positive. With current reports already out that are used as reference by the board, it is likely you'll see a move to 6 or 7 out of ten readings staying or moving to the positive column.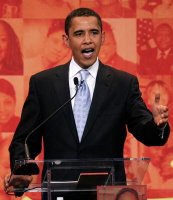 5. But probably the most significant market mover over the next several weeks will be the Obama factor.
One of the great orators of our times will inspire the world this week. It is likely that he will jolt confidence and innovation into action. In turn, Obamamania will stir consumer confidence. A one, two punch no less. One at the Inauguration on Tuesday and the other at the state of the union address in the next several weeks.
So to recap: individual stocks are now shrugging off any negative news. The macro market is growing disenchanted with its gloom diet. A major Mid-East conflict is now under the terms of a cease fire. The conference board report moves to a positive bias. And an international orator takes center stage with an inspiring message of hope.
I'm ready. You're ready. And so are the markets.
(Keep those stories coming. Thanks to those of you that have already sent in good news stories from around the country. I hope to compile the best of those in an upcoming post. Send your story to good.news.econ@gmail.com)
No Gloom here. Only Good News.