British Columbia based Response Biomedical Corp. (OTCPK:RPBIF) is engaged in the research, development, commercialization and distribution of diagnostic technologies for the medical point-of-care (POC) and on-site environmental testing markets.
Response Biomedical's proprietary diagnostic system, called RAMP, is a portable fluorescence immunoassay-based quantitative diagnostic technology that the company claims has the performance of a clinical lab analyzer with the convenience of a dipstick test. RAMP tests are now commercially available for use in the early detection of heart attack, congestive heart failure, influenza A+B, the respiratory syncytial virus (RSV), environmental detection of West Nile Virus, and biodefense applications including the rapid on-site detection of anthrax, smallpox, ricin and botulinum toxin.
RAMP comes in two models, RAMP Reader and RAMP 200. RAMP Reader is marketed as an ideal instrument for the POC setting. It is smaller, easily transportable, battery powered and targeted for smaller hospitals, testing centers and first responders. RAMP 200, which has multi-port capability and can run up to 12 tests per hours, is targeted for larger hospitals and testing centers.
RAMP Reader
RAMP 200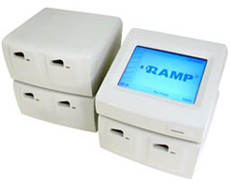 Competing With The Behemoths
Speed, sensitivity/accuracy, and ease-of-use are all important competitive factors when it comes to POC instruments. Sensitivity/accuracy between different instruments is somewhat tough to judge given the dearth of head-to-head studies or related data. Some of the major players in the space, including Roche (OTCQX:RHHBY), Abbott (NYSE:ABT), Alere (NYSE:ALR) and Siemens (SI), have made claims of superior accuracy based on internal studies. Similarly, Response Biomedical has noted that its RAMP analyzers have proven to be at least on par with clinical lab machines or competitors' POC instruments.
Perhaps less arbitrary in terms of competitive differentiation is that Response's RAMP instruments provide advantages such as being self-calibrating, which reduces the risk of drift-error over time; have a patented "control-zone" which helps to increase test performance under less than ideal testing conditions and with small sample volumes; are small and easily transportable; and are relatively simple to operate. In a crowded marketplace with relative behemoths as competitors, advantages such as these can prove to be of significant importance.
Having a broad testing menu that can run on a particular machine can also be a competitive advantage as it affords a hospital/lab all the benefits of one-top-shopping. While Response's testing menu is smaller than some of its competitors, the company notes that its readers have the capacity to build out up to another 250 assays.
POC Market Ripe For Fast, Accurate Testing
Only a few years ago professional POC testing was expected to grow up to 25% per year for the next decade or longer. This has not been the case due mostly to hindrances to reimbursement from payer groups and significant advantages of clinical lab testing, such as higher sensitivity and lower direct material costs. Kalorama Information, in a 2009 study of the POC market, noted that, "In the professional setting, outside the hospital, most POC tests do not meet the quality standards offered by lab-based tests. Further, the thought is that new tests and technologies are just too expensive. Faster, more sensitive, more user-friendly and less expensive tests may produce better market penetration."
By most estimates the POC diagnostics market is expected to experience meaningful growth over the next several years, however. According to BCC Research the worldwide POC diagnostics market is expected to grow to approximately $16.5 billion by 2016 from $13.8 billion in 2011, representing a CAGR of 3.8%. However, excluding glucose (which accounts for ~90% of OTC POC, ~25% of professional POC, and ~65% of total POC) the global POC market is expected to grow at a CAGR of 7.2% (from $6.3 billion to $8.9 billion) over that same period. The anticipated major drivers of this expected growth are tests for cardiac markers, infectious diseases, and cancer.
Driving much of this growth in the professional segment is healthcare providers shifting more testing from central labs to POC as the menu of CLIA waived tests increase. Higher healthcare costs, lower reimbursement rates, improved accuracy and the demand for and clinical advantages of immediate testing results will likely perpetuate this trend indefinitely. POC testing offers certain significant advantages over central lab testing such as lower cost, simpler testing procedures, ease of interpretation, improved therapeutic intervention and the elimination of the need for patients to return for a follow-up visit. While these have always been benefits of POC testing, in the past clinical lab testing had benefited from greater sensitivity and specificity which had deterred a greater reliance on POC diagnostics. The recent advent of new technologies has significantly narrowed the gap between the quality of results delivered from the professional labs versus POC, which has been a major impetus for the macro shift towards a greater use of POC diagnostics.
An example of how Response may be able to benefit from the unmet demand for more accurate POC testing is with their cardiovascular disease product portfolio, which is one of their major product segments. Cardiac markers such as Troponin I, CK-MB, and NT-proBNP are important in diagnosis of heart attacks and/or heart failure. Troponin I testing is the standard protocol for the eight million Americans that enter emergency rooms each year suffering from chest pain. Typically a clinical lab analyzer is used for detection of Troponin I and, while highly accurate, typically results are not available for approximately two to four hours after a blood sample is taken. This can delay triage decisions and/or result in a significant number of unnecessary admissions into cardiac units. Response believes its RAMP Reader analyzer and test kits provide the accuracy of a clinical lab machine without the compromise to speed (provides results within about 15 minutes), and therefore are ideal for acute care POC settings such as hospital emergency rooms and with first responders.
The RAMP 200 machine, with higher throughput, is marketed primarily to larger labs and hospitals, and the company believes it is ideal for use with its influenza A&B tests.
Reshuffled Leadership Righting The Ship
Following a prolonged period of lackluster operating and financial performance which included a seemingly unfocused sales/marketing strategy, inconsistent revenue growth, slim-to-negative gross margins, and bloated operating costs, the company's largest shareholder, Orbimed, spearheaded a change in leadership at the company. In 2012 a new CEO, CFO and Senior VP of Sales and Marketing were all brought on to help right the ship.
It didn't take long for positive changes to surface. The new management cut superfluous headcount and other expenses that were constraining margin growth, instituted a new sales/marketing strategy, penned additional distribution agreements, and expanded the product line.
Relative to distribution, in January 2013 Response signed an agreement with Kentucky-based hospital supplier Laboratory Supply company Inc. to distribute their cardiovascular portfolio of products to small hospitals and an agreement with Fisher HealthCare, part of Thermo Fisher Scientific (NYSE:TMO), to distribute its infectious disease portfolio of products. Both agreements cover the U.S. market, revenue from which currently accounts for only approximately 17% of Response's sales, but is a major focus of the company's growth strategy.
Some of these changes have already shown up in the financials. Over the last four quarters revenue is up 43%, gross margin widened from 21% to 35%, and operating expenses as a percent of revenue fell from 92% to 77%.
More Work To Be Done
However, clearly there's still more work to be done to reach profitability as the company remains well in the red. Through the three and nine months ending 9/30/2012, Response generated a net loss of $2.7 million and $6.0 million, respectively. Cash used in operating activities was $487k and $4.1 million over those same periods.
New management appears determined to get in the black in the near-term, however, and mentioned as much during their presentation at OneMedForum in San Francisco in early January. Their strategy includes growing revenue through greater penetration of largely untapped markets including the U.S. and Europe (see chart below) via new product launches and revamped marketing/sales strategy as well as continuing to exploit their foothold in China, the latter further facilitated with the opening of a representative office in Shanghai and a newly hired general manager in China. The company will also continue to scrutinize costs and look to trim fat and negotiate supplier agreements where opportunities exist in an effort to further widen margins and allow a greater percentage of the revenue growth to flow to the bottom line.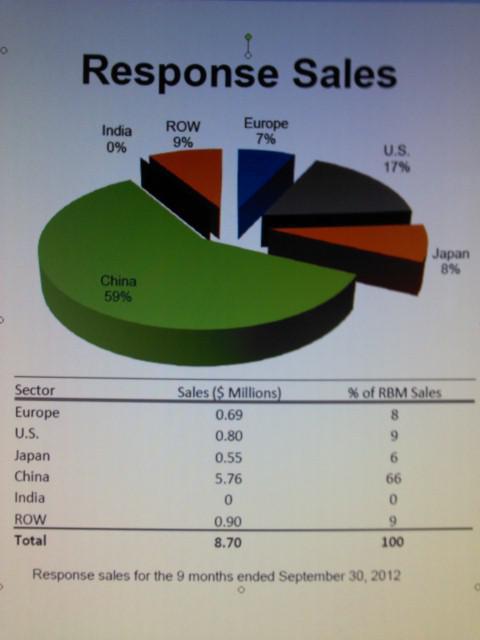 We've had our eye on Response since the management shuffle. Based on the recent run-up in the stock price, its apparent that others have also taken notice. If Response is not yet on your radar, we think it's worth a look.
Disclosure: I have no positions in any stocks mentioned, and no plans to initiate any positions within the next 72 hours. I wrote this article myself, and it expresses my own opinions. I am not receiving compensation for it (other than from Seeking Alpha). I have no business relationship with any company whose stock is mentioned in this article.
Disclosure: I/we have no positions in any stocks mentioned, and no plans to initiate any positions within the next 72 hours.
Business relationship disclosure: I work as a Consultant Analyst for Zacks Investment Research. The article is written by me and is 100% my opinion. I receive compensation from Zacks for writing equity research reports and providing valuation analysis on this company's stock and expect to do so in the future. Zacks receives compensation from the company. Please see the Zacks Disclaimer for further information: http://scr.zacks.com/Disclaimer/default.aspx