The boom in U.S. onshore oil and liquids production has not been coupled by an analogous boom in pipeline projects and these logistical challenges have not allowed the onshore oil to get the right price in comparison to Brent and LLS (Louisiana Light Sweet) thus far. Regarding the WTI, LLS and Brent prices, this is an interesting chart that depicts what was going on back in November 2012.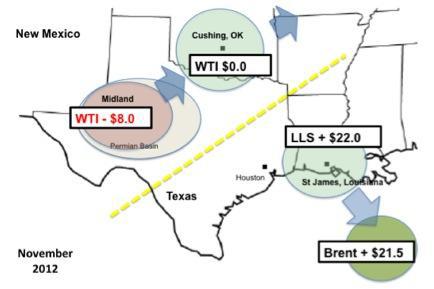 However, things seem to change rapidly as several major pipeline projects are currently being constructed with the target to relieve the capacity constraints now affecting producers in the oil-producing regions. After the first and second part, this is the last part of this series which consolidates and presents the most significant pipeline projects of North America with a completion date in 2013-2014.
The projects
1) Bakken NGL pipeline: This 525-mile pipeline of ONEOK Partners (NYSE:OKS) will transport unfractionated NGLs from the Bakken Shale in the Williston Basin to an interconnection with the company's 50% owned Overland Pass Pipeline in Colorado. The Bakken NGL Pipeline is currently under construction and is expected to be in service in Q1 2013. Additionally, the company announced plans in July 2012 to expand the pipeline's capacity by installing additional pump stations. This expansion is expected to be completed in Q3 2014.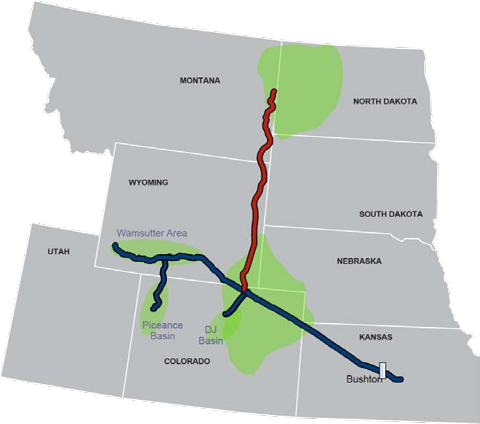 2) Sterling III and Hutchinson NGL Pipelines: ONEOK Partners will build both projects serving the NGL market. Sterling III Pipeline will cost $610-810 million and will have an initial capacity to transport 193,000 bopd from the partnership's NGL infrastructure at Medford, Oklahoma to its storage and fractionation facilities at Mont Belvieu. Once complete in late 2013, it will double the partnership's pipeline capacity between Medford and Mont Belvieu.
Hutchinson project is a new 95-mile pipeline that will connect the company's existing NGL fractionation and storage facilities in Hutchinson, Kansas to similar facilities in Medford, Oklahoma. It is expected to be in service in Q1 2015.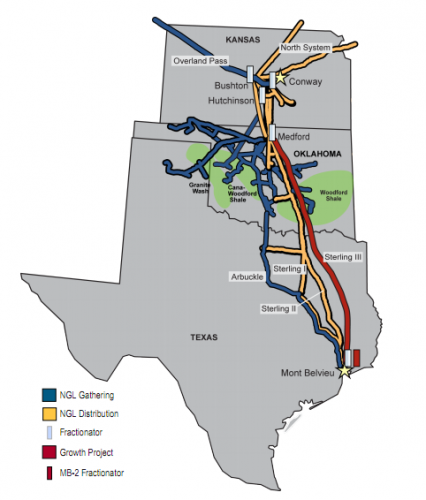 3) Eagle Ford Crude Oil pipeline: This chart below shows the explosive growth in Eagle Ford oil production since 2008.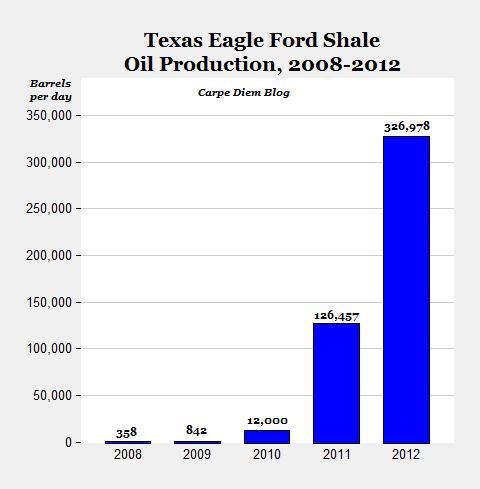 This is why, Plains All American Pipeline (NYSE:PAA) and Enterprise Products Partners (NYSE:EPD) announced in Aug 2012 that they formed a 50/50 crude oil pipeline joint venture in South Texas. The joint venture will include a 140-mile crude oil and condensate line extending from Gardendale in LaSalle County to Three Rivers in Live Oak County and continuing on to Corpus Christi, and a new 35-mile pipeline segment from Three Rivers to Enterprise's Lyssy station in Wilson County. The system, which is currently under construction, will have a capacity of 350,000 bbld targeting to deliver crude oil into the Houston-area refinery market. Portions of the system are expected to be placed in service in the fourth quarter of 2012, with the balance of the system expected to be placed into service in the first half of 2013.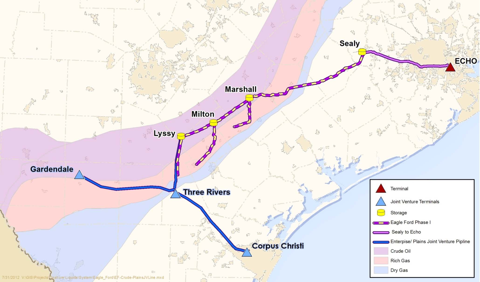 4) Longview & Nederland Access: Sunoco Logistics Partners LP (NYSE:SXL) targets Permian Basin where the production levels and takeaway capacity have been way out of balance. Sunoco is constructing two pipeline expansions from Western Texas. The first project expands by 30,000 bopd the West Texas Gulf pipeline that currently runs from Colorado City to Wortham, TX then East to Longview, TX. The second project reverses an existing crude pipeline that currently runs from Nederland to Wortham and expands it by 40,000 bopd. Both lines will be in service at the end of Q1 2013.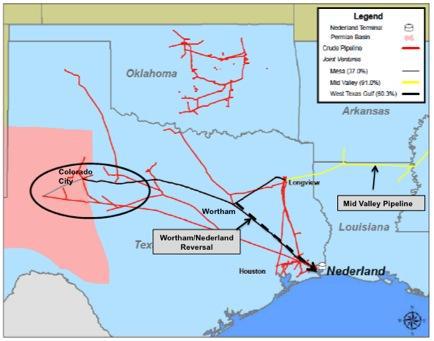 5) Longhorn Reversal: Magellan Midstream Partners LP (NYSE:MMP) also targets the Permian Basin. The company will finish the reversal of the Longhorn pipeline from Crane, Texas, to Houston and begin moving 75,000 bopd by Q2 2013.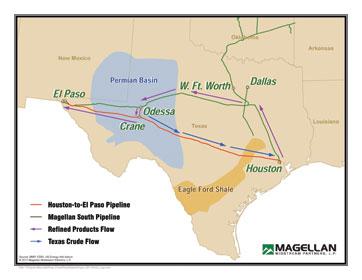 Eventually, these projects (Longview, Nederland and Longhorn) will complement Plains All American Pipeline LP's pipeline, which moves 450,000 bopd currently from Western Texas to Cushing and they will soon strengthen Permian crude which is at a discount to WTI in Cushing.
6) Permian Express Phase 1: The good news keeps coming for the Permian Basin producers. Sunoco Logistics Partners will provide continuous pipeline service from Wichita Falls, Texas to the Nederland/Beaumont, Texas markets. Sunoco will reverse its Wortham-to-Wichita Falls pipeline to create this continuous pipeline service and the project will have full capacity of 150,000 bopd by the end of 2013.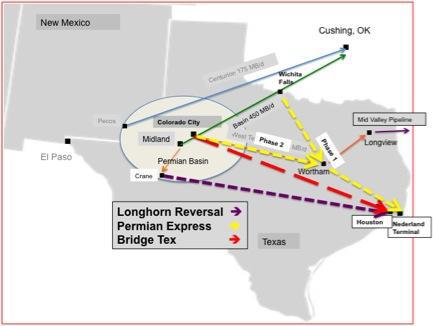 7) BridgeTex Pipeline: The Permian Basin is the target for another major pipeline project as Texas does not have sufficient rail access and this situation does not seem to improve it soon. Actually from a rail access perspective, Texas is worse than North Dakota where the pipeline constraints are lessened by railway access. To cover this transportation gap, Magellan Midstream Partners and Occidental Petroleum (NYSE:OXY) are proceeding with the BridgeTex pipeline which will transport almost 300,000 bopd Permian Basin crude from Colorado City to Houston. It is expected to begin service mid­ 2014.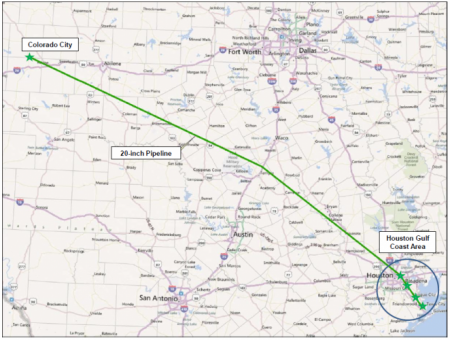 Investment Opportunities
I noted in part one that the primary investment idea through this series is the pipeline operators themselves, as the North American pipeline infrastructure is obviously underdeveloped. Enbridge Energy Partners (NYSE:EEP) is my favorite pipeline company as it combines the hefty annual dividend with significant growth prospects. I recommended it in early Jan 2013 when it was at $28.
Another investment strategy would be to buy the Canadian oil producers who are growing their production and will benefit more than the U.S.-based Bakken or Eagle Ford players for several reasons. The first reason is because Edmonton price is lagging WTI more than Bakken price is lagging WTI currently. The second reason is that the Canadian dollar will not be depreciated as much as the U.S. dollar in 2013-2014. Thus, buying the Canadian energy producers is an indirect way for an investor to benefit from the depreciation of the U.S. dollar, if he is a U.S. dollar bear. All this being said, I recommended Surge Energy (OTCPK:ZPTAF) in one of my recent articles.
Conclusion
The impending completion of major pipeline projects designed to drain a glut of crude oil will be a turning point for the North American energy infrastructure and economy eventually. Several investment opportunities will arise, and this is why I will release another series very soon using my own combination of metrics and ratios which try to unearth the most undervalued players from the pipeline sector. So stay tuned, more decision-making articles are coming.
Disclosure: I am long OTCPK:ZPTAF, EEP. I wrote this article myself, and it expresses my own opinions. I am not receiving compensation for it (other than from Seeking Alpha). I have no business relationship with any company whose stock is mentioned in this article.