A short while after the crisis, I invested in General Electric (NYSE:GE) for its exposure to financial markets as well as industrial segments, and also for the hope for radically increasing dividends.
Fast forward to today, it seems I was only partially accurate in my initial assumptions. This segment did serve as a more steady investment than many banking industry titans in the US, such as Bank of America (NYSE:BAC) and JPMorgan Chase & Co (NYSE:JPM) for example. After peeking at a 2 year chart, there is no denying GE was a savvy alternative.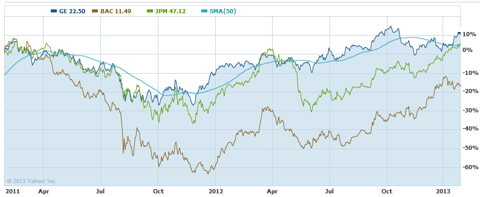 Although the stake has been a safe and steady alternative to some bank stocks, GE's dividend has been somewhat disappointing. Admittedly, the sheer total amount paid to shareholders can be a staggering statistic due to GE's enormous share count and market cap. In 2011 alone, GE paid out $6.45 B in dividends, returning $17 M to shareholders EACH day! However, I still feel GE's increases haven't exactly been overwhelming, and therefore has been disappointing over the past year for many shareholders.
GE's dividend got massacred in 2009 and again in 2010, then was significantly increased in 2011. However, 2012 was relatively weak, as the increase was 14.75% and only due to the bigger 4th Quarter dividend, which was paid in January 2013. So why has dividend growth slowed? Let's examine the coverage ratio and the correlation of dividend growth to EPS growth.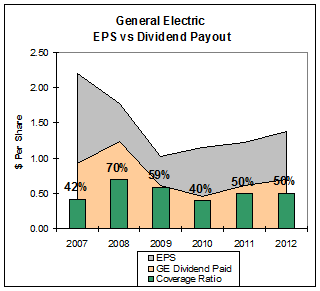 As expected, GE's dividend was highly correlated to EPS performance. For the last 3 years, the average coverage ratio averaged roughly 46%. With this meaningful yet elastic statistic in mind, we could predict GE's dividend growth for 2013 if we have a good handle on the EPS growth. According to the Wall Street Journal's Smart Money, the analysts polled are forecasting about 10.4% EPS growth for 2013 and another 10.8% or so, for 2014. Assuming these estimates are correct, we should see roughly the same level of dividend growth for these years, assuming the payout ratio is static. With respect to this harsh reality, GE's dividend may not increase as quickly as investors would like, and therefore they may be disappointed.
Dividend Alternatives:
So, if you don't currently hold GE stock and aren't entirely enthused by GE's dividend prospects going forward, but are excited about the company, there are some alternatives available to everyday investors for increased yield within the GE name. As per the company website, "GE does not have any preferred stock outstanding available to the public" ...so much for investing like Buffett. However, there are a few "Baby Bonds" available depending on your brokerage:

GE with a higher yield may sound good, except one important detail; these notes are directly linked to GE Capital, the higher risk segment of GE- not GE Industrial, which is the fast growing segment composed of Oil & Gas, Health Care, Transportation, Energy, etc.
However, GECC is reducing risky assets while investing in safer areas, while having deleveraged the balance sheet over 2012. Because of these ongoing efforts by management to pull in the reigns, GECC isn't quite the loose cannon it was before the crisis, however it's still riskier than GE Industrial nonetheless.
Although the symbols may vary, it seems the most popular of these GECC notes are GEB, and GE-A.
| | | |
| --- | --- | --- |
| Symbol: | GEB | GE-A |
| Par Price: | 25 | 25 |
| Current Price: | 25.26 | 27 |
| % from Par: | 1% | 8% |
| Par Yield: | 4.875% | 6.5% |
| Current Yield: | 4.83% | 6% |
| Date of Permissible Redemption: | 10/2017 | 8/2013 |
| Maturity Date: | 10/2052 | 8/2048 |
SEC documents for both notes contain similar reassuring language: "The Notes will be our senior obligations and will rank on parity with all of our existing and future unsecured and unsubordinated indebtedness"
If I had to pick one, I would chose GEB as it is trading close to par, and cannot be redeemed for over another 4 years. GE-A on the other hand, can be redeemed as soon as this coming August. Since GE-A is trading 8% above par currently, a holder would theoretically lose this 8% minus any interest accrued if the notes were redeemed by GE. I suppose investors are expecting the note to go unredeemed for some time, and therefore expect the dividend payouts to outweigh this 8%. By comparison, GEB seems like a much better play between the two despite the lower yield, and could be ideal for an IRA account as the 4.8% yield would be tax advantaged.
As a buyer of GEB, or any other GECC "Baby Bonds", you must be comfortable with GE management in that GECC has become a safer institution . In my opinion, GECC has a very similar risk profile to other securities in the banking industry, yet has much lower exposure to the housing market than some US titans like BAC, for example. To better understand what type of lending composes GECC's monster $538.1 Billion Portfolio, let's look at slide # 3 of the 4Q investor GECC presentation. I have added percentages to the slide. Notice only 9% exposure to real estate loans, and a heavy exposure to lower risk Consumer Loans and Commercial Leasing/Lending. Note the allocation to the Consumer Segment will probably increase since GECC's purchase of Metlife Inc's (NYSE:MET) $7 Billion online banking operation.

Summary:
Even though GEB could be useful in an IRA for investors looking to mitigate other riskier holdings, GE common is probably a better long term investment due to share price appreciation possibilities combined with my personal prediction of at least 10% annual dividend growth over each of the next 2 years. In time these dividend increases in addition to a DRIP program should significantly boost total return for common shares, and therefore should surpass that of GEB's yield for a long term investor. However, due to improvements to GECC's portfolio and risk profile since the crisis, a prudent GE investor looking to maximize dividend revenue streams could invest in both holdings simultaneously to diversify and enhance their quarterly income.
Disclosure: I am long GE. I wrote this article myself, and it expresses my own opinions. I am not receiving compensation for it (other than from Seeking Alpha). I have no business relationship with any company whose stock is mentioned in this article.
Additional disclosure: I am long GE and GEB in my IRA