… Amazon's valuation, especially, is almost inconceivably high. As an Amazon shareholder, I thank those who are loading up on the stock at this price, but I have no idea what they're thinking. - Henry Blodget (January 31, 2013)
Another Amazon.com (NASDAQ:AMZN) earnings call, more unimpressive guidance (this time, Q1 guidance for $15.0 to 16.6B revenue below expectations and for operating income -$285 to 65M around expectations), an immediate plunge in after-hours trading (this time, to $250), a rapid recovery, and a strong open the next day. However, THIS time, the stock could not maintain a bullish feeling. The stock faded from just shy of all-time highs and dropped as low as $267 before bouncing. The next day, the stock closed below that low of $267. This marks the most rapid end to the (bullish) Amazon.com post-earnings trade for the entire series I have tracked since 2009. (I am now updating the results in a Google spreadsheet that you can access by clicking this link).
As a reminder, the rule for trading AMZN post-earnings is to buy the open and sell within two weeks. The trade stops out if AMZN closes below the low of the first post-earnings trading day. In this case, AMZN dropped so fast from its open, I could afford to be a little patient and wait for a better entry. I chose (Feb) call options this time because the stock traded so weakly, and I wanted to cap losses in case the stock's plunge became extreme that day. Upon the trade-ending close on January 31, I added a March put spread to switch to a bearish bias.
The chart below shows the significant churn in AMZN before and after earnings that occurred right after printing a fresh all-time high. This choppy action at such heights makes AMZN look very toppy at 73x forward earnings expectations.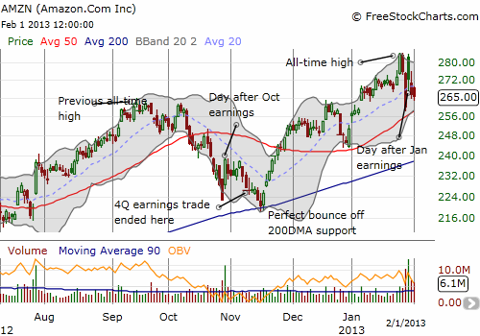 Significant churn around Amazon.com's earnings hints at a developing rejection of the latest all-time highs
Source: FreeStockCharts.com
AMZN's Q4 results caps another year with soaring revenue and declining net margins. Net margins turned negative on an annual basis for the first time since 2002 (2003 was essentially zero). I have updated the related chart below: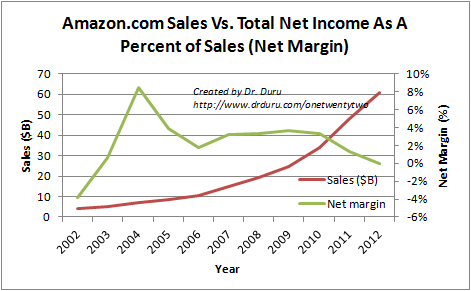 Sales continue to soar while net margins continue to plummet
Source: MSN Money
I continue to find these divergent trends surprising for a stock trading around all-time highs at an equally lofty valuation. Clearly, investors and traders are betting on something to change far out in the future and are now willing to patiently wait for it. So I am not going to argue that AMZN is expensive because of its valuation. Instead, I would call it highly risky since something big and very right must eventually happen to keep the stock from experiencing a very steep correction at some point.
In the meantime, I prefer to keep things close to the vest and only play the post-earnings action. The current setup is now outside the rulebook given I am still holding the call options and now have a longer-dated put spread, but I think the technical developments warrant such a hedged position…especially with the stock market extremely overbought.
Be careful out there!
Disclosure: I am short AMZN. I wrote this article myself, and it expresses my own opinions. I am not receiving compensation for it (other than from Seeking Alpha). I have no business relationship with any company whose stock is mentioned in this article.
Additional disclosure: Long AMZN put spread and calls