Since I am taking my first vacation in over two years, I am going to keep this week's update quite short.
The silver market has retraced higher than I would normally like to see when it went over the 32 region in the futures this past week. But, then it dropped quite hard, and again moved up quite strongly. Many will view this development as evidence of the fallibility of my analysis methodology. Yet, if one shorted silver at my last target region, you should not be in a losing position at this time, but I would have that position on a very short leash if you have not stopped out yet for a profit.
But, as I have said many times before, trading silver over the short to intermediate term is not for the weak hearted, nor is it a 100% guaranteed trade. Rather, we are attempting to trade probabilities.
But, those that are unable to open their minds enough will always post negative comments, as they always seem to do week after week, which offer nothing constructive. These comments are usually made by those that do not think it is possible that silver will go down further. But, I would imagine that the louder they get and the more they post, the closer we will likely be to a bottom. So, maybe we should be encouraging their emotional outbursts.
From a sentiment standpoint, I want to explain that this type of consolidation - which in Elliott Wave terms we call a 4th wave - is the most variable and tough to trade of all the consolidations. It can take many twists and turns, as investor sentiment shifts many times before the ultimate break out is seen.
But, the one thing we will always need to see is a clear pattern set up telling us that sentiment is ready for the break out. We have still not clearly seen that set up. I would imagine this is substantiated by the fact that the commercial traders have also gone heavily short in silver over this past week as well, which seems quite different than what they have done in the gold market. A very interesting development indeed.
So, what this past week has shown me is that if the market is able to break out over the 32.49 level in the futures, we can see a rally up to the 34-35 region before seeing one more larger decline to the mid to low 20 region, and our prior targets. But, until I see a solid set up for a break out, I am still going to maintain my expectation for the lower levels cited in articles past.
My lower targets still remain valid - 28.67, 27.98, or as deep as 26.87. I am shorting silver in the very near term as a short-term trade.

But, I am not a foolish trader, as I still maintain a sizable long-term long position in the event the parabolic rise begins sooner than I currently expect, as I am expecting a significant low to be put in the near term. I recognize my fallibility as a human being, and understand the larger trend, for which I am prepared.

But, even if silver does not move in the direction I expect every now and then, I will not be playing the blame game and will simply recognize that I am wrong on approximately 20-30% of my silver trades and it is no one else's fault but mine, and it is not anyone else that is "manipulating" me out of my money.
I look forward to meeting many of you at the New York Traders Expo on Tues Feb 19, 2013 at 1:00-1:30 pm ET at the Marriott Marquis Hotel, where I will be speaking about Elliott Wave and Fibonacci Pinball. I will be meeting with attendees right after the presentation in a Q&A gathering at the hotel.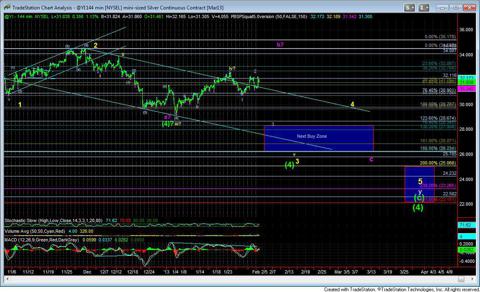 Click to enlarge
Disclosure: I am long SLV. I wrote this article myself, and it expresses my own opinions. I am not receiving compensation for it (other than from Seeking Alpha). I have no business relationship with any company whose stock is mentioned in this article.
Additional disclosure: I maintain an intermediate short position on SLV via out-of-the-money puts.