One year ago, I wrote an article comparing McDonald's (NYSE:MCD), a Dow stock and Dividend Aristocrat, with Apple: McDonald's Will Outshine Apple in 2012.
Because their brands are so well known around the world, it's not necessary to explain what they do. In addition, they share the same marketing strategy, to expand businesses globally, with substantial growth potential in emerging economies where they have limited penetration.
Before 2012 began, many analysts forecasted another excellent year for the stock market, and the market averages did well. The Dow Jones Industrial rose 7.3% and is up another 7% in 2013 (only 160 shy of setting a record).
Dow Jones Industrials --- 5 years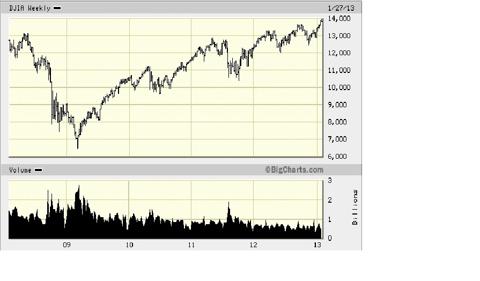 However in the last year, while the averages were rising, MCD and AAPL stocks had difficulty. MCD stock fell 7% while AAPL went up only 6%. As with a quick analysis of numbers, that does not tell the whole story.
McDonald's -- 5 years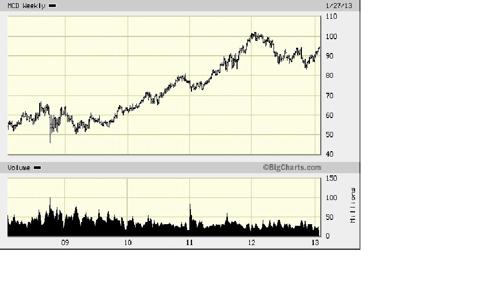 Apple --- 5 years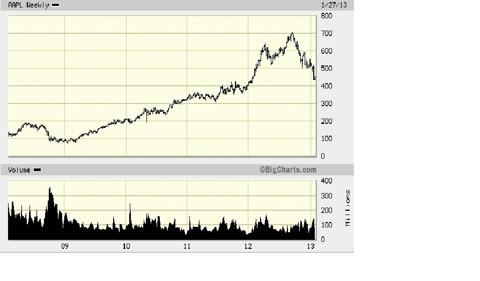 MCD started last year at 100 (a record) and sank to 84 in November. Then it rebounded to 95. MCD is the largest global food service retailer, with more than 34,000 restaurants serving 69 million people in more than 100 countries daily. But the chain is facing stiffer competition from its longtime rivals. MCD named a new head for its US business last year. Same restaurant sales decreased 1.8% in October, the first decline in almost a decade. Then the November figure rebounded. Negative comparable store sales data is expected for January.
However, overall revenue and earnings rose in 2012, allowing the dividend to be raised to a $3.08 annual rate (I predicted it would be increased to over $3), extending its streak of higher annual dividends from the IPO in 1976. Diluted EPS in 2012 was $5.36, up 2% (5% in constant currencies) and MCD returned $5.5 billion to shareholders with dividends and share repurchases. In 2013, MCD plans to invest $3.2 billion to open over 1,500 new restaurants and upgrade 1,600 locations worldwide.
MCD has purchased more than 650 million treasury shares (the market value is about $60 billion) with an active program investing roughly $3 billion yearly. Analysts are forecasting EPS will grow 8% in 201,3 which will bring another dividend increase to at least $3.20, and treasury share purchases will continue.
AAPL's stock has become so popular that even non-investors talk about it. My friend asked me about AAPL, and she rarely mentions stocks. In the first 9 months of 2012, the stock was having another spectacular year, rising to a record $702 in September (helped by initiating an annual dividend of $10.60). Then the new iPhone, it's most important product, was launched, and the stock sank. The decline continued after earnings were released on January 23. The market value loss from the peak, roughly $230 billion, is comparable to the market cap for Wal-Mart (NYSE:WMT), a Dow stock and Dividend Aristocrat. That's stunning.
AAPL has 4 major products: iPhones, iPads, Macs and iPods. Five years after its introduction, the iPhone has become the #1 product, accounting for about half of sales and profits. In the quarter ending December 29, 2012, 55 million iPhones were sold and 23 million iPads were sold (both records). Macs and iPods suffered sales declines. Its top market has become China, where high priced products are not as popular as in the US. Competition from lower priced phones with lower profit margins is slowing growth at AAPL. Sustaining rapid growth has been called into question. EPS for fiscal 2013 should be flattish, comparable to $44 in the prior year. Analysts are forecasting that EPS will grow 13% to over $50 in the next fiscal year. The dividend will probably be increased, although without a track record, it's difficult to forecast any number. APPL does not purchase treasury shares, even though it has more cash than any other corporation.
For more than a decade, the stock market has shown that capital appreciation has been uneven and less dependable than in the past. But annual dividend increases have been delivered from Dividend Aristocrats. If AAPL wants to become a Dividend Aristocrat, it will have to increase the dividend this year and for the next 24 years.
AAPL's impressive growth, largely in the last 5 years, has had a difficult time commanding a premium P/E valuation. Investors may have viewed it as a toy company with doubts about products delivering rapid growth over the long term. This company needs another new exciting product and must continue growing iPhone and iPads rapidly even though sales have been sluggish in the last year.
MCD has its share of competition as stockholders learned last year. MCD has a track record of growing its restaurant business for more than half a century. Higher personal incomes in countries with large populations that are growing should bring growing earnings. More importantly, management has a long track record for rewarding shareholders with growing dividends and share repurchases.
The days of rapid growth rates for AAPL may be over with concerns about its ability to grow at satisfactory rates. MCD management said long term targets are sales growth of 3% to 5% and operating income growth of 6% to 7%. Investors receive a high yield 3¼%, growing dividends and capital appreciation in 2013 and through the next decade.
Disclosure: I have no positions in any stocks mentioned, and no plans to initiate any positions within the next 72 hours. I wrote this article myself, and it expresses my own opinions. I am not receiving compensation for it (other than from Seeking Alpha). I have no business relationship with any company whose stock is mentioned in this article.