I find it interesting that Microsoft (NASDAQ:MSFT) and its management team get a whole lot of flack for "not being innovative" and "having no vision". While the company did damage its image considerably with Windows Vista, it came back roaring with the highly successful Windows 7. More importantly, I'm somewhat puzzled at the notion that the stock has been "dead money" because CEO Steve Ballmer is somehow responsible for "messing things up". Microsoft, like any company, makes mistakes, but on the whole it is a wildly successful company whose fundamentals have continued to move in the right direction.
The real problem, of course, is that in recent years, investors saw the meteoric rise of Apple (NASDAQ:AAPL) and have since become hungry for double-digit year-over-year growth even from a mega-cap stock. As a result, Microsoft has gotten an unnecessarily bad rap. However, in this article I (as the title suggests) make the case that Microsoft, quite frankly, doesn't need to be Apple. In fact, for the type of investor that wants to own Microsoft (a raise-your-rate CD, with the possibility of capital appreciation), the risk profile of Apple is simply inappropriate.
Apple Runs A Risky Hardware-Centric Business...
Apple, philosophically makes a handful of products and derives the majority of its operating profit from precisely one product: the iPhone. Apple's unprecedented profitability in a market (cell phones) that has traditionally been a margin killer for everyone is sustained by the following factors:
Apple's brand recognition helping to keep margins high compared to equal-or-better products from competitors
The ability to keep putting out compelling enough devices to drive product mix towards the high end to keep margins high enough to grow profitability along with sales
The ability to expand into new markets (China, Brazil, etc.)
In the last quarterly earnings report and in the forward guide, it actually seemed pretty clear that gross margin has begun to deteriorate, implying that the company is unable to satisfy condition (3) above. The continued sale of the two generation old iPad 2 and the wild popularity of the much lower ASP (and perhaps margin) iPad Mini strongly suggests that the tablet market is very quickly reaching a plateau of "good enough".
Another factor is actually on the iPhone side of things. While there have historically been compelling reasons to upgrade to a new iPhone (performance of the old ARM11 chips was terrible), particularly to enable fundamentally new performance and feature paradigms, we are really near the "end of the road" for what kinds of upgrades can make a dramatic difference per generation. A modern iPhone is fast, slick, and can do more than enough for the majority of users. Why should customers, even in the more affluent nations, go with the $199 phone with 2 year contract iPhone 5, when they can get the "free" iPhone 4 instead that offers the "Apple quality" at a lower price point?
The risk becomes even more apparent as Android phones have started to truly outpace the iPhone in many ways. Android devices come in every kind of flavor and cater to almost every taste. Best of all, they're cheaper (since the phone vendors are happy to take lower margins), so the carriers don't have to take it to the groin with each Android phone sale. Apple's market share or its profit margins in the US will eventually fade.
...Microsoft Doesn't
Today, Microsoft derives its fortune from three major segments:
Windows
Business Division
Entertainment and Devices
Now, Microsoft spends an enormous amount of R&D and builds products that have a fairly high barrier to entry. In the Windows division, Microsoft's PC market position is safe (although the market itself doesn't seem to be particularly booming right now), especially as businesses are unlikely to adopt Chromse OS devices (these are too limited). The Mac generally occupies the ultra-high end consumer PC niche where the market share loss has already more-or-less occurred. This division represents ~27% of Microsoft's sales.
The company's business division, which consists primarily of Office, is also quite safe. While alternatives such as OpenOffice or products from Google exist, the vast majority of enterprise customers are going to continue to use Microsoft's products. The argument for why the leadership here will continue is fairly simple: Microsoft has poured, and will continue to pour, massive amounts of money into Office. While Google's (NASDAQ:GOOG) and other free/open-source alternatives certainly exist, without the revenue to continue a sustained R&D effort (Google's cash cow is ads), it seems unlikely that enterprise customers that have been using Microsoft's highly polished suite of tools for years will suddenly move to a cheaper/free alternative that could seriously disrupt productivity. This division comprises ~26% of sales.
Next, the company's server and tools division, which makes up 24% of sales, provides a wide array of products and services, consisting primarily of Windows Server, Microsoft SQL Server, Windows Azure, Windows Embedded platforms, and Enterprise Services. While Microsoft faces competition here from strong companies such as Oracle (NASDAQ:ORCL), the barrier to entry for these products is quite high, so you won't see the 20+ competitor deathmatch that the smartphoneo or tablet space does.
Finally, we have the Entertainment and Devices division. This includes Xbox 360/Kinect, Skype, and Windows Phone 8. The Xbox is due for a refresh and Windows Phone 8 is beginning to ramp courtesy of partners such as HTC and Nokia (NYSE:NOK). This division comprises 17.5% of revenues, and I believe the largest room for upside.
While Microsoft obviously has strong competitors, it spends over $10B/yr in R&D and is a leader in many of its operating segments. The two major points, though, is that the big money-makers for Microsoft not only have high barriers to entry (few major competitors), but that the company doesn't really have to worry about keeping outsized margins relative to its peers in what is quickly evolving into a commodity business.
Microsoft's Fundamentals Continue To Move In The Right Direction
Many investors seem to forget that businesses aren't about hype, but about making money. Microsoft is really, really good at that: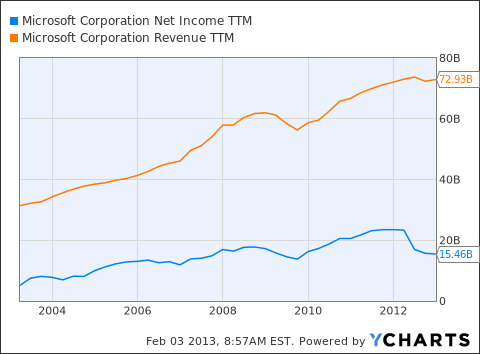 MSFT Net Income TTM data by YCharts
So you've got a company whose earnings and revenues are more or less monotonically increasing, whose ability to raise and pay the dividend continues to increase, and that continues to make the investments necessary to continue the consistently strong performance. What's not to like here? You're buying a mega-cap whose core business is mature, so it's a little unrealistic to expect double digit Y/Y growth. Apple's growth, as the majority of investors are beginning to realize, is also set to slow in the coming quarter according to the recent guidance given (and it looks like EPS growth Y/Y will be negative), and it can only get worse from here.
Conclusion
Microsoft's not a high growth business, and its steadily growing software business is not as sexy as the high flying, high margin iPhone. But the key to Microsoft is predictability and safety. The odds are, Microsoft will keep increasing its dividend as a result of its net income increasing and its share count decreasing. Sure, like any company, it'll have its flops, but clearly the majority of Microsoft's products are financial successes.
Apple has been a great business, but at this point in the smartphone/tablet wars, the high margins are at major risk, market share is equally at risk, and the dividend isn't really attractive enough relative other, similarly mature peers in the technology space.
Does Microsoft need to have the flash of the Steve Jobs-era Apple to be considered successful? No. Should Steve Ballmer be given a bad rap for failure to execute. NO! Financially, Microsoft has continued to execute and deliver to its shareholders, and it seems that the path that it's following is working out just fine for its shareholders.
Disclosure: I am long MSFT. I wrote this article myself, and it expresses my own opinions. I am not receiving compensation for it (other than from Seeking Alpha). I have no business relationship with any company whose stock is mentioned in this article.