By G C Mays
As expected, Potash Corporation (NYSE:POT) reported disappointing Q4 and full-year earnings. Revenues, which are usually light in Q4, were down nearly 12% year over year after rising almost 3% a year earlier. For the full year, gross sales tumbled 9% to $7.9 billion. Tons sold were down across the board, but faltering potash sales takes the lion's share of the blame. Sales were down for both phosphate and potash, while the nitrogen business managed to post a modest increase due to firm pricing throughout the year.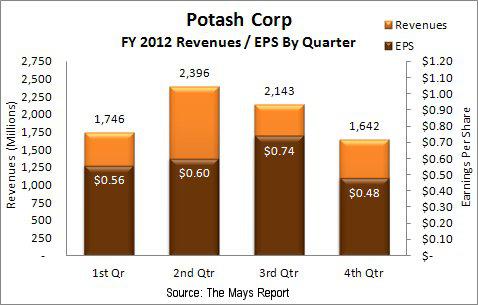 Potash
While stalled international contract negotiations did play a significant role in slumping potash sales during 2012, tons sold were down across the board in both North American and offshore markets year over year. At an average selling price of $396 per ton, offshore pricing rose 5.6% compared to a year ago, while prices in North America fell a modest 1.5% to $475 per ton. Attempting to extract higher prices from a price-sensitive customer will limit tons sold every time.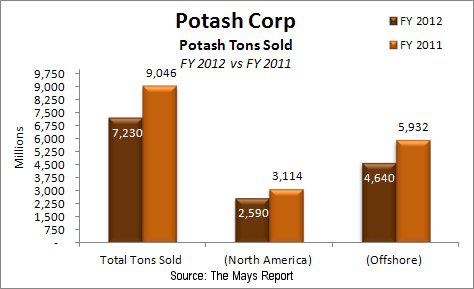 Phosphate
Phosphates for feed and industrial use lead phosphate revenues in 2012, up 3.7% year over year to $778 million. Unfortunately, feed and industrial sales only account for about one-third of overall phosphate revenues. Fertilizer use sales were down nearly 16% despite tight inventories. Both categories saw fewer tons sold; however, strong pricing for feed and industrial-use phosphate partly offset slumping fertilizer use pricing. But it was not enough to keep phosphate revenues from falling to $2.1 billion.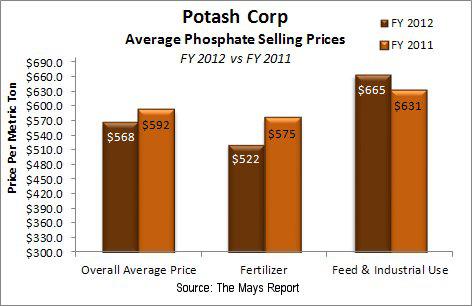 Nitrogen
The nitrogen segment was a bright spot with revenues flat to higher and strong prices across the board. Strong nitrogen pricing was due to a record number of corn acres planted in 2012 amid hopes of record yields. Those yields did not materialize for many in the U.S. as drought decimated the crop for those without irrigation systems in the Corn Belt. Estimates for 2013 are for as many as 99 million acres planted. Unfortunately, the nitrogen business accounted for only 30% of total revenues in 2012.
A Drought in Margins?
A decline in the company's high-margin potash business caused operating margins to fall to 40.6%, nearly 12 percentage points lower than last year. Another thing investors should note about the company's reported operating income is that the company includes its share of earnings from its equity investments in Sinofert Holdings Ltd. and Israel Chemicals, as well as dividends received from its investments in associates in operating income.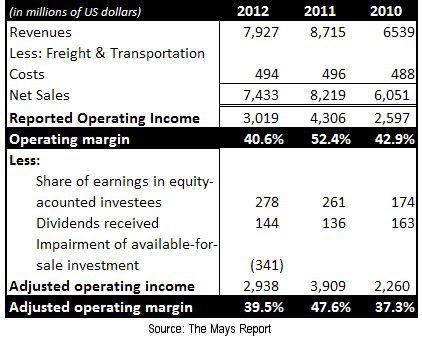 The SEC allows companies that believe their investments are integral to their operations to report their share of earnings as a part of operating income. This is a subjective judgment that can distort core operating income. However, this is not standard GAAP or IFRS accounting; adjusting these items when performing an analysis of operating margins paints a more accurate picture.
Is this company in trouble? Not by a long shot. In 2012, the company posted strong after-tax margins and a healthy return on equity of 28% and 23%, respectively. A prudent use of low-cost debt has accounted for nearly half of the company's return on equity over the last several years.
As long as the company can respond to any sustained downturn in demand by reducing debt, the extra leverage does not pose any problems. Mosaic (NYSE:MOS) has superior liquidity ratios to both Potash Corp. and Agrium (NYSE:AGU), a company that is carrying significant debt due to a couple of acquisitions over the last couple of years.
What Lies Ahead?
Potash Corp. recently increased its dividend to 0.28 per share, which is great short-term news for shareholders. However, it also signals that the company does not have any projects whose rate of return would give a better return for shareholders. While nitrogen prices will most likely stay strong in 2013, prices for potash are uncertain with a bias to the downside. In my opinion, if potash prices don't find their natural equilibrium, inventories may continue to rise and Potash Corp. will continue to shut production when it otherwise would not. And that hurts gross margins due to fewer tons produced being spread over the same fixed costs.
In 2012, the company said it expected a weak Q1 with three strong quarters to follow. For 2013, the company has lowered full-year guidance, but has the same basic revenue pattern projection as a year ago. If they are unable to agree to potash and phosphate price points that compel dealers to accept longer-term inventory risk, another disappointing year could be what lies ahead.
Disclosure: I have no positions in any stocks mentioned, and no plans to initiate any positions within the next 72 hours. I wrote this article myself, and it expresses my own opinions. I am not receiving compensation for it (other than from Seeking Alpha). I have no business relationship with any company whose stock is mentioned in this article.