Sources in November told Bloomberg that AsiaInfo-Linkage (NASDAQ:ASIA) is near a deal to be acquired by Citic Capital for $900m. The transaction has not been formally announced yet. AsiaInfo sells telecommunications software to China's biggest wireless carriers.
As of September 30 2012, ASIA had 74 million shares outstanding on a fully diluted basis. A simple math reveals a buyout price of ~$12 per share. Shares currently trade at $10.96, a 9% discount, reflecting buyout uncertainty.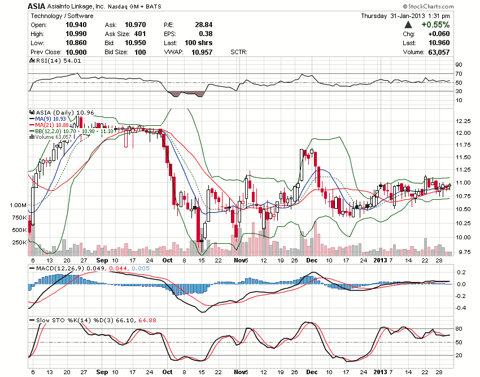 $16 Per Share Thesis? First The Timeline:
January 20, 2012: ASIA receives a buyout bid from Citic Capital at an undisclosed price, only revealing that it's at a premium over the current stock price. The press release also says that a special committee has been appointed and a legal team has been chosen.
February 7, 2012: ASIA hires Goldman Sachs as their advisors.
February 21, 2012: Reuters reports that the global private equity firms KKR and TPG are ready to compete with Citic Capital, suggesting that the special committee has decided to conduct a targeted auction.
March 26, 2012: ASIA confirms aforesaid Reuters report.
June 15, 2012: After two months of due diligence by the selected bidders, which could have included management presentations, site visits and data room access, Reuters reveals that the formal bids are due at the end of June. The report also mentioned that the Private equity firms like Silverlake, TPG as well as a Chinese PE firm Primavera will submit final bids, but what the source said next, caught my attention:
The auction has now attracted other bidders, with offers due around the end of June, but the sources, who could not be named as they were not authorised to talk to the media, said a hostile bid might be self-defeating.
Hostile bid? The company has put itself for sale, is conducting a sale process, is about to receive formal bids in a targeted auction process, there's nothing hostile about it. But the sources said:
With all these China take-private situations, it's not a question of whether you plan to bid strongly, it's a question of whether you can form a working relationship with the Top Guy.
Indeed. Most of the Chinese Go-Private buyouts in the past have involved the CEO or Chairman or Top Guy holding significant ownership, making a bid for the rest of the company. But PE firms have done management buyout of the Chinese companies in the past. When Bain Capital made an offer for the China Fire and Safety Group in March 2011, the company's Top Guy Weigang Li, the Chairman of the board and the owner of 23% of the shares, filed an amended Schedule 13D with the SEC. In the filing he clearly said that:
he may consider rolling over all or part of his shares into equity securities in the post acquisition company if the proposed transaction is consummated.
Rollovers by the companies CEOs, Chairman or Top Guys are normal in the Chinese Private going transactions. It happened in RAE systems, it happened in Harbin Electric, it even happened in recently announced Focus media (NASDAQ:FMCN) acquisition by Carlyle (NASDAQ:CG) led group.
Even Citic Capital says on its own website that one of their investment strategy is :
Partner with management.
A prerequisite to our investment is that we must feel comfortable in our ability to forge a strong working relationship with the management team of our investee companies.
So what's the problem in the Citic Capital's offer for ASIA?
Citic Capital initial offer is for all of the company!
Excerpt from the original Press Release:
Board of Directors has received a non-binding proposal letter from Power Joy (Cayman) Limited ("Power Joy"), a wholly owned subsidiary of CITIC Capital China Partners II, L.P., pursuant to which Power Joy proposes to acquire all of the outstanding shares of common stock of AsiaInfo-Linkage in cash at a price which represents a premium over the current stock price.
Hmm looks hostile. So was the formal offer made by Citic Capital at the end of June hostile or not?
It wasn't. How?
First, A look at the so called Top Guys of AsiaInfo-Linkage:
The company was formed by the merger between AsiaInfo Holdings and Linkage Technologies International Holdings on July 1, 2010, hence the new name AsiaInfo-Linkage. Both the companies had their own top guns which in turn became the top guys of new AsiaInfo-Linkage.
From AsiaInfo:
Tian Edward. He is the current Non-Executive Chairman of the Board. He holds 9.3% of the total shares outstanding.
From Linkage:
Libin Sun: He is the current Executive Chairman of the Board. He holds 17.3% of the total shares outstanding.
Combine they own 26.6% of the total shares outstanding of AsiaInfo-Linkage.
When Citic Capital, along with other PE firms, made the final bids at the end of June, they conveyed their messages to the Special Committee that they want the above guys to remain part of the company and rollover their shares in the surviving holding company. Basically that showed they have no intention of being hostile. The special committee then asked both of the top guys to make a preliminary meeting with the interested PE firms and decide if they want to be a part of the transaction.
How do I know this ?
The top guys themselves have revealed this in late August, less than 2 months after the final bids, through amended Schedule 13D filings with the SEC.
Tian Edward Schedule 13D
Libin Sun Schedule 13D
Both of them said the same thing that they had preliminary discussions with the PE firms, have decided to be part of the transaction and may consider rolling over all or part of their shares into equity securities in the post acquisition company if the proposed transaction is consummated, almost identical SEC filing which China Fire and Security Group Chairman made before the merger, as i mentioned above.
Next follows a complete silence for a couple of months until on November 28, 2012 Bloomberg reports that Citic Capital is in advanced talks to buy AsiaInfo-Linkage for $900m, sources also revealed that the PE firms Silverlake as well as Primavera have dropped out of the bidding, but what makes this report the most interesting is that for the very first time in the entire sale process, a buyout/transaction value was leaked to the market.
Now $16 per share Thesis.
As we know, a leveraged buyout or a management buyout, is an acquisition where the purchase price is financed through a combination of equity and debt and in which the cash flows or assets of the target are used to secure and repay the debt. So the PPS at which the LBO of AsiaInfo-Linkage can be consummated depends on the amount of debt that can be raised on its assets and cash flow.
AsiaInfo-Linkage can raise $450m of debt, which could include both secured and unsecured loans, and can be collateralized by the following assets:
$285m of short term receivables.
$55m of other short term assets.(excluding $250m of cash which belongs to the shareholders.)
$156m of other intangible assets including Intellectual Property.
AsiaInfo-Linkage is expected to generate $70M in EBITDA for the fiscal year 2012. Using interest ratio of 2, which lenders usually prefer, it can pay interest of $35M on that debt. This will equate to a yield of 7.80%, much higher than where other deals are currently getting priced at due to stronger credit market. This will give the company a leverage of 6 to 7 times EBITDA, in-line with other software companies.
LBO requires that the PE firms, also known as the sponsors, in order to align their interest with that of the lender, also put in their own cash called the equity check in a transaction. Citic Capital will therefore contribute $300m in cash for the buyout price. This will bring the total buyout package or Enterprise Value at $750m, with 60% as debt and 40% as equity. This will also give the buyout an EBITDA multiple between 10-11, in-line with other software companies in the past.
AsiaInfo also has $250M in net cash on hand, which belongs to the shareholders. Hence a total buyout amount, a respectable, well known PE firm can put forward for the company will be: $450m of debt + $300m of equity check +$250m of cash on hand OR $1000m. Based on 74m shares outstanding, that will be $13.50 per share.
Still not $16 per share.
But Citic Capital is not buying all of the company. Their top guys will rollover 26.6% of their holdings, and if that's the case then it's obvious that after the merger Citic will not own 100% of the company but somewhere around 73% of it, which is exactly what Bloomberg article has suggested:
The investment company, is teaming up with AsiaInfo's management to take the company private.
But then Citic Capital should also reduce its equity cash contribution accordingly.
Debt from the lenders =$450m
Cash from Citic Capital =$300 $200m as they will now own ~73%
Cash on Hand = $250m
Add all and we have $900m (this number seems familiar)
Exact $900 million which Bloomberg reported Citic will buy AsiaInfo-Linkage for.
Citic Capital is in advanced talks to buy Beijing-based AsiaInfo for about $900 million.
In other words, $900 million is for cashing out shareholders only, not for the entire AsiaInfo-Linkage. So out of 74 million shares outstanding, 54 million shares will be cashed out, the rest of the 20 million or around 26.6% of the shares will be rolled over.
Hence,
Buyout Price = Transaction value/ Shares outstanding
Buyout Price = $900 million / 74 New 54 million = $16.66 per share
(Or at least $16 per share, a 45% premium from the current price)
AsiaInfo-Linkage reports its fourth quarter earnings on Monday February 4, 2013. I expect them to give an update on the buyout or maybe, formally announce the buyout.
Disclosure: I have no positions in any stocks mentioned, and no plans to initiate any positions within the next 72 hours. I wrote this article myself, and it expresses my own opinions. I am not receiving compensation for it (other than from Seeking Alpha). I have no business relationship with any company whose stock is mentioned in this article.