Introduction
Many are left scratching their heads with regards to Amazon's (NASDAQ:AMZN) market valuation. Market participants are left wondering whether or not the company is just another pump and dump bubble stock. I believe that Amazon is not a pump and dump, but rather a stock with a stable yet rapid growth trajectory going forward.
Qualitative Analysis
Source: Information pertaining to Amazon came from the shareholder annual report, with additional information from the Amazon quarterly report, Visa Annual Report, YCharts, International Telecommunication Union, and World Bank.
I believe that the market potential behind Amazon's product offerings is largely untapped based on the small number of individuals currently using the internet (35% of the world population currently uses the internet).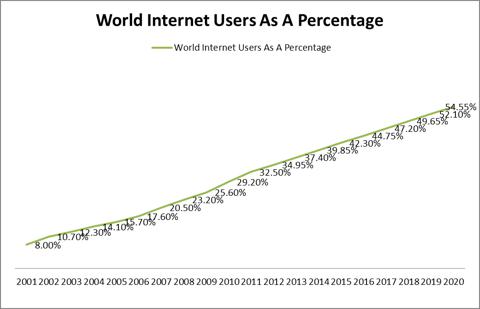 Source: Data from International Telecommunication Union with the data from 2012-2020 forecasted by Alex Cho
I forecast that by 2020, the total number of people using the internet is going to increase to 54.55% of the world population. This means that the number of people using internet across the globe is likely to be greater than 3.5 billion people. My forecast is relatively conservative, and realistic. To further back this claim Network World stated that,
by 2020 the National Science Foundation predicts that the Internet will have nearly 5 billion users.
Assuming Amazon can sustain growth, or at least find avenues of growth in international markets, investors have a valid reason to be buying the stock.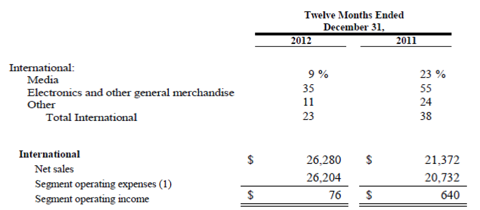 Source: Amazon quarterly report
Some of the negative commentary around Amazon has been due to the declining growth rates from 38% down to 23% in 2012. For example Christopher Owens states that:
To summarize, AMZN doesn't generate much free cash flow and the cash flow it does generate, and more, goes to purchasing stock gifted to employees. Additionally, AMZN doesn't have much capital invested in its business and the capital it is currently investing is generating a negative return. As stocks are largely priced off of future earnings potential and future earnings potential is a function of returns on existing capital plus estimated returns on incremental invested capital, this does not appear to bode well.
I disagree with Christopher for several reasons. However I will make some simple points with regards to my disagreement. Amazon's cash from operations is expanding, but what's holding back profitability is the increasing capital expenditures which leads to future depreciation expenses. Therefore a doomsday scenario based on a single year's results is likely to be foolhardy. This is because Amazon's revenue growth on a percentile basis fluctuates in a very broad range (over the past ten years, Amazon's lowest growth rate was 22.67%, and its highest growth rate was 40.56%). It is likely that Amazon will have periods where it will surprise or miss analyst expectations by an extremely large margin.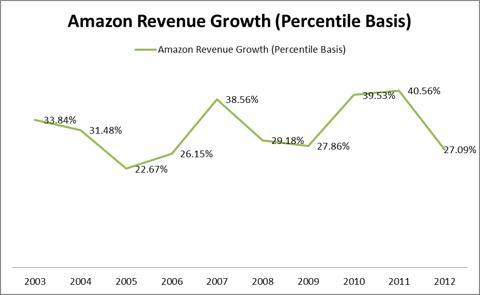 Source: Chart created by Alex Cho, data from YCharts
Amazon's business model requires two things. First it requires a merchant network in the country it expands into (Visa (NYSE:V), MasterCard (NYSE:MA), American Express (NYSE:AXP), and PayPal (NASDAQ:EBAY). Second it requires internet connection. Earlier in the report, I mentioned that half the world population will have access to the internet by 2020. What I did not mention was the rate of growth of merchant services providers in foreign markets. The table below shows the nominal payment volume growth in terms of consumer debit transactions outside the United States for Visa.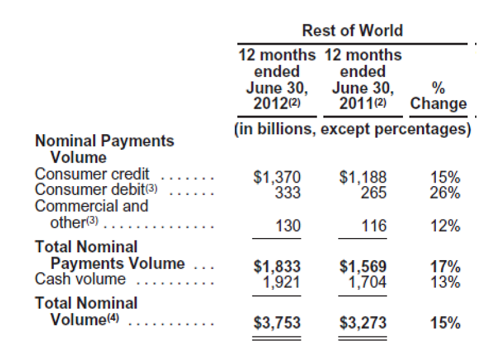 Source: Visa Annual Report
Visa was able to grow its nominal payments volume in consumer debit by 26% year over year in 2012. Analysts on a consensus basis anticipate that Visa's net income will grow by at least 19.26% over the next 5-years. Foreign consumer debit transactions were 333 billion in 2012 and will increase by 20% compounded over the next 5-years. MasterCard has similar rates of growth, so one can come to the conclusion that what's limiting Amazon's revenue growth overseas is the rate of growth in debit card transactional volume. For e-commerce to work, it requires that the consumers have access to an electronic payment network, and the ones we are most familiar with (Visa and MasterCard) are not growing transactional volume at rates faster than Amazon's current growth rate. This does not mean Amazon is an unattractive investment, but what it does mean is that Amazon's expansionary strategy into foreign markets is likely to slow because the internet and the merchant payment system has not been fully developed, standardized, and rolled out in developing and emerging markets.
It is widely understood that the stock trades at ridiculously high P/E multiples, the company management acknowledges that by stating:
We will continue to make investment decisions in light of long-term market leadership considerations rather than short-term profitability considerations or short-term Wall Street reactions. We will continue to measure our programs and the effectiveness of our investments analytically, to jettison those that do not provide acceptable returns, and to step up our investment in those that work best. We will continue to learn from both our successes and our failures. We will make bold rather than timid investment decisions where we see a sufficient probability of gaining market leadership advantages. Some of these investments will pay off, others will not, and we will have learned another valuable lesson in either case. When forced to choose between optimizing the appearance of our GAAP accounting and maximizing the present value of future cash flows, we will take the cash flows.
The big take-away is that Amazon focuses on growing cash flow. Analysts are knowingly putting price targets on the stock based on the amount of cash flow the company is able to generate rather than the amount of earnings. The management also clearly states that it is not interested in maximizing GAAP earnings. So don't anticipate Amazon to manage earnings in order to smooth growth over several years. Also, don't anticipate Amazon to center its business strategy on profit based metrics (don't expect low price earnings multiple in the stock for a really long time).
This implies that the volatility in growth from due to various factors will cause analysts to slap price targets all over the place, whether it is during periods of contracted revenue growth, rapidly expanding growth, and even in periods when growth remains flat.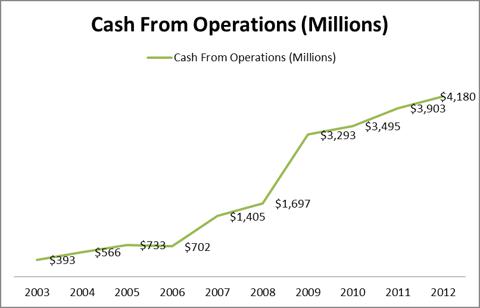 Source: Chart created by Alex Cho, data from YCharts
Cash from operations has consistently increased between 2003 and 2012. Amazon is able to consistently generate cash from its operations, then predictably spends it all on its capital expenditures, share-buybacks, and etc. The company is heavily focused on capital-expenditure based on the chart below.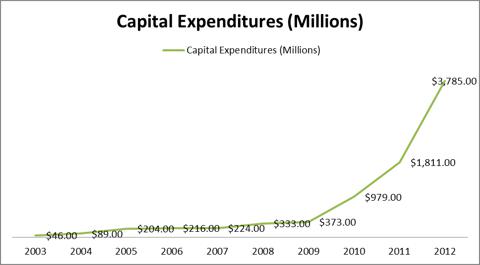 Source: Chart created by Alex Cho, data from YCharts
The rapidly increasing capital expenditure is what keeps the company from becoming profitable. Amazon is not interested in maximizing profits; the company's spending pattern clearly indicates that the management is focused solely on growth. Investors currently buy the stock for four major reasons:
Amazon's ability to grow revenues due to: customer acquisitions, cross-selling pre-existing customers into other services and products.
Increasing internet usage internationally.
Amazon's ability to corner a substantial portion of the international online retail market (remember the world GDP is $70 Trillion, a small percentage of that goes a long way).
Analyst expectations are likely to trend higher based on the untapped market potential for Amazon.
There is a lot of growth potential in the Amazon business model; investors are truly missing out on a great investment opportunity by relying on valuation metrics that don't effectively measure the company's current performance.
Technical Analysis
Amazon has been on a continuous up-trend since November of 2012. The stock will eventually rebound off of the lower trend-line in the channel. Bargain hunters are likely to make their best entry right about now.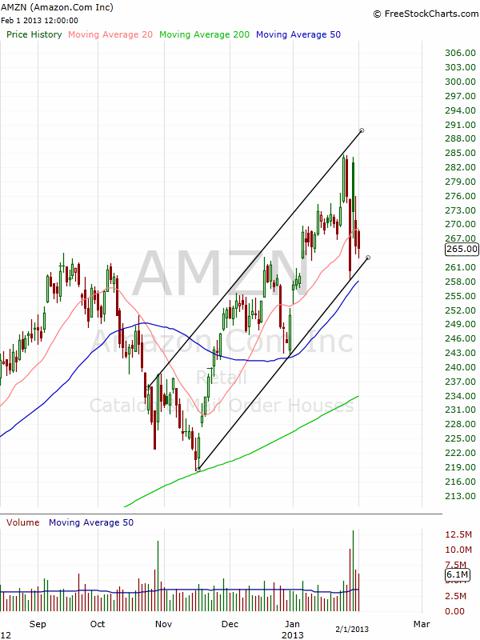 Source: Chart from freestockcharts.com
The stock is trading above the 50-, and 200- Day Moving Average. The stock is trading below the 20- Day Moving Average. The stock is in a confirmed up-trend (higher highs and higher lows), the up-trend further supports my buy-thesis, and the stock is likely to recover from its recent losses and will trade at even higher levels in 2013.
Notable support is $219.00, $240.00, and $261.00 per share. Notable resistance is $270.00, $285.00, and $325.00 per share.
Street Assessment
Analysts on a consensus basis have high expectations for the company going forward.
| | | | | |
| --- | --- | --- | --- | --- |
| Growth Est | AMZN | Industry | Sector | S&P 500 |
| Current Qtr. | 21.40% | 40.80% | 9.60% | 7.70% |
| Next Qtr. | 3200.00% | 53.00% | 28.00% | 17.10% |
| This Year | 1988.90% | 12.60% | 31.80% | 6.50% |
| Next Year | 135.30% | 17.50% | -15.20% | 13.20% |
| Past 5 Years (per annum) | -3.73% | N/A | N/A | N/A |
| Next 5 Years (per annum) | 36.55% | 11.62% | 13.90% | 8.57% |
| Price/Earnings (avg. for comparison categories) | 153.15 | -46.08 | -2.08 | 15.09 |
| PEG Ratio (avg. for comparison categories) | 4.19 | -0.65 | 0.5 | 1.72 |
Source: Table and data from Yahoo Finance
Analysts on a consensus basis have a 5-year average growth rate forecast of 36.55% (based on the above table).
| | | | | |
| --- | --- | --- | --- | --- |
| Earnings History | 12-Mar | 12-Jun | 12-Sep | 12-Dec |
| EPS Est | 0.07 | 0.02 | -0.08 | 0.28 |
| EPS Actual | 0.28 | 0.01 | -0.6 | 0.21 |
| Difference | 0.21 | -0.01 | -0.52 | -0.07 |
| Surprise % | 300.00% | -50.00% | -650.00% | -25.00% |
Source: Table and data from Yahoo Finance
The average surprise percentage is - 106% analyst forecasted earnings over the past four quarters (based on the above table).
Forecast and History

Source: Table created by Alex Cho, data from YCharts, and price history is from Yahoo Finance.
The EPS figure shows that throughout the 2003- 2011 period, the company was able to grow earnings. During 2011-2012 earnings contracted as the executive team decided to heavily invest pre-tax earnings into the business in order to maintain and grow a competitive advantage in overseas markets.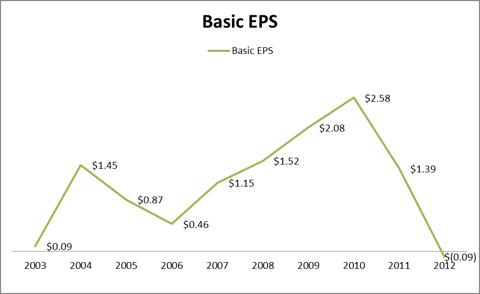 Source: Table created by Alex Cho, data from YCharts.
By observing the chart we can conclude that the business has a unique business model and it does not emphasize the growth in earnings, but rather focuses on growing its revenues. I also believe that so as long as the World Wide Web continues to grow, the company will generate reasonable returns over a 5-year time span based on the forecast below.

Source: Forecast and table by Alex Cho.
By 2018 I anticipate the company to generate $9.77 in earnings per share. This is because of cost management, growth in foreign markets, improving economic outlook, and its unique product offering.
The forecast is proprietary, and below is a non-linear chart indicating the price of the stock over the next 5-years.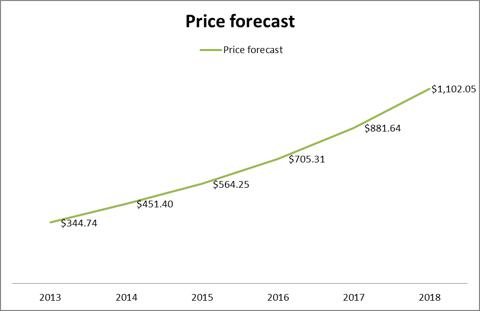 Source: Forecast and chart by Alex Cho.
Below is a price chart incorporating the past 10 years and the next 6 years. Detailing 16 years in pricing based on my forecast and price history on December 31st of each year.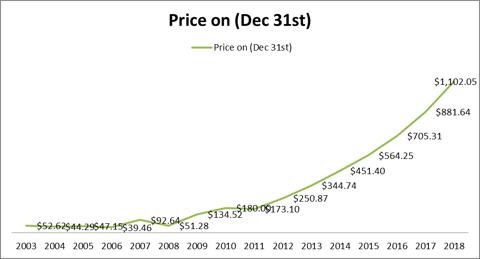 Source: Forecast and chart created by Alex Cho, data from YCharts, and price history is from Yahoo Finance.
Investment Strategy
AMZN currently trades at $265.00. I have a price forecast of $344.74 for December 31st 2013. I believe that the stock is slightly under-valued over the short-term. Therefore investors should anticipate sudden surges in valuation.
Short Term
Over the next twenty-four months, the stock is likely to appreciate from $265.00 to $344.74 per share. This implies 30% upside from current levels. The stock is in an up-trend, which further supports my investment thesis.
Investors should buy Amazon at $265.00 and sell at $344.74 in order to pocket short-term gains of 30% between 2013 and 2014.
Long Term
The company is a decent investment for the long-term. I anticipate AMZN to deliver upon the price and earnings forecast despite the risk factors (competition, economic environment, balance sheet factors). AMZN's primary upside catalyst is improving economics, international growth, and managing costs. I anticipate the company to deliver upon my forecasted price target of $1,102.05 by 2018. This implies a return of 315% by 2018. This is an exceptional return on investment for a retail company.
A higher yielding investment opportunity albeit having higher risk is to buy the Jan 17, 2015 calls at the $280.00 strike. The call premiums trade at $42.00. The price forecast for the end of 2014 is $451.40. The rate of return if the calls expire at $451.40 is 308%, the option will break-even when the stock trades at $322.
The risk to reward ratio on the option strategy remains high. The high-returns come with moderate risk (5-year beta of 0.8).
Amazon has a market capitalization of $120.5 billion; the added liquidity makes this an investment opportunity appropriate for larger institutions that require added liquidity.
Conclusion
I believe in the long-term potential of the company. The business model itself continues to work. Amazon continues to expand utilizing economies of scale. Its business model is growing in foreign markets, and is likely to capture a larger percentage of the total internet using populace, implying an exceptional rate of growth for many years to come.
The conclusion remains simple: buy Amazon.
Disclosure: I have no positions in any stocks mentioned, and no plans to initiate any positions within the next 72 hours. I wrote this article myself, and it expresses my own opinions. I am not receiving compensation for it (other than from Seeking Alpha). I have no business relationship with any company whose stock is mentioned in this article.