After intending to enjoy a much needed day off from the jail-like cubical that is my day job this past Friday, I somehow found myself spending the entire afternoon in my in-laws' living room installing baseboard trim -- so much for a relaxing day off.
To offset the horrific sound bites of tape measures, saws, nail guns, and the scamper of West Hyland terriers, I blared glorious CNBC on a beautiful 55-inch flat screen TV to levels which meant the neighbors were also forced to listen. Although carpentry is somewhat therapeutic in nature, the work was additionally eased by the beautiful Mandy and Maria Bartiromo. Counteracting these two hosts, I felt somewhat barraged by the endless banter regarding the SPY's continued run past 1500 and the DJA's close above 14,000.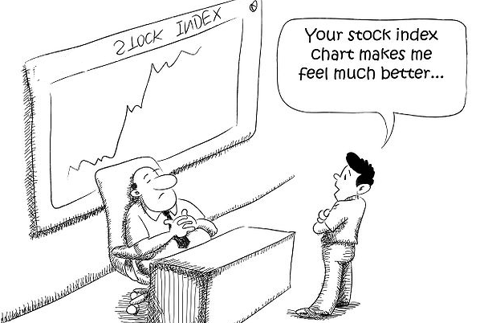 Click to enlarge The enthusiasm was so overwhelming, I nearly ran to the computer to place market buy orders without pausing to unhook my work belt. But before full-fledged hypnosis took over me, I was able to come to the realization that these new highs are moreso psychological markers than the flashing beacons of market health -- as they are so often portrayed as by the guests on TV.
There is no denying these new highs are a fabulous start to February and 2013, as the market has indeed recovered very nicely from the depths of pain several years ago. However, in response to everyone's bullish sentiment, emphasizing caution in response could be a prudent move. Warren Buffett once said, "Be Fearful When Others Are Greedy and Greedy when others are fearful."
Huge inflows could indicate a bearish signal:
Equity mutual funds recorded the second-highest inflows on record in the first week of 2013, as nearly $22 billion gushed into equity funds around the world as if a huge money dam had collapsed. Comically, the last time investors injected this type of funds was the third week of September 2007, when equity inflows hit an all-time record of $23 billion. Soon after, the market tanked despite this seemingly bullish signal: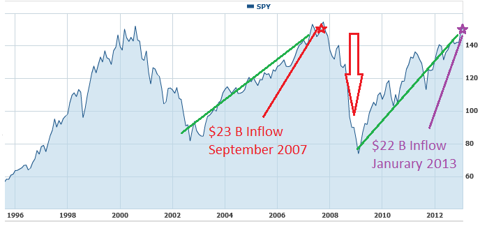 Click to enlarge
I am not saying history always repeats itself, however, the similarities in the chart and the events unfolding are stunningly similar. Is "the trend your friend," and the market goes higher, despite the inflows? Or does the saying, "fool me once shame on you, fool me twice shame on me" come into play here?
Perhaps neither is accurate, but Buffett's quote still seems to echo in my mind as the most relevant in this case. The investing community is injecting record amounts of money while the VIX index, or fear gauge, is hovering near 52-week lows at just over 12.00, indicating a sense of complacency in the market.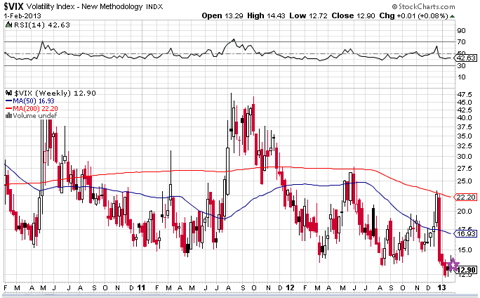 Click to enlarge
Again, the lack of fear in the market is somewhat reminiscent of 2007: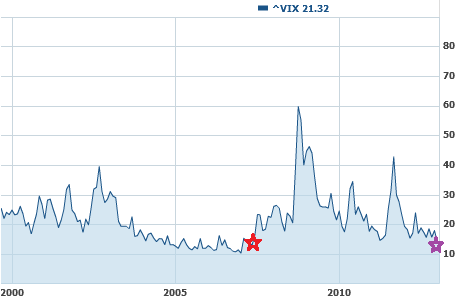 Conclusion:
If you have been long the past few years, you have been rewarded handsomely, and you deserve to book some profits. Despite the red flag of extreme bullishness in the markets recently, adhering to Buffett's famous quote seems to be prudent at this point for most investors, and I'd advise just that -- caution.
I believe there is still money to made, as P/E ratios could be deemed attractive at current levels despite the opinion of experts that this measure as a lone determinant is inconclusive in long-term studies. However, the S&P has very attractive dividend rates currently, something that's undeniable and almost unmatchable elsewhere.
Missing out a continued bull market is a risk, so if you're comfortable with having funds invested, please do so. However, as always and especially now, I feel hedging your longs is critical, and I think you'd be foolish not to hedge with the price of insurance as cheap as it is. Just as with carpentry, mind your fingers and mind your eyes -- you can never be too cautious out there.
Disclosure: I am long GE, EPD, F, SAN, CRZO, ARR, KO. I wrote this article myself, and it expresses my own opinions. I am not receiving compensation for it (other than from Seeking Alpha). I have no business relationship with any company whose stock is mentioned in this article.
Additional disclosure: I am also long GEB, a GECC "baby bond."