General Dynamics (NYSE:GD) is one of the world's largest defense contractors, and it designs and manufactures a wide variety of combat vehicles, weapons systems, munitions, and ships. It also manufactures Gulfstream business jets, which have become increasingly popular as private jet travel grows in the United States and in emerging market countries. Let's take a closer look at this company and the share price below: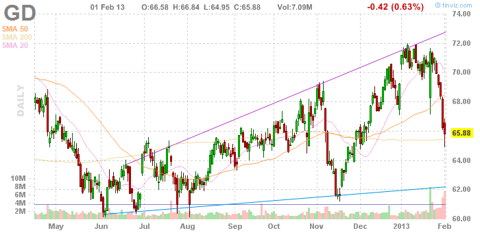 As the chart above shows, this stock was recently hitting the upper end of the trading range, right around $72 per share. The chart also shows that for a few times in the past several months, this stock has found a bottom at roughly $60 per share. After a rally over relief that the "Fiscal Cliff" was avoided in the first days of January, reality seems to have set in on the future outlook for the defense industry as government spending cuts still loom large. This issue was once again brought to the forefront when General Dynamics announced earnings for the fourth quarter.
The company reported a significant loss of $6.07 per share, which was primarily due to a $2 billion non-cash charge for its information systems business. Even excluding that charge, earnings dropped to $1.39 per share, which was down from $1.68 per share in the same quarter of 2011. The disappointing earnings release was due to lower revenues, which dropped about 12% to $8.08 billion. (Analysts were expecting revenues to come in at $8.8 billion.) For 2012, the company lost $332 million due to the one-time charges, but showed a profit of $6.48 per share if those charges are excluded. It's worth noting that the company has a new CEO, Phebe Novakovic, who took the helm on January 1, 2013. She provided earnings guidance for 2013 to come in between $6.60 to $6.70, which was based on flat to 1.5% revenue growth.
General Dynamics has a strong balance sheet, with about $3.3 billion in cash and around $3.9 billion debt. It also offers a solid dividend yield of roughly 3%. However, the recent rally over avoiding the budget cuts from the Fiscal Cliff issue in early 2013 has been short-lived, and according to one article, sequestration cuts are likely to happen. These cuts are now scheduled for March 1. That is just a few weeks away, and by looking at the recent price action in General Dynamics shares and other defense contractors like Raytheon (NYSE:RTN), the downside risks remain for this industry. Negative headlines over the national debt and the need for defense spending cuts are likely to heat up as March 1 approaches ,and that means that this stock could once again be heading back down to about $60 per share. For that reason, trying to buy the recent pullback might be like trying to "catch a falling knife," and as the chart shows, the real support level for this stock has not yet been reached. Patient investors should consider waiting for the stock to test the $60 level and if that level holds, buying at that time would be a much better opportunity.
Here are some key points for GD:
Current share price: $65.88
The 52 week range is $61.09 to $74.54
Earnings (actual) for 2012: $6.48 per share (excluding one time charges)
Earnings estimates for 2013: $6.60 per share
Annual dividend: $2.04 per share which yields 3.1%
Data is sourced from Yahoo Finance. No guarantees or representations are made. Hawkinvest is not a registered investment advisor and does not provide specific investment advice. The information is for
informational purposes only. You should always consult a financial advisor.
Disclosure: I have no positions in any stocks mentioned, and no plans to initiate any positions within the next 72 hours. I wrote this article myself, and it expresses my own opinions. I am not receiving compensation for it (other than from Seeking Alpha). I have no business relationship with any company whose stock is mentioned in this article.