Investors in US equities tend to focus on products and services that they can easily "see" in action. It's easy to invest in a company like Verizon (NYSE:VZ) or AT&T (NYSE:T) because many of us likely fork over a substantial sum of money to them each month to fund the Android phone that we got with that 2-year contract. Until the PC growth hit a snag, it was easy to pull the trigger on shares of Intel (NASDAQ:INTC) because, quite frankly, the fat dividend, coupled with "Intel Inside" most of our computers made it seem like a no-brainer safe equity.
However, with PC sales in a slump (that may or may not be temporary), and with Intel's fairly limited visibility in US-based tablets and smartphones (due to a lack of an 'obvious' design win that everyone can see as of yet), it becomes equally easy for the uninformed to dismiss Intel as a company that "missed" the mobile revolution and toss it in the trash can.
The funny thing is that today's nay-sayers were yesterday's cheerleaders when Intel was blowing out earnings numbers quarter-after-quarter during 2011 and the early part of 2012. They also miss the bigger picture and the mounting positives for the company, including:
Intel's acquisition of Infineon in 2010 in order to gain the RF and modem expertise needed to become a major player in the smartphone space
Intel's purchase of 3G/4G patents from Interdigital (NASDAQ:IDCC) in order to give it a broad swath of IP to compete favorably without forking over too much in licensing fees
The company's process technology lead (smaller/faster/better transistors are what fundamentally drive the semiconductor industry) will, when leveraged in the low power space, will allow the company to have both product quality and cost structure superiority over the majority of its competitors
The company's release of competitive smartphone platforms with "Medfield" and "Lexington"
The porting of Android to X86
Intel has been putting the pieces in place to become a powerhouse in the low power/mobile chip arena. However, many investors aren't convinced by what's "coming" and instead like to focus on what's here. The problem is, "what's here" isn't yet available in the US, so most people don't know about it. That's what I hope to change in this article by detailing Intel's low cost "Lexington" platform.
What Is Lexington?
Meet Lexington (or the Intel Atom Z2420):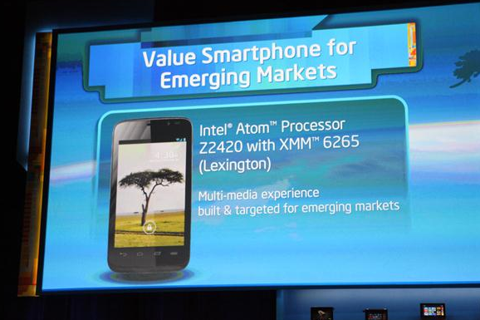 Essentially, this is the same thing as the "Medfield" platform that was released in 2012, but it's clocked slightly slower. The "Lexington" also comes complete with a "Form Factor Reference Design", which is basically an Intel-designed phone that it lets others sell under their brand names. That reference design is pretty feature-filled for a value phone: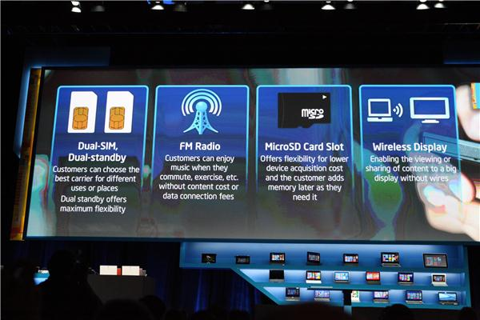 The intriguing thing about this platform is that it will go into phones that cost about $130, which means that Intel, with its lower end platform, is targeting the value smartphone category. This is actually the high growth segment of the market, with a projected 51% CAGR (against high end phone CAGR of 12%), which means that there is still quite a bit that Intel can take advantage of here while we wait for the new 22nm platform + LTE modem to make inroads in the developed/high end market (slated for release at MWC 2014).
What's So Great About Lexington?
Well, the reasons that Lexington is so exciting are actually fairly numerous:
As mentioned above, the low end smartphone market is projected to grow at >50% CAGR
Intel has viable, very competitive products shipping in this space today (what keeps Intel out of the high end USA market is the lack of LTE, which should not be an issue in 2014 and beyond)
Intel has its own fabs, and can build the low end parts on a last generation process in fully depreciated facilities, meaning that its cost advantage is quite substantial over competitors.
Interestingly enough, in this space, Intel's solutions is actually significantly faster and more featured than the typical ARM11 and Cortex A8 (the Samsung Galaxy S in the numbers below represent the Cortex A8) chips that are generally used in this space. In fact, the "Lexington" is competitive with devices much out of its league from a design/build standpoint (the device below is the Xolo 500):

So Intel will be the putting out a very competitive, cheap to make chip for the fastest growing segment of the smartphone world. Not bad right?
Conclusion
Intel is taking direct aim at the volume segments of the smartphone market. While the company also has a high end chip set to be announced with design wins at MWC 2013 (The Atom Z2580) which is a dual core 1.8 - 2.0GHz Atom, the really exciting platform right now is the low end Z2420 + XMM 6265 modem. Since LTE is not important in the target market, the company will be able to offer the complete solution without any "gotchas".
Intel has a very smart mobile strategy, and it will be interesting to see how it plays out over the coming years.
Disclosure: I am long INTC. I wrote this article myself, and it expresses my own opinions. I am not receiving compensation for it (other than from Seeking Alpha). I have no business relationship with any company whose stock is mentioned in this article.