"All political thinking for years past has been vitiated in the same way. People can foresee the future only when it coincides with their own wishes, and the most grossly obvious facts can be ignored when they are unwelcome. Political language... is designed to make lies sound truthful and murder respectable, and to give an appearance of solidity to pure wind." (George Orwell)
George Orwell wrote his legendary novel 1984 just after World War II. It is renowned for its portrayal of government's encroachment on the rights of the individual. It was Orwell's warning against totalitarianism, specifically Stalin's Soviet Union. Pervasive thought control and surveillance of citizens is prominent throughout the novel. After living through the last eight years under the Bush administration and observing the marketing effort of the coming stimulus plan by the Obama team, the U.S. has moved closer than ever to Orwell's nightmare world.
In the novel, The Party maintained control of Oceania by manipulating facts, history, and citizens to retain power and dominate the masses. In the United States of today we theoretically have two major parties, Democrats and Republicans. In reality, we have one Party made up of the wealthy elite ruling class backed by enormous corporate interests and protected by the military industrial complex. There are no major differences between Republicans and Democrats, just minor meaningless variations. They are both under the control of the fascist corporate oligopoly that runs this country. Representative Ron Paul explains how The Party is able to maintain control in today's world:
Pretending that a true difference exists between the two major candidates is a charade of great proportion. Many who help to perpetuate this myth are frequently unaware of what they are doing and believe that significant differences actually do exist. Indeed, on small points there is the appearance of a difference. The real issues, however, are buried in a barrage of miscellaneous nonsense and endless pontifications by robotic pundits hired to perpetuate the myth of a campaign of substance. Influential forces, the media, the government, the privileged corporations and moneyed interests see to it that both party's candidates are acceptable, regardless of the outcome, since they will still be in charge. It's been that way for a long time. The two parties and their candidates have no real disagreements on foreign policy, monetary policy, privacy issues, or the welfare state. They both are willing to abuse the Rule of Law and ignore constitutional restraint on Executive Powers. Neither major party champions free markets and private-property ownership. Those candidates who represent actual change or disagreement with the status quo are held in check by the two major parties in power, making it very difficult to compete in the pretend democratic process. This is done by making it difficult for third-party candidates to get on the ballots, enter into the debates, raise money, avoid being marginalized, or get fair or actual coverage.
In the last year, government has taken advantage of this financial crisis to step into the breach and gained complete control over our banking system and auto industry. They are choosing the winners and losers in our society. They have chosen to save their rich ruling elite brethren who made billions by taking excessive criminal risk, and throw the middle class under the bus. The average American does not see the insidious method that The Party has used to gain overwhelming power over their lives. The U.S. government has used chaos, fear, and exaggeration to expand their control. The method used to gain control is simple. Government creates a problem, fans the flames to make the problem appear to be extremely dangerous, and then provide a solution that only government can implement.
The government now spends $2.9 trillion per year, or 20% of GDP. With the proposed stimulus, government spending could breach 30% of GDP. In 1929, government spending accounted for only 9% of GDP. In 2000, when President Bush ascended to power, spending on National Defense was 3.8% of GDP. Today it is 4.8%, having risen by 79% since 2000. In 1940, prior to WW II, National Defense accounted for 2.5% of GDP.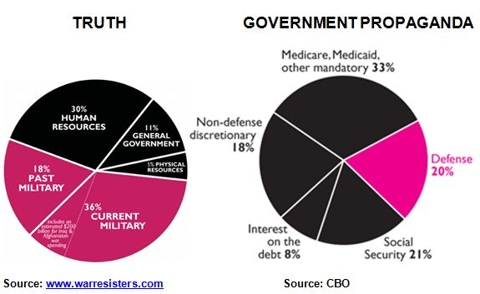 By 2011, 30% of all the spending in our country will be done by BIG GOVERNMENT. When the costs of Homeland Security, veteran's benefits, interest on the debt related to military spending, spending on NASA and nuclear arms are included, National Defense accounts for 54% of government spending. The Military Industrial Complex is calling the shots when it comes to how government operates. A question everyone needs to ask themselves:
Is it worth the loss of liberties and rights to allow the government to control and protect you?
Control of Information and History
Who controls the past controls the future. Who controls the present controls the past. (Party slogan, 1984)
The complete lack of interest or care about American history by the vast majority of citizens, allows them to be misled by the State. The past is portrayed as being worse than today. The public is easily manipulated by the propaganda put out by the government and trumpeted by Big Media. As the Democrats make their misleading case for a $1 TRILLION pork filled stimulus package, they are telling the American public that FDR's New Deal spending in the 1930s worked to pull the country out of the Great Depression.
That is a bold faced lie. The GDP of the U.S. was $104 billion in 1929. It did not exceed that level until 1941 as spending on National Defense jumped by 500%. Unemployment was still 19% in 1938, years after the New Deal programs had been instituted.
Economists Lowell E. Gallaway and Richard K. Vedder argue that the
Great Depression was very significantly prolonged in both its duration and its magnitude by the impact of New Deal programs. Without Social Security, work relief, unemployment insurance, mandatory minimum wages, and without special government-granted privileges for labor unions, business would have hired more workers and the unemployment rate during the New Deal years would have been 6.7% instead of 17.2%.
If the American public was not being misled, they would see that the next decade will be a government induced nightmare.
The U.S. government controls the flow of information that is used to stage-manage public opinion. Every statistic is massaged in a way to reflect the most positive view of the world. The gullible public and clueless Wall Street professionals accept these statistics with no questions asked. Government has learned that they can make bad news seem like a victory if they've built expectations for worse news. The Bush administration a few years ago forecasted a budget deficit of $400 billion and broke out champagne bottles when it finished at $300 billion. Only government bureaucrats could celebrate such a disastrous result. The Party attempts to keep the public in the dark, but the Resistance exists to shed light on their lies. Economist John Williams has been uncovering the government manipulation of facts and revealing the truth for many years.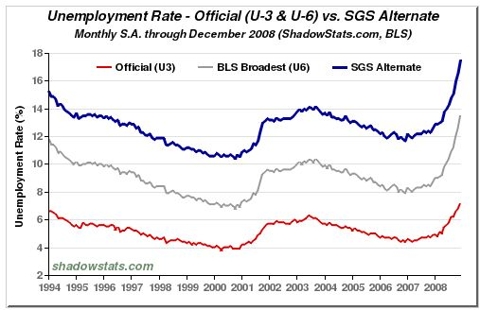 Source: www.Shadowstats.com
The government reports an unemployment rate of 7.2% to the public. This figure does not include discouraged workers or marginally attached workers. A discouraged worker is one who is willing, able and ready to work but has given up looking because there are no jobs to be had. This level is currently 13.8%. During the Clinton administration, The Party decided that if you were discouraged for more than a year, you no longer counted. If these people are included, the current unemployment rate is 17.8%. This is a comparable figure to the 25% rate from the Great Depression. If you use the non-seasonally adjusted change in employment figures, the U.S. lost 2.8 million jobs in 2008. In this figure is a made up number that is supposed to account for the number of jobs gained or lost by small business. This birth/death model adjustment added 904,000 phantom jobs in 2008. This is an insult to the intelligence of all thinking Americans.
Luckily for the government, there are very few thinking Americans who care about such things. Reality is that small businesses probably lost 1 million jobs, which would make the true loss 4 to 5 million jobs. The Party will report the true numbers two years from now in a footnote after the market closes on a Friday.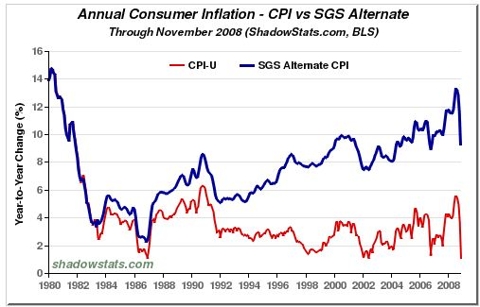 Source: www.Shadowstats.com
Inflation was 14% in 1980. Government data cleansers have methodically used gimmicks to reduce the reported rate of inflation. Alan Greenspan spearheaded the effort to save Social Security by saying that if the price of steak rose, people would substitute with hamburger so the price didn't really go up. If the price of hamburger rose, I'm sure a government robot would theorize that we would substitute with dog food. Further hedonistic "adjustments" were introduced to reduce reported inflation. Based on the methodology used in 1980, our current "deflationary" environment has led to a drop from 13% to 9%. Ask yourself whether your true everyday costs are up 1% or 9% in the last year.
When using the real inflation figures, you realize that we have been in a recession since 2000. This explains why the majority of Americans have fallen behind in the last eight years. The median household income was $50,557 in 2000. Using the government CPI adjusted figure for 2007, median household income had fallen to $50,233. If you used real inflation, the figure would be in the range of $47,000. Trickle down hasn't worked as advertised. Only the rich ruling elite surged ahead. The criminals on Wall Street partied like it was 1999, while the middle class fell further into oblivion.
Now that the rich are losing their shirts in the market, we have a REAL crisis. All the government information manipulators are working around the clock to spin the story in a way that will ensure permanent government control of our economy and our lives.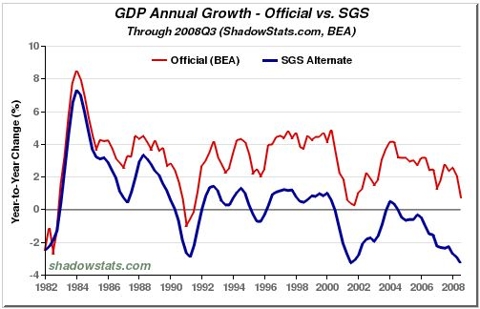 Source: www.Shadowstats.com
Psychological Manipulation & Thought Control
The concept of doublethink as described in Orwell's 1984 is being used effectively by politicians today:
The power of holding two contradictory beliefs in one's mind simultaneously, and accepting both of them....To tell deliberate lies while genuinely believing in them, to forget any fact that has become inconvenient, and then, when it becomes necessary again, to draw it back from oblivion for just so long as it is needed, to deny the existence of objective reality and all the while to take account of the reality which one denies — all this is indispensably necessary. Even in using the word doublethink it is necessary to exercise doublethink. For by using the word one admits that one is tampering with reality; by a fresh act of doublethink one erases this knowledge; and so on indefinitely, with the lie always one leap ahead of the truth.
Karl Rove understood what journalist Walter Lippman noted in 1922 about the average American:
Elites can manufacture consent because the average American is like a deaf spectator in the back row at a sporting event: He does not know what is happening, why it is happening, what ought to happen.
If George Orwell thought politics were manipulative in the 1940's, imagine what his thoughts would be if he were alive today. With 17,000 lobbyists, hundreds of PACs, thousands of PR leeches, and thousands of sleazy lawyers running Washington DC, orchestrating the actions of 550 elected officials, the game of politics has never been at such a low point. The best job in Washington is at the Ministry of Slogans & Acronyms. The use of acronyms fits into the Orwellian concept of Newspeak, "the only language in the world whose vocabulary gets smaller every year."
The aim of The Party is make thoughtcrime or speech impossible by removing any words or possible constructs which describe the ideas of freedom or rebellion. The dumbing down of concepts before they are sold to the American public is how this is accomplished today.
Community Reinvestment Act – This should be named the U.S. Taxpayer Gets Screwed Act. This law forced banks to make mortgage loans to poor people who should have been renting. This is another Democratic Party welfare state boondoggle. Bob McTeer, president of the Dallas Federal Reserve Bank from 1991 to 2004, described the pressure on banks:
There was a lot of pressure from Congress and generally everywhere to make homeownership affordable for poor and low-income people. Some mortgages were made that would not have ordinarily been made. When a bank made a decision to purchase mortgaged-backed securities, they would somehow determine if some of them were in zip codes covered by the CRA, and therefore they could get CRA credit.
The result was subprime losses in the billions being foisted onto the backs of American taxpayers who made their mortgage payments. People who received these loans don't pay taxes.
Death Tax – A deliberate and carefully crafted word designed by the Republican Party in order to gain support for repealing the estate tax. Repealing the estate tax had no support among the American public. Manipulating the name of the tax generated support for repeal.
Housing and Economic Recovery Act of 2008 – This brilliant piece of legislation signed in July 2008 was designed to instill confidence in Fannie Mae and Freddie Mac and keep subprime borrowers in their homes. It didn't help housing or the economy recover. It just poured more money down a rat hole. Fannie & Freddie collapsed under the weight of their incompetence and billions of losses in September 2008. They continue to make bad loans to undeserving borrowers, but now the losses flow directly to you and I, the American taxpayer.
Government Accountability – If this isn't the biggest oxymoron in history, I don't know what is. The Party has a tremendous interest in making sure that no one knows where our tax dollars are spent and whether they were spent wisely. A company has a bottom line and can calculate a return on the investments they make. No one can calculate a return on anything government does. If every government project was listed on-line and citizens could see what was spent and for what purpose, the bureaucracy would come crashing down. Therefore, The Party will never allow light to be shone upon their deeds.
Department of Homeland Security - Its stated goal is to prepare for, prevent, and respond to domestic emergencies, particularly terrorism. This department most resembles Orwell's Ministry of Love, the agency responsible for the identification, monitoring, arrest and torture of dissidents, real or imagined. We aren't too far off from being monitored by telescreens. This department was created after 9/11. Its biggest claim to fame is the response to Hurricane Katrina, when 1,836 Americans died. Mismanagement, incompetence, lack of preparation, and slow response were the traits best exhibited by this agency that spends $50 billion per year and employs 208,000 bureaucrats. The department was blamed for up to $2 billion of waste and fraud after audits by the GAO revealed widespread misuse of government credit cards by DHS employees, with purchases including beer brewing kits, $70,000 of plastic dog booties that were later deemed unusable, boats purchased at double the retail price (many of which later could not be found), and iPods ostensibly for use in "data storage". It is pure luck that we have not experienced another terrorist attack. It is not due to the actions of this agency.
Troubled Asset Relief Program – This is also known as TARP or the Emergency Economic Stabilization Act of 2008. It's lucky they put a date at the end, so we can have another in 2009 and another in 2010. A better name would be WARP - Worthless Asset Reprieve Program. This catchy little acronym described assets as if they had a bad day at the office. I'm troubled by the bullshit that keeps being rammed down my throat by politicians and bankers. Assets aren't troubled. The "assets" on the books of the biggest banks in the world are worthless. They are fictitious pieces of paper backed by nothing. This $700 billion bad banker bailout was supposed to buy these assets from the banks and allow the banks to lend. Henry Paulson lied to Congress and used the first $350 billion to buy preferred stock in the banks. It has been a miserable failure. The second $350 billion will be thrown at these same banks and nothing will happen. No one knows how the money is being spent and Bank of America (NYSE:BAC) and Citigroup (NYSE:C) are on the brink again. The U.S. banking system is insolvent and is being propped up by the American taxpayer.
Stable Prices – It seems the politicians running The Party these days like to pick and choose what they want from John Maynard Keynes. They prefer the goodies of increased government spending and ignore the other advice:
The best way to destroy the capitalist system is to debauch the currency. By a continuing process of inflation, governments can confiscate, secretly and unobserved, an important part of the wealth of their citizens.
One of the key mandates of the Federal Reserve is price stability. This is a lie. The facts are that the Federal Reserve purposefully generates unending inflation which slowly lowers the standard of living of every American. The US dollar has lost 95% of its purchasing power since 1913 when the Federal Reserve was created by a Congress in the back pockets of bankers.
Foreclosure Mitigation – Barney Frank is demanding that the second $350 billion of TARP funds be used for this purpose. It is a noble goal to reduce foreclosures. I'm sure Mr. Frank is a noble man. What this really means is that he would like to take your tax dollars and give them to people who bought houses with mortgages they could not afford. Rather than being properly kicked out of the house, you will make their mortgage payment for them, along with your own monthly mortgage payment. That is what mitigation means.
Quantitative Easing – This is a luminous term that 98% of Americans don't understand. It sounds so soothing. When Ben Bernanke uses the term in his speeches you can imagine blue birds singing on his shoulder. What it means is that the Federal Reserve will print as many dollars as it takes to generate inflation so that the country's enormous debt burden can be inflated away. Instead of one helicopter, picture thousands of B-52s dropping dollars over NYC. Japan tried the same thing in the 1990s with absolutely no success. Ben's motto is, when you earnestly believe you can compensate for a lack of skill by doubling your efforts, there's no end to what you can't do.
Economic Recovery Program – This is Barrack Obama's first contribution to Newspeak. His shrewd economic team didn't like the sound of stimulus program. It sounded too much like Bush's rebate checks, which didn't work. Of course, one of the key elements of this plan is a $500 rebate per person. The term investment is used quite often in this plan. Investment in infrastructure, education, green initiatives, and energy are the backbone of the plan. Ask yourself why we have 156,000 structurally deficient bridges, crumbling water pipes, antiquated power grid, urban decay, and dangerous schools. It is because we have relied on the government to be responsible for these things with taxes we have already paid. Now we are supposed to support a program with future tax dollars to do what government should have done in the first place. When you are stuck in a traffic jam next year and see six union construction workers standing on the side of the road all making $50 an hour watching one guy with a jack hammer working, know that your tax dollars have been spent wisely.
Love Big Brother or Make a Stand Now
In the end, Winston Smith, the rebel in Orwell's 1984, is brought to Room 101 and O'Brien threatens to let rats chew his face off if he doesn't pledge his love for Big Brother. He cracks and learns to Love Big Brother. We are nearing a point of no return in this country. Government is acquiring more power and the citizens are losing their liberty and freedom. We can either learn to love it or make a stand against it now.
Ayn Rand in her book Atlas Shrugged describes how we have slowly transformed our country into Orwell's Oceania:
"Politicians invariably respond to crises -- that in most cases they themselves created -- by spawning new government programs, laws and regulations. These, in turn, generate more havoc and poverty, which inspires the politicians to create more programs . . . and the downward spiral repeats itself until the productive sectors of the economy collapse under the collective weight of taxes and other burdens imposed in the name of fairness, equality and do-goodism."
Orwell lived during a time of unadulterated evil, with madmen like Hitler and Stalin using the Big Lie and military brutality to keep their populations under their jackboot. Orwell saw a bleak future:
The very concept of objective truth is fading out of the world. Lies will pass into history. During times of universal deceit, telling the truth becomes a revolutionary act.
We are living in times of universal deceit. Your government is lying to you, the media is lying to you, organized religion is lying to you and corporations are lying to you. Most Americans are oblivious to the lies or simply don't care. If you believe that bigger government will solve our troubles, borrowing more money will solve the quandary of too much debt, giving your tax dollars to the worst run banks and corporations is good policy, letting government choose the winners and losers in banking, autos, and energy is a good scheme, debasing the currency is a fine idea and allowing government agencies to monitor your conversations and emails makes you safer, then learn to Love Big Brother.
I, on the other hand, will not sit idly by while this country goes into permanent decline. I prefer liberty, freedom of speech, freedom of thought, free markets, and freedom to live my life as I wish. Government is too big, too powerful, and too regulating. New regulation is the current mantra from the Democrats. We had plenty of regulations. Government is just not capable of enforcing the laws that already exist. More laws will not make government more competent. Much of what I write, people do not want to hear. Orwell understood what liberty meant.
If liberty means anything at all, it means the right to tell people what they do not want to hear.
I'm angry with what has been going on in this country for the last eight years. I believe there are millions of other frustrated angry Americans who are tired of having this country dominated by crooked politicians in the back pocket of corporate fascists from the Defense Industry, Financial Industry, and Healthcare Industry. Only a few people within government are as angry and ready to fight for liberty. Ron Paul is able to channel that anger:
The issue boils down to this: do we care about freedom? Do we care about responsibility and accountability? Do we care that our government and media have been bought and paid for? Do we care that average Americans are being looted in order to subsidize the fattest of cats on Wall Street and in government? Do we care? When the chips are down, will we stand up and fight, even if it means standing up against every stripe of fashionable opinion in politics and the media? Times like these have a way of telling us what kind of a people we are, and what kind of country we shall be.
Together we stand, divided we fail. Get involved with organizations that tell the truth about our economic and political crisis. David Walker, Ross Perot and Ron Paul are those people.