By David Ristau
Weekly Outlook (January 4-8, 2013): The market showed some signs of stalling last week before an end of the week surge on better than expected employment data for 2012. The market has started to look toppy on some technical levels after several weeks of upside. The market stalled mid-week after some weaker than expected economic data reports. Pending home sales came in at -4.3%. Consumer Confidence dropped from 66.7 to 58.6 in January, and jobless claims came in higher than expected at 368K vs. 340K expectations. The market finished on a strong note, however, after the market learned that around 350K more jobs were added in 2012 than was expected in final figures for the year. This number overshadowed a weak January jobs report. For this week, the market will be mostly reacting to earnings, a small slate of economic data, and the growing concern about the government's sequestration that will occur on March 1 unless the government fixes its current budget.
Economic data will be light this week after a large slate of data last week. Monday will bring the market Factory Orders, followed by ISM Services on Tuesday. The services report is an important one for the market, as a large percent of the American economy is based in services. Services are expected to drop from 56.1 to 55.5. Wednesday will bring Crude Inventories. Thursday will feature Jobless Claims and Consumer Credit, and we will finish the week with the Trade Balance and Wholesale Inventories. Without a lot of data expected for the market, attention will be drawn to other areas, but look for fairly strong reaction to the Trade Balance on Friday.
Outside of the USA, Europe and Asia have some fairly interesting data to watch. Tuesday, we should look for the markets to react to the HSBC Services PMI and Euro-Zone Retail Sales. Thursday will be the big day, with the European Commission releasing economic growth forecasts, ECB Rate Decision, Bank of England Rate Decision, and British GDP Estimate for January. Finally, we get China's Trade Balance on Friday. Nothing is expected from the rate decisions, but if we do get any news, it would be very crucial to the markets this week.
Earnings have been very solid for this season, and we are expecting a slowdown in reports to potentially cause the market to take some gains off the table. There are still some key reports to watch this week, but for the most part, the market has priced in a lot of expected reports for most sectors. The most important reports to watch, therefore, are Visa (NYSE:V), Walt Disney (NYSE:DIS), News Corp (NASDAQ:NWSA), Baidu (NASDAQ:BIDU) and Yum! Brands (NYSE:YUM). Visa will give the markets a good look into credit services, while DIS should give a strong look into consumer spending/travel/cinema. BIDU might be the most interesting report of the week, as it will give a strong look into how the Chinese internet market is developing and how BIDU is holding up, with Qihoo 360 (NYSE:QIHU) becoming a tough competitor. These earnings do have the ability to impact the market, but we believe that the market should start to focus its attention elsewhere.
The Federal Reserve has not planned speeches or data releases this week.
So, where are we headed this week?
As we can see, data and the Fed are out of the picture for the week. As the market shifts its focus away from earnings and data, the focus will likely turn to some negatives developing in the market. Those negatives include the budget situation with the government, lack of jobs growth in January, and the markets' overbought technical territory. With sequestration set to take place on March 1, the market will start to price in risk this month like it did in December. Sequestration entails automatic cuts to spending if the government does not make a change to the current plan. Those automatic cuts will definitely hurt the market, and with focus turning to those issues, it could be a catalyst for some correcting. Overall, things do not look good for the market right now.
Stocks To Trade:
The four stocks we are watching this week are longs in Cisco (NASDAQ:CSCO) and Costco (NASDAQ:COST) as well as shorts in LinkedIn (NYSE:LNKD) and Fusion-io (NYSE:FIO).
Cisco is looking strong right now, and we believe the stock could break out, even with a weaker market. The reason we like CSCO is that we believe it could build nicely into earnings and break out after the report. The company reports earnings on February 13th, and we believe some recent downside gives investors an opportunity. First off, we believe the value in CSCO is very solid, with a sub-10 future PE along with just under 10% earnings growth expected in FY2014, which begins in July. The company is expected to see a flat quarter, but we like the future of Cisco.
First off, the company will benefit from continued growth of the Internet. Internet usage is expected to grow 8% in 2013 worldwide, and we believe CSCO is a strong play in the industry. The company is the #1 enterprise-class networking equipment provider, and after several years of trimming down its business, the company is a lean competitor. One of the most attractive parts of its business is the company's 3% yield, which only makes up around 25% of Cisco's operating cash flow. What is most attractive about CSCO is the company's growing economic moat. While the technology for Cisco is not complicated, the company has acquired hundreds of companies over the past couple decades, and they now have a large economic scale and meaningful switch costs. We believe the current moat is solid as well. With growth, value, yield, and a solid moat, CSCO looks great. We like adding the stock on this pullback and complementing that with a bull put spread to hedge.
Trade #1: CSCO, Long and CSCO, Mar18, 19/18 Bull Put Spread
Max Gain: 12% on Options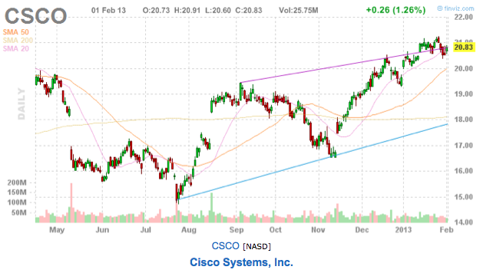 Another stock we like long is Costco. We like the company as a play into earnings in March, as Costco is expected to show very solid growth in the next quarter. The company is expected to see nearly 20% earnings growth and nearly 10% revenue growth. COST is an exciting company for 2013. The company is expected to see 7.5% revenue growth and over 15% earnings growth in FY13. What we like about COST is the company's ability to maintain very strong margins and very solid technical support below it. The company offers very visible cash flow, and with its membership-based revenue, the company can maintain very strong margins.
According to Morningstar, Costco saw an 86% renewal rate of memberships during the Great Recession, showing very loyal, consistent customer base. The company, for this reason, tends to operate at a premium to other grocers. At the same time, the company has maintained a consistent, 2.5% - 3.0% operating margin each year over the past ten years. The company does maintain a small yield at 1%, but if you are looking for consistent growth with strong cash flow, COST is the answer. We like playing a Mar16 bull put spread to start a position. If the stock drops below the spread, we can own the stock for a solid discount. Otherwise, we make the full premium of selling the options.
Trade #2: COST, Mar16, 97.50/95 Bull Put Spread
Max Gain: 10%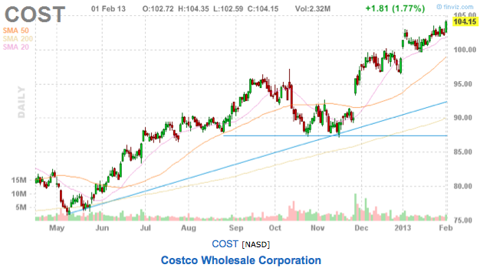 The bearish positions we like are LinkedIn and Fusion-io moving forward. LNKD was recently reiterated as a Sell by our company with an $85 price target. The reason we dislike the company is that it is extremely overvalued, and we believe the stock is not trading within reality. For our model, we priced in over 800% growth for the company over the next five years. Yet, we still only come up with $85 in a best-case scenario. While the company does have a strong moat with its usership base, most users are not those that pay for LNKD's services. The company makes most of its money off of its ability to supply job fulfillment and opportunities to other companies. Here, though, we believe the company has tough competition from the already-established Monster (NYSE:MWW) and Career Builder websites. Further, Facebook (NASDAQ:FB) recently launched its Jobs Board, which will compete directly with LNKD's business line. With its 825 PE and nearly 100 future PE, the company has literally no room for any mistakes. They must grow at alarming rates to maintain current prices. For example, to get to a 50 PE by the end of 2014, the company would need to grow EPS over 1500% and over 100% above 2013 expected levels. We believe these expectations are much too high for a company that has proven nothing so far. We like shorting the company.
Trade #3: Short, LNKD
Breakout: Failure of $120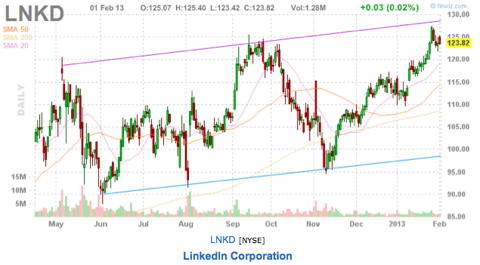 Finally, we like the looks of a bearish position in Fusion-io. Despite FIO's presence in an exciting business of storage memory for companies, the company looks quite weak. The company's latest results suggest such weakness. FIO forecasted very weakly for its coming quarter, with only $80M in revenue expected versus over $135M revenue expected by analysts. On top of that, the company is expected to only see $420 - $440M in revenue for FY13 versus over $530M analyst expectations. The problem for the company appears to be in sales from some of its top companies and strong competition. The issue with data storage is lack of economic moats. The technology is fairly similar for all companies, and FIO's moat is limited. With the weak results for the company and lack of upward catalyst moving forward, we like the company for a bear call spread. 20/21 level looks very solid for a spread as the stock's pre-earnings level was $20.
Trade #4: FIO, Mar16, 20/21 Bear Call Spread
Max Gain: 18%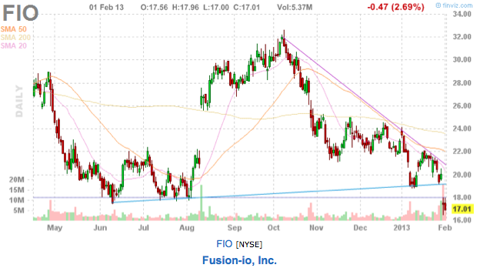 Chart courtesy of finviz.com.
Disclosure: I have no positions in any stocks mentioned, and no plans to initiate any positions within the next 72 hours.
Business relationship disclosure: The Oxen Group is a team of analysts. This article was written by David Ristau, one of our writers. We did not receive compensation for this article (other than from Seeking Alpha), and we have no business relationship with any company whose stock is mentioned in this article.