On January 30, ConocoPhillips (NYSE:COP) reported its Q4 and FY 2012 results. Q4 EPS came in at $1.16. However, excluding impairment charges, EPS came in at $1.43, beating the analysts average estimates by $0.01. Revenue for ConocoPhillips came in at $16.4B. However, the market seems to be disappointed with these results, sending shares of ConocoPhillips down 5% the next trading day. It is my opinion that this decline is an opportunity to start a position in a high quality dividend stock such as ConocoPhillips. ConocoPhillips current pays out a $0.66 quarterly dividend. At current prices, the stock yields 4.5%.
Click to enlarge
ConocoPhillips may have declined due to the run up it had prior to the earnings release. ConocoPhillips was trading near its post Phillips 66 (NYSE:PSX) spin-off highs. Also weighing on the stock may have been concerns over its 2013 production outlook. ConocoPhillips expects total production for Q1 2013 to be 1,580 to 1,600 MBOED, including production from discontinued operations of approximately 40 MBOED. For full-year 2013, ConocoPhillips anticipates production from continuing operations to be 1,475 to 1,525 MBOED.

Click to enlarge
As mentioned in the above image and in my previous article, ConocoPhillips continues its planned asset sales. ConocoPhillips is selling many of its international assets and focusing heavily on North American energy plays. In particular, ConocoPhillips is increasing its acreage and production in the Bakken and Eagle Ford basins. ConocoPhillips has been growing its heavy oil production aggressively, reaching a significant milestone during the quarter in the Eagle Ford, with production exceeding 100,000 BOE per day on a peak daily basis and averaged 89,000 BOE per day.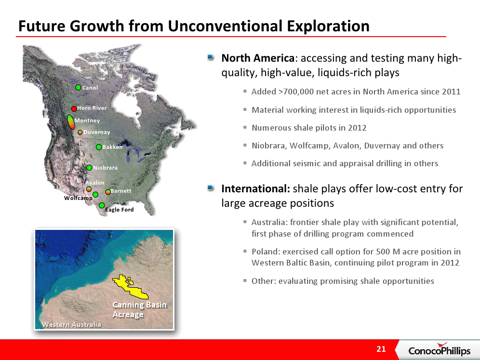 Click to enlarge
Now, taking a look at the cash flow metrics, we can see that ConocoPhillips continues to be a cash flow machine. In Q4 2012, ConocoPhillips generated nearly $3.9B in operating cash flow. Dividend payments for the quarter totaled $0.81B. Dividend payments for the quarter represented only 17% of operating cash flows. ConocoPhillips did invest heavily in new capital projects last quarter, with $2.9B in net investments. However, ConocoPhillips is paying for this with asset sales. ConocoPhillips has already announced nearly $9.6B in asset sales that are expected to close by mid-2013.
Conclusion
ConocoPhillips is attractively valued, with a forward 2013 PE of 10.3 and offers a compelling 4.5% yield. ConocoPhillips is, in my opinion, making a prudent decision in focusing on new domestic sources of energy and selling higher-risk international assets. While some are worried about ConocoPhillips' cash flow, I am not. ConocoPhillips will most likely start to benefit significantly from its investments in shale oil starting in Q4 2013. Also, ConocoPhillips can issue low interest debt if it needs to, with a current "A" rating from S&P and a low debt to asset ratio of 18%.
Disclosure: I am long COP, PSX, CVX. I wrote this article myself, and it expresses my own opinions. I am not receiving compensation for it (other than from Seeking Alpha). I have no business relationship with any company whose stock is mentioned in this article.