Warren Buffett said that the US economic situation is not as bad as World War II or the Great Depression, but it's still pretty severe. Common sense is that the current credit crisis must be solved before the stock market can be turned around. However, nobody knows how long it will take. That's why smart investors like Warren E. Buffett invested in preferred shares of GE and GS, instead of their common stock.
So does Uncle Sam. For the retail investor, iShares iBoxx $ Invest Grade Corp Bond (NYSEARCA:LQD) is a pretty good tool to get into fixed income market. It invests in a segment of the U.S. investment-grade corporate bond which consists of long term bonds of blue chip names such as Abbott Labs (NYSE:ABT), Citigroup (NYSE:C), IBM, Johnson & Johnson (NYSE:JNJ), JPMorgan Chase (NYSE:JPM), PepsiCo (NYSE:PEP), Wal-Mart (NYSE:WMT), etc. It yields 3.03% with beta of 2.12.
However, there is a much better choice for fixed income, which is iShares Barclays TIPS Bond ETF (NYSEARCA:TIP). It invests in the inflation-protected sector of the United States Treasury market. Based on the most recent Yahoo Finance data, inside TIP, the Treasury Bond (long term) and Treasury Note (short term) ratio is around 3:7, thus it is classified under short-term to intermediate-term bond category. It yields 4.61% and 3-year beta is 1.55. One of the reasons its price is so low (and its yield is so high) is that the market prices it as if there will be no inflation for the next 10 years. With higher yield, much lower risk, and shorter duration, TIP is clearly better than LQD.
Besides, it protects inflation just as SPDR Gold Shares (NYSEARCA:GLD) does, though GLD doesn't provide any dividend. As you can see from the chart below, in the unprecedented 2008, GLD and TIP had virtually identical returns and patterns, but GLD had much higher beta. Also, history shows that gold is one of the worst investment assets over the long run.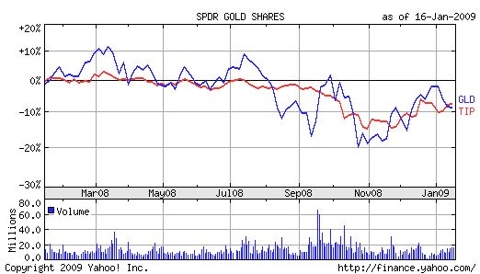 Source: All data above (yield, beta, etc) are based on Yahoo Finance data as of 01/18/09.
Disclose: I am long TIP.