Canadian Pacific Railway (NYSE:CP) is a North American railway company with links to major ports, providing Canadian and American companies with freight transportation services, logistics solutions and supply chain expertise. The company's shares trade on the NYSE with a market capitalization of $20.05B and 172.97M shares outstanding.
CP's shares officially entered a euphoric zone that can no longer be justified by valuation. Ever since management and particular members of the board were forced out by a movement led by an activist hedge fund investor in 2012, the company's shares have been propelling higher and higher as investors try to discount the potential growth in earnings that could result from a more efficient operating ratio. However, at current price levels investors are simply paying too much for a company that has shown modest revenue growth and is relying almost completely on cost reduction to satisfy an earnings multiple in excess of 40 times 2012 earnings.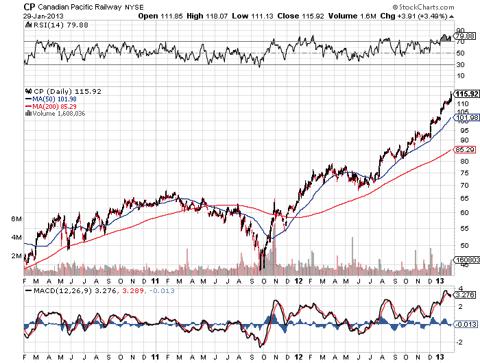 Using the recently released CP earnings figures for 2012, investors buying the stock at the current price of roughly $115 a share, are paying a whopping 40.8 times 2012 earnings per share of $2.82. In contrast, Canadian National Railway (NYSE:CNI), CP's peer and obvious investment alternative, is trading at a reasonable 15.6 earnings multiple on 2012 earnings of $6.15 a share. The divergence in the two valuations clearly illustrates a herd mentality and complacency.
Even when factoring the company's 2013 estimated earnings per share growth rate of 40 percent, which means earnings per share are expected at about $3.95, the shares will still be excessively priced at about 29 times 2013 earnings. This will not be a problem if CP could manage a 40 percent annual earnings growth into 2014 and 2015, however, there is only so much the company can cut without impacting its operations and only so much the rail business can grow in mature economies such as Canada and the U.S.
Given that the majority of earnings growth is expected to be realized through the reduction of CP's operating ratio, investors should understand that earnings growth based on cost cutting is not sustainable. It is also not reasonable to expect that CP's modest revenue growth will trickle down to the company's bottom-line to the extent that will drive the growth necessary to justify the rich valuation the shares currently carry. Therefore, the decision for investors seeking exposure to the rail sector is obvious. Prepay for unsustainable growth with CP's shares, or take advantage of a reasonable relative valuation with CN's shares.
Disclosure: I have no positions in any stocks mentioned, and no plans to initiate any positions within the next 72 hours. I wrote this article myself, and it expresses my own opinions. I am not receiving compensation for it (other than from Seeking Alpha). I have no business relationship with any company whose stock is mentioned in this article.